Brewery Feature: Alaskan Brewing Co.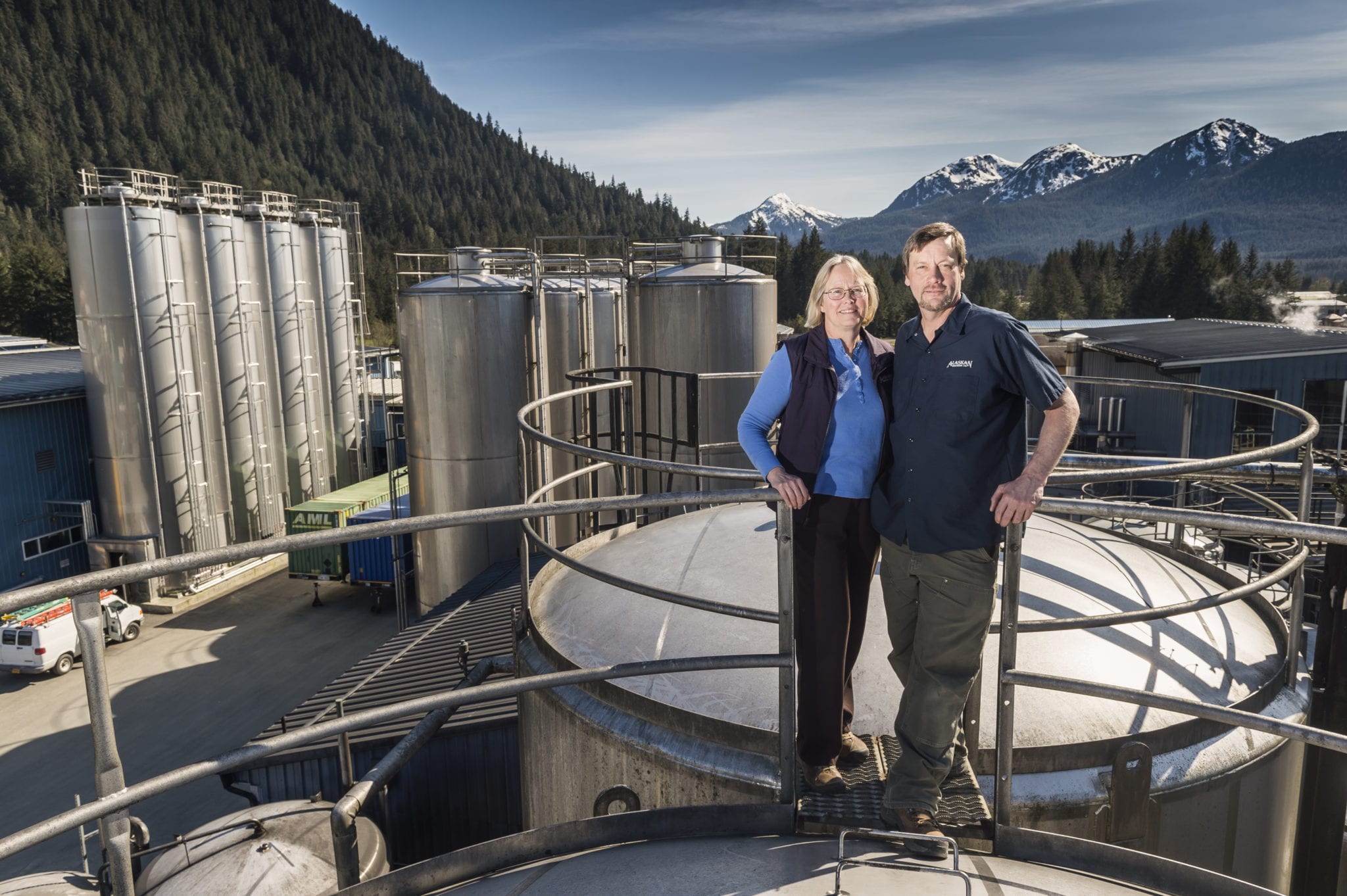 Drawing from the areas rich history, Alaskan Brewing Co. has stayed true to their heritage and the values behind their brews. Owners Geoff and Marcy Larson originally created the iconic Alaskan Amber based off a turn of the century recipe that they unearthed in old shipping records. Their idea? To create a full-flavored beer that the fisherman of Alaska, who bust their tails on the ocean for weeks, could enjoy when they get back to port. They had no idea that from there, Alaskan Brewing Co. would be what it is today!
We had the opportunity to sit down with their regional sales manager, Shawn Reupke, to learn more about Alaskan Brewing Co.
Tell us about Alaskan Brewing Co.?
It all started in 1986 with Geoff and Marcy Larson, a chemical engineer and accountant in Juneau, Alaska. Times were changing in the area with the pipeline drying up and people leaving to head back down to the lower 48 left and right. They had started home brewing, and wanted to take that passion and turn it into a way to make a living. They had an idea to start a brewery, which may have seemed crazy at the time, but their unfailing belief in the idea is what gave Alaskan Brewing Co. it's grit that we can still see today.
Geoff went door to door giving presentations and seeking investors, they were able to put together an impressive group of 88 investors each contributing $5k with the last check coming in just mere hours before the bank was going to pull the loan. Two of these original investors had ties to both Minnesota and Wisconsin!
Alaska was a big part of who they were, and that is what drew them into researching the history of Alaska and creating Alaskan Brewing Co. They were the first brewery in Alaska since prohibition. During this time there were only about 66 operating breweries and all located in the lower 48, fast forward to today there are about 30 breweries in Alaska and 7000+ in the lower 48. Their team consisted of Geoff, Marcy, and ten friends who were paid in mis-fills. The first beer they brewed was their infamous Alaskan Amber which had 253 cases on the initial run and sold out on the first day in Juneau. Alaskan Amber still makes up about 55% of their brewery sales. During this time they had no plans to sell outside of Juneau, let alone outside of Alaska. As Alaskan Brewing Co. continued to grow, they eventually found themselves traveling 1000 miles by sea to the lower 48 and can now be found distributed across 22 states.
The town of Juneau and state of Alaska has made the company what it is today. They are proud to say they solely only brew right in the exact place where it all started.
Who are you and what is your favorite part of your job?
Shawn Reupke, Sales Manager: I enjoy seeing how well the brand is received within my territory. My territory is IA, MN, ND, NE, SD and WI – and out of the 22 states Alaskan can be found in, Minnesota is the 3rd largest market. Only Alaska and the state of Washington coming before it. It is so encouraging to see, and it says a lot about the brand, how well the Alaskan Amber performs year in and year out. Even when it isn't the newest kid on the block, it continues to grow as people discover it and step out of their comfort zone and give it a try. The most rewarding part of being a sales manager for Alaskan Brewing Co. is the relationships, and being able to share with everyone my passion for this brewery and beer that is based on the history of Alaska.
What does a day look like for you?
Shawn Reupke, Sales Manager: Each day is different. I am the middle man between Alaska, our sales team and the wholesalers. The amount of territory I cover means a lot of my time is spent traveling throughout the Midwest visiting my 38 markets. When I am not traveling, I am helping build plans, tracking progress, and measuring effectiveness.
What is new and exciting at Alaskan Brewing Co.?
Within the last two months, Alaskan Brewing Co. has released a new series of cans. They have transitioned their White Ale from a 6-pack of bottles to a 6-pack of 12 oz. cans. The Alaskan Kolsch was originally a summer seasonal beer, is now being offered year-round in cans. Husky IPA is up next to transition from a 6-pack of bottles to a 6-pack of cans. They also launched a mixed 12-pack of cans including Amber, Husky IPA, White, and Kolsch. Our new cans are also the first step away from their traditional artwork that adorns the bottles.
Releasing these cans into the market is exciting for Alaskan Brewing Co. Still true to Alaska, but with a slight edge to it. They have also recently released their new Summer Seasonal; Alaskan Blonde Ale brewed with Honey which is a perfect beer for summertime!
How does Alaskan Brewing Co. differentiate itself in a growing market?
Where they come from. There is only one other brewery out of Alaska that sells in the lower 48. You can find Alaskan Brewing Co. at the exact same address where it started back on December 12th, 1986. That address is where they produce everything, and although the building has increased in size multiple times, they've stayed true to who they are. They know who their customers are – and because of that they don't chase trends, but instead focus on what has made them successful. And they are pretty darn good at it!
How is each beer branded/marketed as an individual and as part of a whole?
On any of their packaging, the most prevalent thing is the Alaskan Brewing Co. They are not one brand, they are a company – Alaskan Brewing Co. is who they are. And with each individual beer they do a great job of showcasing what you would experience in Alaska. The outdoors and wilderness – Alaska is a lifestyle and when people see the beer it triggers memories of being in Alaska or gives people a little taste of Alaska without actually being there.
Get to know the beer:
Shawn Reupke, Sales Manager: There's a reason our Alaskan Amber, the first beer we ever brewed and still brew today, has won every competition. Even Best Beer in America. At the end of the day, anyone can drink it. It goes back to that turn of the century recipe that Geoff brewed in the 80's – a full flavored drinkable and approachable beer. Many breweries over the last 5+ years have shifted focus from their original flagship brand that made them who they are to new brands, but our brand that made us who we are is still our number one focus and priority.
Tell us about your partnership with CCB:
Shawn Reupke, Sales Manager: Alaskan Brewing Co. and College City Beverage have been doing business together since May of 2011. I see 38 markets, and out of all the markets I see, they are our third largest market. We work closely together to accomplish goals. With CCB they are out there with us, showing up and supporting us. They are also always willing to partner with us to help others.
We have an upcoming Ales for Tails program that helps support local non-profit organizations. We have run this program for the past two years supporting a non-profit organization called Project Delta who trains service dogs for vets coming home from service with PTSD. These past two years we've raised over $10k and this year being the third year we have decided to partner with a charity local to CCB called Believet. Believet purpose is freedom for veterans and dogs with a mission. The organization provides highly skilled assistance dogs to disabled veterans free of charge. They dedicate themselves to the noble service of strengthening lives. The Ales for Tails program will run the month of June, and for each keg of Alaskan Husky IPA sold at participating accounts a $50 donation will be made to Believet. The goal is to raise $1,500 – but hopefully, we surpass that. If you want to take part in Ales for Tails visit one of these participating accounts during the month of June and enjoy an Alaskan Brewing Co. Husky IPA:
• Lone Oak Grill in Eagan
• Carbones in Northfield
• Alibi Drinkery in Lakeville
• Tamarack Taproom in Woodbury
• Muddy Cow in Cottage Grove
• JL Beers in Burnsville
What can we expect from Alaskan Brewing Co. in the future?
Alaskan Brewing Co. has released four new can offerings in the last 2+ months and you will continue to see innovation driven by new packages and styles. In the next few years, they also have plans to install a multi-million dollar state-of-the-art canning line. They will continue to stay true to who they are, but all the while putting their own twist on hot styles.
They will also continue to be on the forefront of sustainability, thus far they have created their proprietary system of energy generation that has helped them fuel 60% of their brewery on spent grain. They are the only brewery in the world with this technology.
How can we get a tour or try your beer?
Come to Alaska for a tour!
You can visit their website to learn more: https://alaskanbeer.com/
On the website, there is a Brew Finder to help you locate Alaskan near you! Make sure to also give them a follow on social media to stay up to date with exciting news and upcoming releases:
Facebook: @AlaskanBrewingCo
Instagram: @alaskanbrewing
Twitter: @AlaskanBrewing