Account Feature: Mezcalito Butcher & The Farmer and the Fishmonger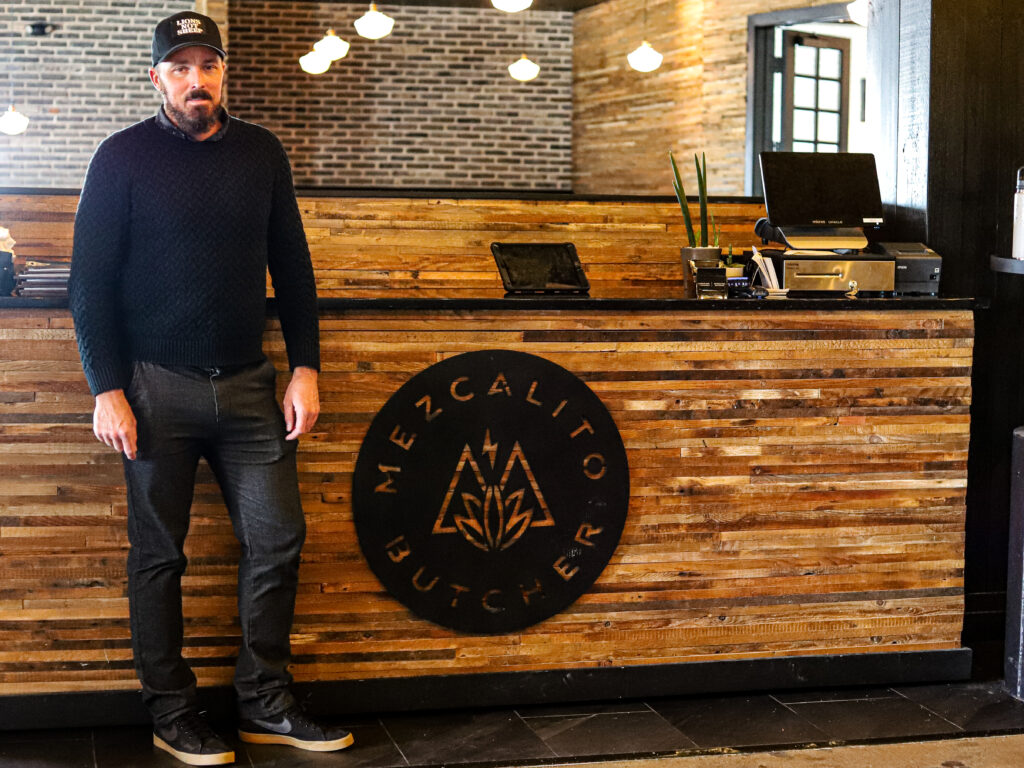 In Apple Valley, nestled on the Northeast corner of County Road 42 and Galaxie Avenue, sit two incredibly unique restaurants that are a must-try. Mezcalito Butcher and The Farmer and the Fishmonger are owned by the ever-creative Eyes Wide Hospitality and Tony Donatell. Operating 11 different restaurants in the Southern Metro, this team has perfected the art of leaving the customer wanting more. We had an opportunity to talk with Tony and learn more about these two Apple Valley locations.
TELL US ABOUT THESE TWO RESTAURANTS:
Mezcalito Butcher has a Latin vibe with the kind of food you eat on a southern, tropical vacation. The restaurant's foundation is based on mezcal (an agave plant used to make alcoholic beverages), tequila and cocktails. They also have over 40 different draft taps available and a fully stocked bar.
Enjoy sitting with your friends in front of a wood fire or drinking margaritas outside on the large, partially covered patio. The rich menu encompasses bright Latin notes that will make your tastebuds do the cha-cha. From tacos to woodfired entrees and pizzas, burgers, and paella, there is something on the menu for everyone.
The Farmer and the Fishmonger is a farm-to-table restaurant with locally sourced ingredients and down-to-earth soul. The chef reimagines their menu every two weeks and incorporates an updated twist to a traditional steakhouse. While their menu is everchanging, there are still some constants, like their oysters delivered straight from the marina in Maine.
The bar experts craft unique cocktails infused with wild, seasonal ingredients sourced from local farmers, foragers, and fishmongers. With a larger wine list and fewer draft taps than the Mezcalito Butcher, Eyes Wide Hospitality has been able to craft a unique concept at both locations, to avoid competition with each other.
WHAT IS IT LIKE WORKING WITH COLLEGE CITY BEVERAGE?
We have been a long-time customer of College City Beverage (CCB) and, throughout the years, we have had a great working relationship. Our CCB representative works with each of our restaurants to ensure they are stocked with products that fit their shelves. They bring in relevant products and keep things interesting, from beer and wine to seltzers and spirits.
WHAT IS YOUR MOST POPULAR CCB PRODUCT?
Each restaurant highlights a different type of CCB product. For example, Mezcalito Butcher highlights tap beers and margaritas, while the Farmer and the Fishmonger features an impressive array of spirits and wine.
WHAT IS YOUR FAVORITE THING ON THE MENU?
At Mezcalito Butcher, making up approximately 50% of their food sales are five different types of tacos, ranging from various meat products to a Jackfruit vegetarian option.
At The Farmer and the Fishmonger, the late-night oysters are a hit! Make a reservation for dinner or a late-night oyster snack and a drink to wind down.
IF PEOPLE WANT TO STOP BY AND TRY OUT MEZCALITO BUTCHER, DO YOU RECOMMEND A RESERVATION?
The Mezcalito Butcher is open seven days a week. They open at 11am during the week and 10am on weekends and close between 10pm-midnight depending on the day of the week. Reservations are welcome but not required.
The Farmer and the Fishmonger is open Wednesday through Sunday from 4-10pm. While reservations are not required, it is highly recommended Friday-Sunday.