Account Feature: Shenanigan's Pub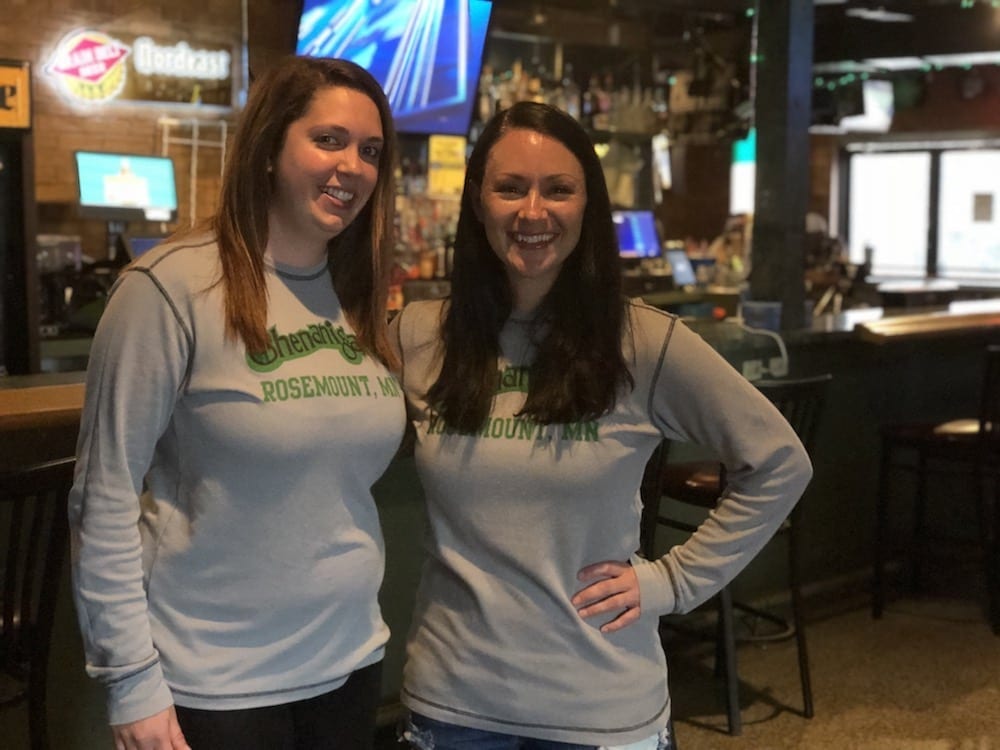 Shenanigan's Pub is located at 14605 S Robert Trail in Rosemount, Minnesota. Emily and Caitlen, two of four co-owners, bought in this past February. This place offers a unique vibe with a relaxed atmosphere, twelve TV's, five pull tab boxes, darts, and six pool tables with league. They also offer karaoke every Wednesday night, video bingo on Thursday's, and a DJ Friday and Saturday nights. Along with making their own pizzas, they also have appetizer style options as well. They are one of the only bars open at 10am with the option to stay open until 2am.
What was it about Shenanigan's Pub that drew you to it?
"It is a fun blue collar bar, it's like a home. Everybody is welcome! You just feel totally comfortable. You get to be really good friends with everyone who comes in. They are good people."
What is your favorite CCB product on tap right now?
"We sell mostly Michelob Golden Draft Light on tap, but our current favorite is the new Summit Lazy Sipper."
What's it like working with CCB?
"John Peterson is our rep – he makes everything really, really easy. is their rep. We also work with Adam, and they are both great! When we bought Shenanigan's our goal was to have a promo every weekend so there was always something fun going on. And they always have fun stuff to giveaway and are always willing to help with anything!"
"We've done some fun pin's with Lift Bridge Brewing Co. A pin is like a small keg and they infuse their beer with something. We did Mango Blonde with Habanero, it is only good for 24 hours once its tapped. We worked directly with brewer it was set up through CCB. It has really helped us bring in a lot more craft drinkers because it gets people in to try new things."
"When we do have events they are always here, even if they don't need to be. They tell all their friends and family to come – it's pretty great! We are working with them currently on a patio beer bash set for August 18th."
Tell us about that upcoming promotion:
"My nephew, Isaiah has a vision impairment. He wants to study architecture and he recently did an internship with an architecture firm where he tried this pair of goggles that made it so he could read the newspaper and see across the street. He was almost choked up talking about what a life changing experience it was for him. So this beer bash is to raise money for him. And when we talk about that type of stuff and think about who we should call, its always CCB because they are so eager to help and are excited to be involved."
Isaiah is an amazing, talented, driven 17 year old who is legally blind. Despite his positive attitude about his circumstance, we want to band together to help Isaiah see. Isaiah aspires to be an architect and attend the U of M for school. He recently attended an internship at the University of St. Thomas though the Summer Transition Program where he got to do a job shadow of Peterssen Keller Architect firm in Minneapolis. Through the State Services for the blind he was introduced to eSight, which is a company that created glasses that let the visually impaired see. For the first time he was able to look across the street and see a street sign, read a newspaper, and these are all things he has never been able to do. We hope to make a this a reality for him. Although these glasses are nearly $10,000, Isaiah's family hasn't given up hope at saving for them. Please join us at Shenanigan's Pub on August 18th and show your support for this amazing young man!