Account Feature: Treasure Island Resort & Casino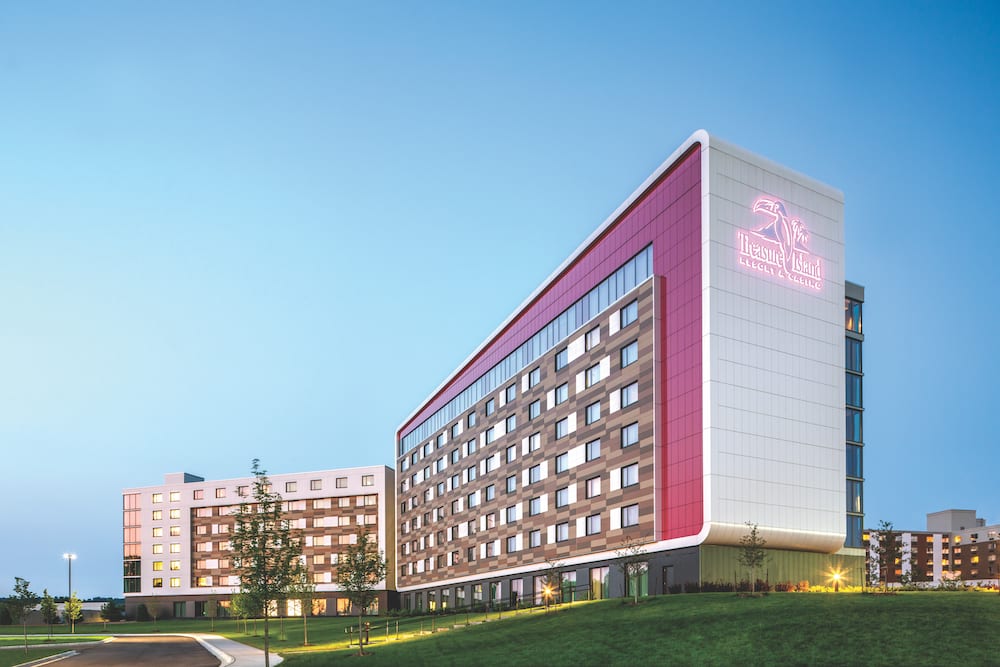 Turning 35 this February, Treasure Island Resort & Casino originally started as a small bingo hall. Now they are the second largest hotel in Minnesota with 788 hotel rooms, The Lagoon water park, Wave Spa, 9 restaurants, 9 ah-mazing bars, more than 2,200 slots, 44 tables games, a 6-table poker room, a 550-seat high stakes bingo hall, the 2,800-seat Island Event Center, a 24-lane bowling center, Cyber Quest and Kids Quest. And that is just the inside. We sat down with some of their best to learn more about T.I. and their partnership with College City Beverage.
Tell us about TI:
In honor of our 35th year in operation, we're having an anniversary celebration. Each Saturday in February leading up to March 2nd, we're giving away cash and free slot play as well as qualifying guests for the final drawing. Then on March 2nd, one lucky guest will win $350,000 – CASH!
We have so much going on all the time! In addition to our anniversary celebration, we are gearing up for our outdoor summer concert series in the Treasure Island Amphitheater. Our 16,400-seat amphitheater has stadium seats with cup holders, a state-of-the art sound system, and the perfect incline for viewing some of the biggest names in entertainment. The Treasure Island Amphitheater also has a grassy general admission seating area where you can bring your blanket or chairs to enjoy the shows. Tickets and more information for our upcoming concerts can be found at ticasino.com
Treasure Island Resort & Casino also offers a marina, RV park, 120 passenger cruise yacht, Mount Frontenac Golf Course, and the Prairie Island Indian Community owned Dakota Station.
Along with our 9 bars – Parlay Lounge, Element Bar & Lounge, Cabana Bar, Rare Bar, No Tap Bar, Barefoot Bar (the only swim up bar in Minnesota), Emerald Bay Lounge, Barracudas Bar, and Bongos Bar – we also have a variety of different restaurants including – Tado Steakhouse, Tradewinds Buffet, Currents Restaurant, Blue Lagoon, Mongo Bay, Island Perk, Xtreme Café and Prime Thyme.
What's it like working with CCB?
They are amazing and so easy to work with. They are very attentive and supportive. Being a larger establishment, we meet with them quarterly. They are extremely helpful with our promotions and boosting events. They always have unique and fun ideas. They help us run specials through the different seasons so there is something for everyone here.
Based on the time of year or our next special event, we tailor our tap lines to that upcoming audience. This means fast turnaround as this is a very 'fluid' business (see what we did there?)
What is your most popular CCB product?
By far Michelob Golden Light, hands down. We sold 233,265 Michelob Golden Light drafts, aluminum bottles, and glass bottles throughout 2018.
Tell us what it's like working with your rep:
Adam and Dan have done so much for us, it's hard to pick just one instance. Everything they do for us has been really well received. We've partnered with them on many promotions like ticket or grill giveaways, and other fun promos.
Communication with them has been top notch, if we have a question they are very quick to get back to us. Hardly any lag time, which is important when we are changing or creating things in our fast swap outs. We can rely on them last minute and they will get us what we need quick which is important when running such a large business.
Currently our Cabana Bar is featuring a Summit tap takeover with Maibock, Skip Rock, Dakota Soul, and Keller Pils. Summit is a great partner and their beer is really well received in this area.
What are some fun upcoming events or promotions?
Snoop Dogg [ticketmaster.com] on April 26th
Lynard Skynard with Chris Kroeze [ticketmaster.com] (who came in 2nd on The Voice!)
The Band Perry [ticketmaster.com]
I Love the 90's Tour with Vanilla Ice, Coolio, and more [ticketmaster.com]
The Avett Brothers & Trampled by Turtles [ticketmaster.com]
…and so much more!
We also have LIVE entertainment in the Parlay Lounge every Friday and Saturday night from 9pm – 1am, always free with no cover!