Mankato Brewery – Not All Heroes Wear Capes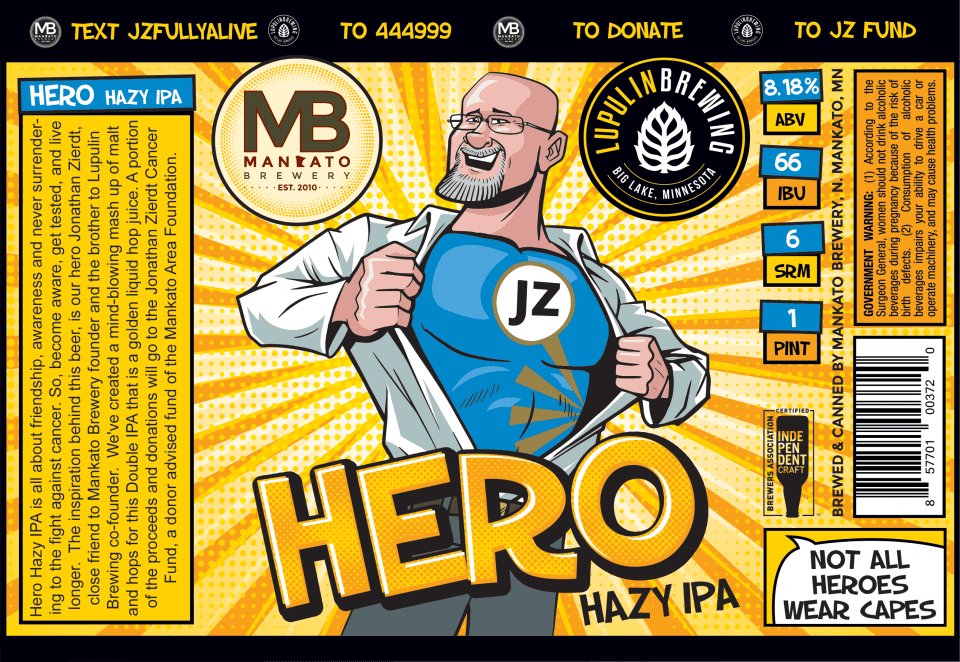 Did you know that November is Men's Health Awareness month? We sat down with Steve King – President of Mankato Brewery – to learn about their new collab with Lupulin Brewing. Today they are releasing Hero Hazy IPA – which has a special place in the hearts of both breweries. Read more about the new brew and learn how you can show your support for Men's Health Awareness and Prostate Cancer during the month of November!
Tell us about Mankato Brewery:
Tim Tupy, the founder, was a home brewer and he found a group of 13 investors to get Mankato Brewery up and running. We were founded in 2010 and had our first public brew in 2012. We've grown ever since! The space we are located in is pretty awesome, too. It's an old beer distributing facility. We have a huge cold space and can fit 600 people inside the brewery. We host events and have some awesome concerts coming up so stay tuned!
As GM, what does a typical day look like for you?
I try to get the brewery 3-4 days a week. The rest of my time is spent out in the retail trade selling. The most interesting part of being part of a small brewery is you get to dabble in all the things and every day is different.
Tell us about your partnership with CCB:
It is a great partnership! They are good supporters, and we are expecting big things from them next year. Living in the area they were who I called on for Mankato Brewery and the first people I met when I moved to Minnesota.
What is your favorite Mankato brew?
Mad Butcher IPA. It's awesome and probably our best selling beer!
Tell us about the Hero Hazy IPA:
We are releasing Hero Hazy IPA today in our taproom, at the same time we are hosting the Greater Mankato Shavedown to kick off "Movember". There will be barbers, hot towels, and great opportunities to start fresh for November which is Men's Health Awareness month.
Hero Hazy IPA has a special place in our hearts. Not all heroes wear capes, and that is the inspiration behind this hazy, juicy and fruity India Pale Ale (IPA) be brewed with Lupulin Brewing. Jonathan Zierdt, close friend our founder, Tim Tupy, and the brother to Lupulin Brewing co-founder, Jeff Zierdt. Jonathan has been battling cancer for a few years now and is bringing awareness to men's health issues and his foundation the Jonathan Zierdt Cancer Fund.
The purpose behind his foundation is to provide things of comfort to men going through cancer treatment. This could be anything from rides to and from the hospital, to blankets or slippers, whatever they need while going through this.
Mankato Brewery is proud to be part of this collab with Lupulin Brewing. Hero Hazy IPA is a double IPA and comes in at 8.18% ABV and 66 IBU's which is also Jonathan's date of birth (8/18/66). We want to give a shout out to the designer collab that made the artwork for this possible – Curt Van Asten is the designer for Mankato Brewery who worked closely with Lupulin Brewing designer Marcus Paulsen. The original drawing was created by local Mankato designer Caricatures by Casey.
During the launch party in our taproom there will be shirts available to purchase for Hero Hazy IPA, donating part of those portions and part of the portions of pours from the event to the Jonathan Zierdt Cancer Fund. You can also make contributions by texting JZFULLYALIVE to 444999 or on-line at www.jzfullyalive.com.