August Kings Of The Month
College City Beverage is home to some fantastic members of the beer industry. From our drivers to sales representatives, our team works hard and has fun. We are proud to announce that Brendon Pagel, Matt Norstad, Megan Pelowski, and Steve Gaul have been selected as August's Kings of the Month.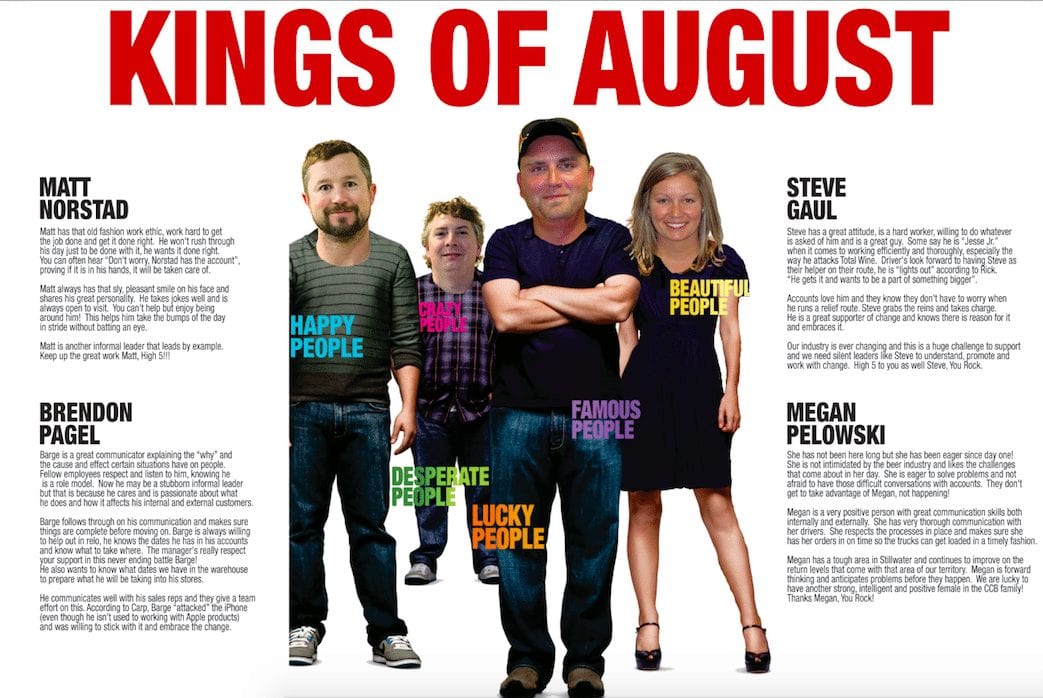 When did you start at College City?
Brendon: 2003
Matt: A long time ago in a galaxy far far away
Megan: St. Patrick's Day – March 17th, 2016
Steve: August 2015
What is your job title?
Brendon: Service Representative
Matt: Driver
Megan: Sales Representative
Steve: Service Representative Assistant
What is your favorite part of your job?
Brendon: Delivering beer
Matt: My coworkers
Megan: Meeting new people
Steve: People and Freedom
What is your go-to beer recommendation and why?
Brendon: Summit Saga, because it's delicious!
Matt: Shock Top Lemon Shandy – I am the Shandy Man!
Megan: Bud Light because it's my favorite
Steve: Michelob Golden Light
What is your favorite thing to do when not at work?
Brendon: Spending time with my family
Matt: Watching Netflix and hanging out
Megan: Hanging out with my dog and family, playing volleyball
Steve: Fishing
What game will you for sure be watching this month?
Brendon: Vikings Football
Matt: Gophers Football!
Megan: Ryder Cup
Steve: None. I will be fishing.
What is your favorite vacation destination or what vacation destination is on your bucket list?
Brendon: Lake of the Woods
Matt: Kings Landing
Megan: Bora Bora and Alaska are on my bucket list. Hawaii is my favorite!
Steve: My mom's, Up North, and Sherwood Forest.
What is your favorite TV show or movie?
Brendon: Criminal Minds
Matt: The League
Megan: The Rock (movie)
Steve: Impractical Jokers
What is your favorite food?
Brendon: Shrimp
Matt: Leann Chin
Megan: My family calls me the 'garbage can" because I like everything! If I had to choose, it would be anything with noodles.
Steve: Tacos