Our Crowned King of November 2020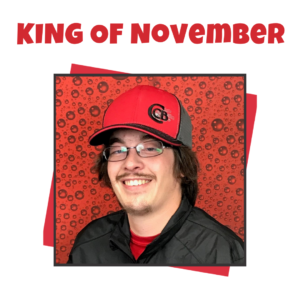 THOMAS LARSCHEID
Positive Energy – Thomas always brings a great attitude to work every day.
Driven to Serve – He displays the "get-it-done" attitude and goes out of his way to make sure his accounts are looking good and that they are happy.
Caring & Compassionate – Thomas will stop and help his teammates if they are having a longer day to make sure they are getting through their day. 
Passion to Grow – He is always looking to grow his accounts and grow College City Beverage.
Accountability to the Team – Always on time and does a great job. This job can be tedious and redundant, yet it is highly important to our business. Thomas is committed to making sure product is out and ready for the customers.
Why??? – Thomas "gets it." He understands why we do what we do and how his role affects others within College City Beverage.