Our Crowned Kings of 4th Quarter 2020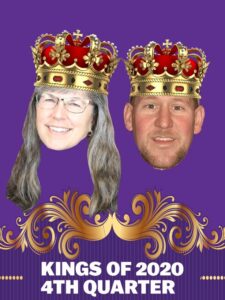 LAURA JASNOCH
Positive Energy – Laura has been working extremely hard on the A-B PINC and 2021 NA pricing for grocery chains. While stressful, she has kept a great attitude and a smile on her face throughout the process. Laura shows up every day knowing she is dealing with ever-changing pricing issues and frustrated customers.
Driven to Serve – She continues to go the extra mile for CCB and her accounts, always making sure her t's are crossed and i's are dotted. Laura is the best in the business. She makes sure CCB's pricing is submitted to everyone in a timely fashion. Her attention to detail with all departments is noticed every day.
Caring & Compassionate – Laure cares about her fellow employees as well as her customers. If they are happy, she is happy. Laura takes pride in being on time with all of her emails. She wants to make sure she gets it right every time.
Passion to Grow – She is very self-motivated and curious. Laura is willing to do what it takes to get her answer, even if it means she has to run across the salesroom. Laura is always positive toward change when a suggestion is made or an opportunity to grow presents itself.
Accountability to the Team – Laura is willing to put stuff aside in order to assist with a blowout or discount at the drop of a hat to ensure our reps have the pricing they need to get the product out the door. She puts others' needs in front of hers and always gets the job done on time.
Why??? – Laura has been called out from our friends at Total Wine as "By far the Best!" She does a lot of things that no one wants to deal with. She's really worked hard to make sure everything is prepared for 21′ when it comes to pricing. It's really impressive the attitude she has and the determination to strive for perfection.
JEREMY STADLER
Positive Energy – It is hard to recall Jeremy actually being in a bad mood on any certain day, rather he will downplay bad situations with that much appreciated humor we expect from him. Jeremy comes ready to work every morning. His body language speaks volumes that it's go time each and every day. Jeremy encourages proper procedure and doing what's right every day. His get it done attitude leaves no stone unturned.
Driven to Serve – Jeremy brings ideas to the table when needed and is a cornerstone in the warehouse with all that he takes on in terms of responsibility. He is willing to put in the extra work to help out when and where he is needed. From helping in the shop, picking up orders, and retrieving hot shots he won't let you down. Jeremy is quick to teach fellow teammates and then steps back so they can build confidence.
Caring & Compassionate – He is one of the first ones to ask if you need any help. Jeremy strives to make sure everything runs smooth and puts great effort in keeping the warehouse on schedule so everyone can enjoy lunch together. We love that team comradery!
Passion to Grow – Jeremy is willing to listen and learn from each situation and is always looking to make processes more efficient. He has taken on many repairs to shrink wrappers, racking, speed doors and other equipment failure and is even learning to diagnose issues with Encompass and provide feedback on possible solutions.
Accountability to the Team – When Jeremy is given a task you can guarantee the job will be done. He is always working to maintain our image. Jeremy ensures all supplies are in stock and all cleaning duties are complete (thanks for keeping the tap room stocked!). He cleans the breakage room out regularly and maintains all repack orders. Jeremy holds others accountable by following up on any concerns and ensures proper signage is in place to encourage proper procedure.
Why??? – Jeremy is like a Commander in General out in that warehouse, taking on all responsibilities handed to him and delegating those responsibilities when he needed. Jeremy is a leader in the warehouse and makes everyone around him better.