Our Crowned Kings of April 2022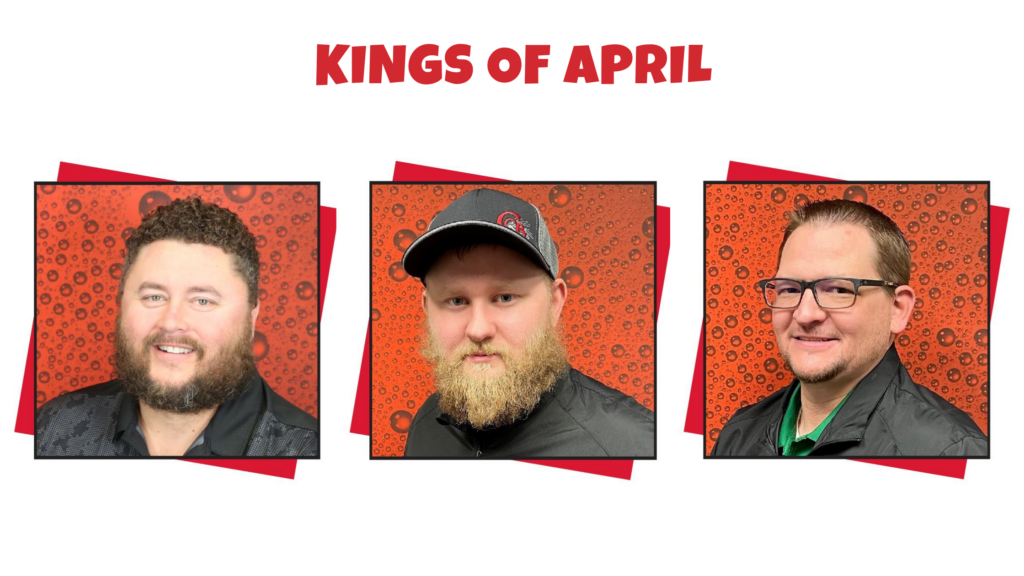 RACE HOPPER
Positive Energy – Race always brings great energy when meeting with both internal and external customers.
Driven to Serve – Example are Racks, Copper Pint, McHugh's and Casper's – he dominates in our top accounts.
Caring & Compassionate – Race knows everything about his accounts from cooks to the GM, Race makes it his business to care.
Passion to Grow – He has become a top performer across our entire portfolio – liquor, wine, and beer.  He understands all of them and uses all three to make great sales calls.
Accountability to the Team – Race is our informal leader. We ask him and he gets it done.
Why??? – He has shown strong growth and really cares about how people see him and doesn't want to let anyone down.
ZACH HABERMAN
Positive Energy – Zach is very easy going. Not much can get this guy frazzled. He's always seemingly in a good mood, a guy that others enjoy being around.
Driven to Serve – When called upon, Zach will do anything asked of him and will do so with an attitude we are looking for from all of our employees. Zach went out and got his CDL just a few short months after starting his employment here. Shortly after, Zach started running routes because we needed him to step up.
Caring & Compassionate – Zach cares very much to be the best he can be to serve CCB and our customers. When he notices something that may be off, he'll not only ask questions, he'll also offer solutions to problems.
Passion to Grow – Zach received his CDL a few short months after working here, and started running relief routes almost immediately after. He immediately expressed interest in getting a route and was granted one, even though the one open involved the Stillwater bar route (a route that nobody generally "wants").
Accountability to the Team – When Zach makes a mistake, like we all do, he admits his shortcomings. He will listen to and implement any advice given to him so he doesn't make the same mistake again.
Why??? – Many have had the opportunity over the last six months to see Zach grow exponentially. This guy highly demonstrates all of our Core Values.
JASON ATTENBERGER
Positive Energy – Although on the quiet side, Jason comes in to work everyday with a great attitude.
Driven to Serve – Since Jason started at CCB he has looked for many ways to help push our products.  He has lined up and worked late hours at sampling events in his territory.
Caring & Compassionate – Jason has worked with and has a history with a lot of his accounts, he knows them well and cares for his stores. He asks others what he can do to help.
Passion to Grow – He is always looking to grow and is always asking questions on what he can do to learn.
Accountability to the Team – If you ask Jason to get something done, he does. He just made a push for the off premise team on the last day of the month so the team could qualify for our KOD incentive.
Why??? – Jason has gone above and beyond over the last month to do a bunch samplings to help push our products in his territory. He's done a great job working with his accounts and they all have his trust. Jason has the motivation to get it done!