Our Kings of 2nd Quarter 2019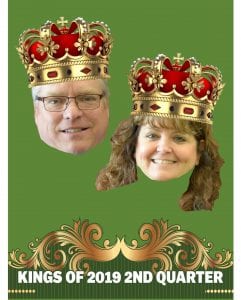 Judy Thomas
Driven to Serve Judy spans herself across all departments.  She is always willing to lend a hand in whatever context she can and succeeds with a smile and a genuine demeanor.
Positive Energy She arrives at 5am and is ready to work. Judy has a very positive attitude and can find a way to turn anyone's "bad day" into a much better one.
Caring & Compassionate Judy cares very much for the people she works with both internally and externally.  It is this "caring and compassion" that we admire most.  She has a "motherly way" about her that we can all respect greatly.
Passion to Grow She is always asking questions to better understand what is going on.  Judy is not just content with what confines "her job", she wants to know how things work throughout each department so she can better assist each department on a day to day basis.
Accountability to the Team Judy has some very large responsibilities within our company.  She handles the money daily as it comes in from the various routes, clearly this is a very large responsibility that she is accountable for and takes seriously. Judy is never one to make excuses when an error is made on her behalf.
Why? Judy continues to display such a positive attitude and a willingness to help every department in any way she can, working hard each and every day.
Kent Storlie
Driven to Serve Kent is first to sell in something new, week one execution. He knows all of his accounts are important and wants them to grow their business.
Positive Energy Has great relationships with his accounts. Kent comes in each morning with a positive attitude ready to go out there and get the job done
Caring & Compassionate Kent is always willing to help his fellow team mates out and share success stories on how to get it done out in the market.
Passion to Grow He always follows through with his accounts on displays, POS, execution. One display is great but he always asks for one more.
Accountability to the Team Kent is a leader on the  C & G team. He has great communication through and through
Why? Kent does the work from start to finish always wanting to win and never gives up.