Interview With Mike Rose of Craft Brew Alliance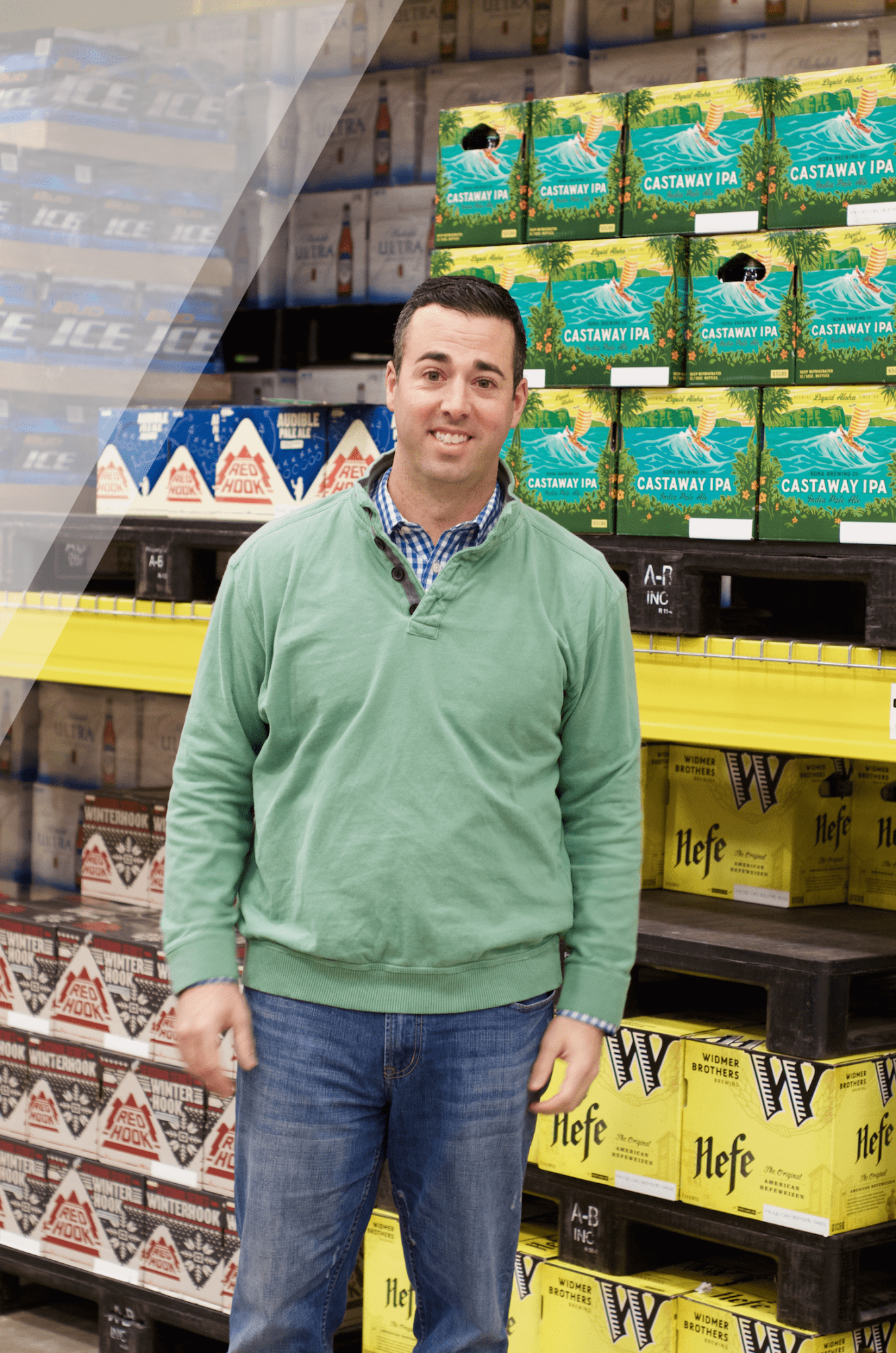 As part of our brewery rep interview series, we are thrilled to introduce you to Mike Rose. He's a seasoned industry professional who works with great craft beer, and he has a lot to teach you.
Mike Rose, District Sales Manager at Craft Brew Alliance (CBA)
His History
When Mike Rose graduated from St. John's University, he planned to move to Colorado to become a ski bum with a friend. They'd "throw resumes around" until their student loan repayments kicked in, and hopefully they would both have a job by then.
Two weeks before they were set to leave, Mike's friend called. He was taking a job at a bank here in Minnesota.
It was time for Plan B.
A sales position opened up at a beverage wholesaler, and a friend recommended it to him. The interview was held at a bar, because it's only natural. Mike was tasked with promoting a product to people in the room, and he passed with flying colors. "That happened on a Friday, and I had a job on Monday," Rose says.
In the 14 years since that fateful day in a bar, Mike Rose has held just about every sales position you can imagine. From on-premise to off premise, to regional manager. He even left the beverage industry briefly to work in tobacco. "To really make mom proud," he laughs.
Early on in his career, Rose knew the value of distributing craft beer. He saw the opportunity for great sales and profit, and he wanted his employer to be part of the success.
Eventually, Rose got a call from Goose Island, who had heard a lot about his work in the industry. During his time at Goose Island, he grew a strong relationship with CBA . The two breweries had worked together to grow their networks (CBA was stronger on the coasts, and Goose Island had a handle on the Midwest).
Eventually, Rose sat down with the President of Sales at CBA (over beers, of course), and ended up taking a job there.
What is CBA?
CBA is the Craft Brew Alliance. It's a group of breweries that work together to share resources and grow their businesses. Their brands include Kona, Red Hook, Widmer Brothers, and Omission.
CBA also partners with emerging brands by giving them access to valuable resources such as data, distribution networks, facilities, and routing system software (things most new breweries can't afford to develop on their own). One of their more recent partnerships is with Appalachian Mountain Brewery
How the heck did these breweries end up together?
It's a long and winding tale. The short version: A few talented people all started breweries in different places at slightly different times. They all brought their own advantages (location, ability to produce and sell a high volume of beer quickly, quality control labs, etc.) to the table, and a partnership was only natural.
What makes CBA different?
We are owned in part by Anheuser-Busch, but CBA is still quite independent. Working with Anheuser-Busch gives us access to great resources, and it allows us to access big stores while still holding onto their roots in craft beer. To get connected with national franchises, we need to 1) make enough beer to fill all their locations and 2) be able to distribute to all their locations. Anheuser-Busch gives us the tools to do that.
Despite being owned in part by Anheuser-Busch, CBA is still independent. We are a publicly traded company with shareholders, our own district managers, our own trucks, our own CEO, etc.
Oregon, where our headquarters is located, is only state where craft beer is greater than domestic beer in terms of sales. This is very unique in the beer world, and we have to stay creative and innovative to continue to exceed expectations. For example, we have to change sales messages to reach certain kinds of drinkers, sometimes even creating and selling crossover beers.
The biggest thing about CBA is that we still believe in brands and branding, where a lot of other people are riding the wave of "local" as a brand. We want people to drink our beer not just because we're local or because we have the newest IPA, because that's not sustainable branding.
What's your average week like?
I have a lot more freedom than I've ever had before. I usually spend two days a week working on admin stuff (answering emails about shipments, etc.). In these days, I also spend time prospecting, developing strategy, managing brewery reps and samplings, and managing the business' growth.
On other days, I visit wholesalers (26 in total) to talk about CBA brands and finding a way to get our brands on the top of their sales teams' minds. I also manage budgets and my team.
How often do you get to sample new beers?
I used to try them all, but it eventually got to a point where I couldn't keep up with all the new stuff coming in. I like anything that's well-balanced and well-made. I tend to prefer beers made by more experienced brewers, and I steer away from IPAs, since they're a dirtier beer and can hide more mistakes.
What's your go-to beer recommendation?
Kona Big Wave
What are you looking forward to in the world of beer?
I'm boring. I like the middle man. I like dealing with people and the conversations that happen at the coffee machine. What I think is next has nothing to do with exciting new flavors and beers. I'm excited for new processes and systems that wholesalers will be adopting, and how they'll affect their sales people and the profitability of their business.
I think pretty soon, we will use data to determine how many brands a wholesaler can afford to carry in terms of time, mental space, etc. We can learn what the most profitable brands are and learn how to prioritize them in terms of sales. We always want wholesalers and distributors to benefit from selling our brands, so we have to find a way to make that a reality and tell that story.
What's the best perk of your job?
"Free beer. A lot of people are my best friend now. If I start to sell printer ink instead, I'm going to lose a lot of friends!"
What's up next for CBA?
The Aloha series is coming back for Kona, which is a really big deal. Beers like Koko Brown and Lemongrass Luau are very craft-centric.
Hopefully, we'll be looking at a Lanai Series soon, too.
*This interview has been edited and condensed