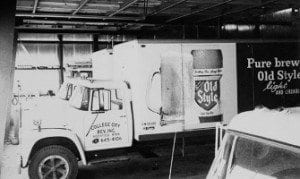 Jim Hubbard

Back in the early 1950s, Jim Hubbard was an Area Representative in southern Minnesota for the Canada Dry Products and then an Area Rep for the G. Heileman Brewing Company. Jim and his wife, Maxine, purchased the distribution rights for those brands between 1952 and 1953 to begin their own business, College City Beverage. They also bought miscellaneous fountain syrups: Nesbitts, Squirt and Hires bottled pop. At that time Jim's territory was in the Northfield area with the warehouse in a one-car garage at 701 College Street.
Hubbard continued to add other G. Heileman brands: Fox Delux, Fox Head, and Wisconsin Premium. The business continued to grow to where more space was needed. They moved their products to the Munk Festler's Potato Warehouse and the Edelbrock Chicken buildings on the south edge of Northfield.
In 1965 they remodeled the Edelbrock Building and moved the operation there through 1969. They continued to use the Munk Festler's Building as storage for the summer overflow.
College City Beverage, Inc. (CCB) became a sub-distributor for Anheuser-Busch via Capital City Beverage out of St. Paul and Pepsi products from the Gillette family via the Rochester, LaCrosse and Mankato bottlers along with Gluek's Brewery brands of Gluek's and Gluek's Stite.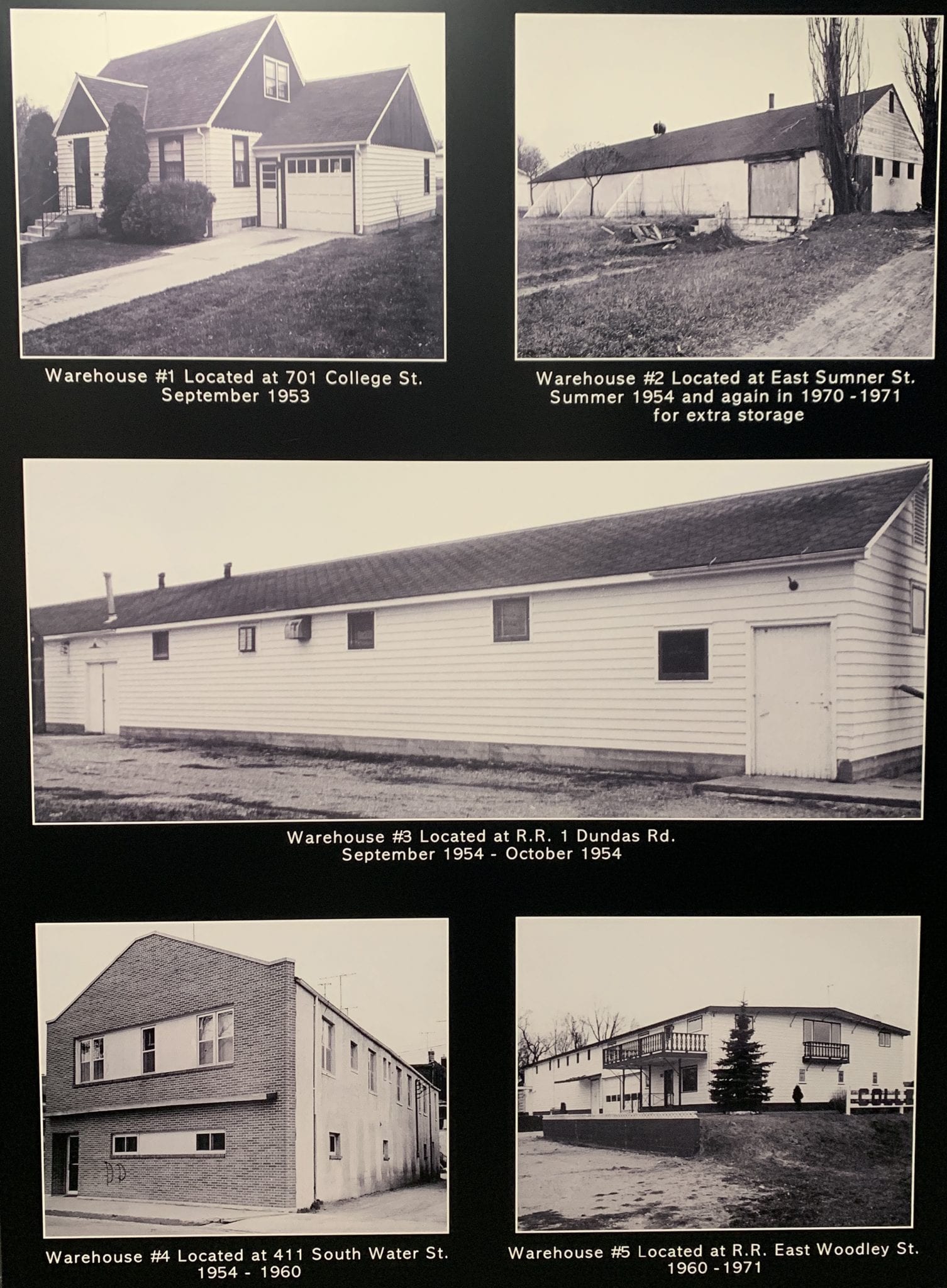 College City Beverage became a sub-distributorship out of the Twin Cities area for the imported brands: Lowenbrau, Hofbrau, Tecate, St. Pauli Girl, Anchor Steam, Carta Blanca, Kirin and Heineken. CCB added an expanded line of bar supplies: sip sticks, glassware, paper bags, olives, cherries, dance wax and mixes. A new warehouse (presently occupied by Culligan Water), office and home were built in 1970 along south Highway 3. Besides Glenwood Ingelwood water and dispensers, Amirimpo Wines were distributed with other wholesalers from Minnesota.

Blaisdell Family and Sawyer Family Purchase of CCB 
When they met, Jim Sawyer and Tom Blaisdell were both employed at the Northwestern State Bank of Northfield. Jim, who had been transferred to Northfield from Mankato in 1973, had worked at Northwestern for five years. Tom, who had been transferred from Dodge Center in 1975, had worked at Northwestern for three years, when they had the opportunity to get into the beer business.
The warehouse was doubled in size just before the business was sold to Tom Blaisdell and Jim Sawyer in October 1978. At the time of the sale, the major suppliers for College City Beverage, Inc. were Anheuser-Busch Companies, Inc. and G. Heileman Brewing. The company had 10 employees.  CCB added Jacob Leinenkugel products and many imports, with Heineken selling the largest volume of these imports. The Company added to the wine portfolio carrying Amirimpo wines, Cribari, and Vintner's Choice. In the non-alcohol line CCB continued to sell Pepsi-Cola products, Nesbitts products, Glenwood bottled water along with the restaurant supplies.
By 1982 the Company had outgrown the warehouse and a new, larger warehouse was needed to accommodate the growth. The new warehouse was built at the intersection of highways 3 and 19. CCB moved into the new building in April of that year.  When the Company moved to this location, it stopped selling the restaurant supplies so it could focus on the beverage lines. The new warehouse allowed most of its trucks to be kept inside the building at night with a wash bay for keeping the vehicles clean.
In 1984 College City Beverage purchased Red Wing Distributing from Tom Ryan.  There were three employees in Red Wing and two of these employees continued working for College City Beverage after the purchase.  A computer system was established at that warehouse so they could communicate with the operation in Northfield.  College City Beverage hired a person to manage this satellite operation.
Also, in 1984, CCB severed relationships with the soft drink suppliers. Jim and Tom didn't want this separation, but distributor-supplier relationships had become unworkable. This caused the elimination of all soft drink equipment and one employee.
The next several years brought College City Beverage continued growth and it was necessary to improve the warehouse situation in Red Wing because the facilities were not suitable for the operation of the satellite warehouse.  In 1987 College City Beverage made the decision to bring the entire Red Wing operation to Northfield.  This move would necessitate a much larger warehouse.  CCB purchased land in the industrial park on the south edge of Northfield to build a 42,000 square foot warehouse.  In June 1988 the Company moved into the new facility at 1720 Cannon Road. CCB expanded the facility three times — two additions to the office space and a 28,000 square foot addition to the warehouse in 1995, 1997, and 1999 respectively.
In 1995 Jacob Leinenkugel products were sold to Alcorn Beverage, a distributor of Miller Brewing products. In 1997 CCB sold G Heileman products to Chisago Lakes Distributing. The G. Heileman brewery had been sold to the Stroh's Brewery previously and CCB felt it would be in the company's best interest to discontinue the sale of these portfolio of brands.  The rest of the G. Heileman brands were sold to Tri-County Beverage in New Prague in December 1998. CCB sold all the imports, except Heineken, to Day Distributing in June 1998. At this time the breweries that College City Beverage, Inc. represented were Anheuser-Busch, Heineken USA, Summit Brewery, Widmer Brewing Co., Redhook Brewing Co, Goose Island, Abita Beer, and US Beverage Imported Brands.  CCB also was selling a variety of non-alcoholic brands such as Monster Energy drinks, Boylan's Soda, Mountain Valley Spring Water and several other flavored waters.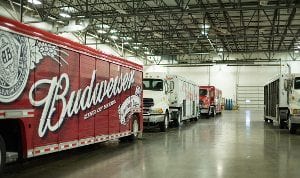 Sawyer Family 
College City Beverage, Inc. had a major setback on November 6, 1997, when Tom Blaisdell suffered an aortic aneurysm that took his life at the age of 56.  Tom's death required a change in ownership and Jim Sawyer purchased Tom's interest in the business.
At the time of his death, Tom's three children had been employed at CCB, the three of them decided it would be best if they pursued other interests in July 1998. CCB has been a family-owned business and continues in this tradition with Jim's two children, Christopher Sawyer and Natalie Chell, now leading the business.
College City Beverage, Inc. decided it needed its own maintenance facility; on March 1, 1999, CCB hired a full-time mechanic to maintain the entire fleet. This facility proved to be an asset to the company and improved the health and longevity of the fleet.
By 2004, the Cannon Road location had become inefficient with no room for expansion.  The company began looking for property to build another new warehouse.  In 2006, the company purchased 20 acres from the DeMann family in Dundas and began construction of a 153,000 square foot facility.  On April 2, 2007 College City Beverage, Inc. moved into their new state of the art warehouse and offices located at 700 Railway St S in Dundas, Minnesota.
At about this time the craft beer craze began to take off and the company added several of these breweries to it's portfolio including Odell, Alaskan, Stone, Oskar Blues and several more along with several more non-alcoholic lines including Sparkling Ice, Arizona, Nestle waters, Polar waters and some mixes.
In 2017 the company had grown to the point they needed to add more warehouse.  75,000 square feet were added to bring the total building to 225,000 square feet.  At about the same time, Coca Cola took over the rights to the Monster Brands which caused major changes for the company and was forced to downsize.  Efficiencies came from a warehouse management system, layoffs, LED lighting, solar panel investments and several other changes to decrease expenses.  To add revenue the company started carrying new brands such as Liquid Ice, Bang Energy, Loon Juice and other brands to try and grow revenue.  Today the company has over 50 suppliers.
College City Beverage, Inc. continues to increase sales and market share. CCB anticipates continued growth because the company has the finest group of employees and the highest quality products brewed in the industry.  Today CCB has about 100 employees.