Brewery Feature: Loon Juice Hard Cider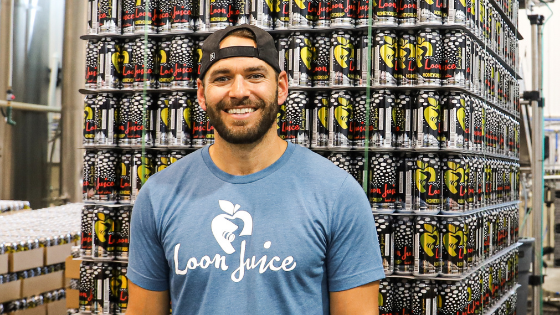 The fall season is known for its plentiful activities, from hayrides and bonfires to classic apple picking! At Four Daughters Winery, they do all the heavy lifting for you by taking Minnesota's state apple and crafting delicious Honeycrisp hard ciders known as Loon Juice. The College City Beverage team is proud to distribute varieties from Four Daughters and Loon Juice. We're always interested in learning more about the behind-the-scenes process from our brands, so we recently spoke with Justin Osborne. He's the Director of Winery Operations at Four Daughters and a Cidermaker at Loon Juice. He walked us through his journey to cider making and what sets Loon Juice apart as a brand!
What is your role at Loon Juice/Four Daughters?
I am the Director of all the winery and cidery operations. Loon Juice was my pet project that I started in 2014. I went to school through VESTA, which is a popular winery school run through Missouri State University. It's an interesting setup because VESTA has people who are in lots of non-traditional wine areas. That's where I learned and took some classes, but to be honest, I learned the most from Google! The third wine I'd ever made won the Governor's Cup of Minnesota, the award for best wine in Minnesota. My first two wines completed as part of the school were terrible, but my third for the winery was a hit! That one is our La Crescent.
What does a typical day in operations at Loon Juice/Four Daughters look like?
It depends on the season! During September and October, we are mostly grape focused for the winery side of operations. We've got people out picking, but we're also making Loon Juice cider. We receive the cider, ferment it, and put the batches together. In the tasting room, we're open every single day. Weekends can be very busy, but we take reservations!
How did Four Daughters (and subsequently, the Loon Juice sector) get its start?
Four Daughters started because my in-laws had four daughters, and none of them lived nearby. They made an effort to get the girls and their families to move back, and it was a very "right place, right time" for me. I had been working for my dad as a construction manager in 2008, and then the recession started. Everyone got really tense because construction was hit hard. I wanted an opportunity to make my own success, so I came to Four Daughters in 2009 and worked until we opened in 2011.
When I was 18, I went to London on spring break. We drank Strongbow cider and I was hooked. Loon Juice is similar to Strongbow, but we used Honeycrisp apples which makes a huge difference! Loon Juice went out for distribution in 2014.
What, in your opinion, is the most unique aspect of Loon Juice?
Cider is so often messed up. It's tricky: it's a lot harder than a drink like beer to keep shelf stable. Here, we have equipment devoted to keeping it in a good, quality package where nothing will happen to it. Our quality is consistent throughout. One of our most unique things is that we don't have a lot of inventory. So, during these high seasons when things are moving fast, there are times when part of what customers are drinking in our cans could have been an apple two weeks prior. Our product is always fresh. We have an unbelievable network of Honeycrisp suppliers that spans three continents. We can get a fresh Honeycrisp apple any time of the year.
What would you like customers to know about Loon Juice?
No one consumes more Loon Juice than I do. If there were a problem with Loon Juice, I'd be the first one to know! It's made with a lot of integrity and only the finest ingredients. Our cider, if it's kept cool, will keep for years and taste just as good.