Brewery Feature: Excelsior Brewing Company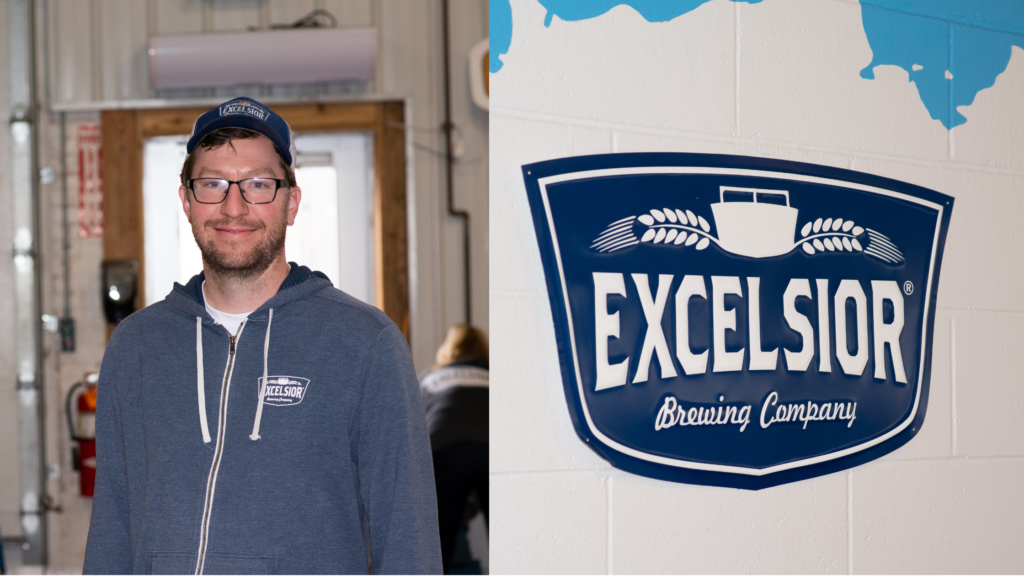 At College City Beverage, we love to support and visit the great breweries and brands we distribute. We recently had the opportunity to stop by and talk with Excelsior Brewing Company's Head Brewer, James Birnie.
HOW DID YOU GET YOUR START IN BREWING?
I tended bar for a long time and saw craft beer gaining popularity, which interested me in beer and home brewing. When I decided that I wasn't cut out to be a bartender for the rest of my life, I started looking for my next venture. I moved to Oregon and attended Oregon State to study food science and chemistry, with a focus on fermentation science. I learned a lot while working at another local brewery before becoming the head brewer here.
WHAT'S THE ENVIRONMENT LIKE HERE AT EXCELSIOR?
The Brewery? It's a GREAT brewery, and town itself is wonderful. We're like the small-town community hub for surrounding areas like Minnetonka and Chanhassen, and little lake communities like Shorewood, Tonka Bay, and Deephaven. This is literally the gathering area where all the restaurants are congregated – where people come.
The Chamber of Commerce for Excelsior does a great job of promoting the city and holding events here that bring in a lot of foot traffic. It's kind of a touristy city, but we don't get a lot of out-of-state tourists. The town's happy that we're here because we have such a big, open space. We're kind of like overflow for everything that happens. Come in here with your family, with your dog, or just meet friends.
DO YOU SERVE FOOD OR BRING IN FOOD TRUCKS?
Nope – we really try to help support local restaurants, and they sell our beer. For example, people get pizza from Olive's or Red Sauce Rebellion or tacos from Lago Tacos and bring them here to enjoy with our tap beer!
HOW LONG HAS EXCELSIOR BEEN AROUND?
This July will be our 10th anniversary! Our founder, Patrick Foss, could elaborate, but I think we were one of the top five or ten taprooms in the state.
WHY THE RECENT TRANSITION FROM BOTTLES TO CANS?
For a couple of different reasons. Cans just fit better with our kind of lake-lifestyle mantra. We're right here on the shores of Lake Minnetonka which is a huge recreational boating lake. The portability of cans is much better than bottles; you can throw a couple of cans in your backpack or in a cooler on the boat. It also takes a lot of energy to make and ship bottles. We invested in a new machine that fills in a really high-quality manner which can extend the shelf life and maintain the quality of the beer.
WHAT IS YOUR MOST POPULAR BREW?
Big Island Blonde – by far. It's our flagship beer and is about 60% of our sales. Depending on the day, week or month, the next top brew could be Hop Waves since IPAs are still very popular or our Citrus Big Island Blonde. Our variety pack includes a new light lager called Lakestyle that we're really excited about. We also have some beers here in the taphouse that are not available for distribution but are still very popular and can fill growlers and crowlers.
THERE ARE LOTS OF CHOICES AT THE LIQUOR STORE. WHY SHOULD SOMEONE SELECT EXCELSIOR?
Because we have a very, very keen eye for quality. The first thing I did as head brewer was to really tailor and improve our brewing process, which would improve the quality of all of our beers. I went through all the recipes and made tweaks to our base malt or yeast strains to really, really dial in on quality and consistency. We take a number of steps during the whole brewing process to look at the beer and make sure that it's a high standard before it goes out. We take pride in making really high-quality beer.
WHAT'S THE BEST PART OF YOUR JOB?
I get to make beer. It's not all smelling hops and sampling beers and doing quality control; we do a lot of hard work and manual labor. It's not glamorous, but the end of the day, I get to make something that we have right here on tap. I can walk through the taproom and see people enjoying what we made. People come here and celebrate their special occasions, and they're celebrating with the products we make. That's something really special. Most of the people that work here live right around here in the community. We're kind of fixture the community, we are like a community meeting hub where you will always recognize somebody.
CAN YOU TELL ME ABOUT YOUR UPCOMING EVENT – MAIFEST?
In Germany, it's meant to celebrate spring and new growth; they decorate with flowers and celebrate the good weather. We will celebrate with a bunch of cool bands, put up some large tents and make a beer after it. May 13 – 14 we will have German food, and we usually have fun games like Hammerschlagen. There have been hair braiders for the little girls and things like that – it's a family event!