The 12 Variety Packs of Christmas
Instead of a partridge in a pear tree, we are suggesting you give the gift of variety this holiday season. With an assortment in each box, you'll find a beer, cider or seltzer for everyone!
On the first day of Christmas, my BFF gave to me: Breckenridge Brewery 15'ER
This variety pack includes some of Breckenridge Brewery's most popular beers: Vanilla Porter, Mountain Beach Session Sour, Juice Drop Hazy IPA, Avalanche Amber Ale and Strawberry Sky Kolsch Style Ale.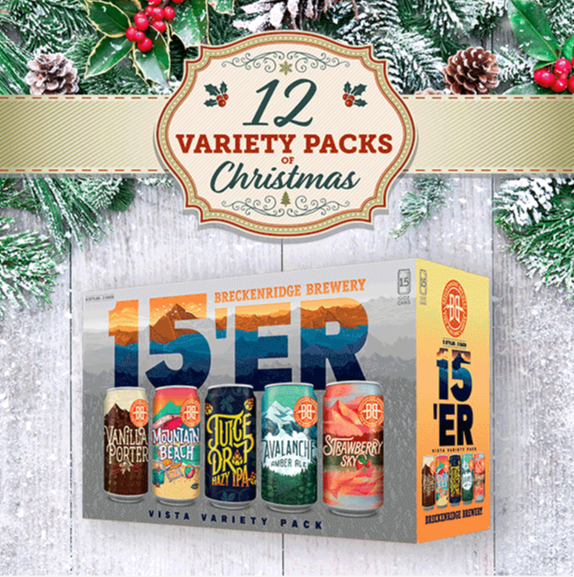 On the second day of Christmas, my girlfriend gave to me: Kona Brewing Island Hopper
Enjoy the taste of the island with Kua Bay IPA, Castaway IPA, Longboard Island Lager and Big Wave Golden Ale.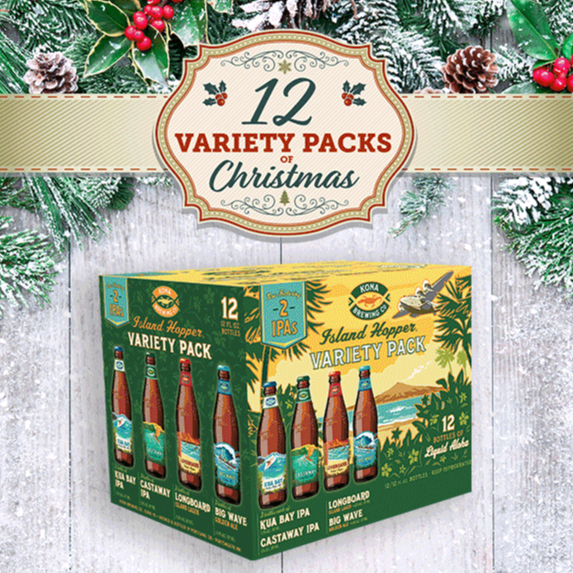 On the third day of Christmas, my boss gave to me: Goose Island 15-Can Flight Pack
Take flight with Goose Island's top brews: 312 Urban Wheat Ale, Lost Palate Hazy IPA, 312 Lemonade Shandy and Next Coast IPA.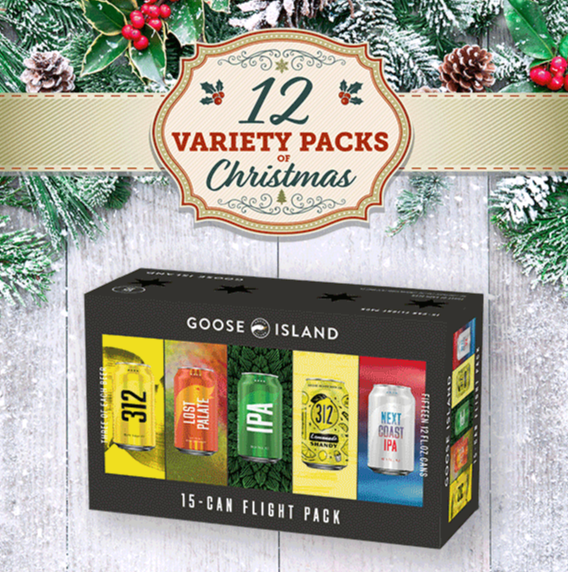 On the fourth day of Christmas, my mom gave to me: Sweetwater IPA Variety Pack
Dive into the SweetWater IPA Variety Pack: SweetWater Hazy IPA, Mosaic Single Hop Hazy IPA, 420 Imperial IPA, and traditional IPA.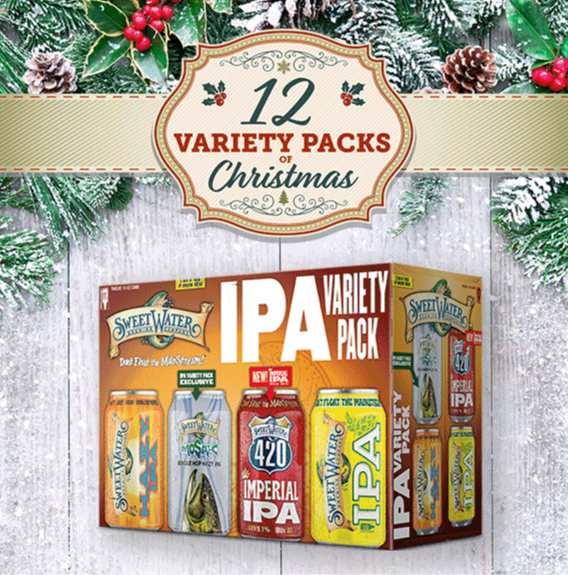 On the fifth day of Christmas, my neighbor gave to me: Odell Brewing Hoppy Variety Pack
Try all four of these Odell Brewing hoppy beers: Positive Latitude Passion Fruit Imperial IPA, traditional IPA, Drumroll Hazy Pale Ale and Myrcenary Double IPA.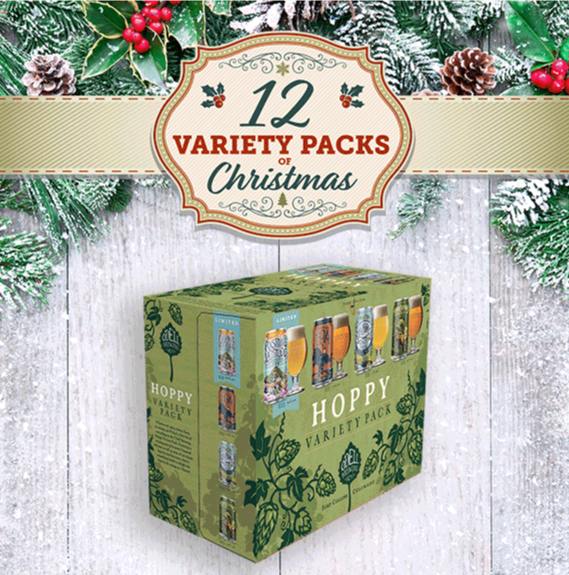 On the sixth day of Christmas, my mailman gave to me: Alaskan Mixed Pack
Journey north to this Alaskan Mixed Pack that includes Amber Ale, Freeride Pale Ale and two seasonal beers.

On the seventh day of Christmas, my brother gave to me: Stone Brewing Hazy IPA Mixed Pack
Choose these Hazy IPAs from Stone Brewing: Hazy IPA, Tangerine Express Hazy IPA, Fear.Movie.Lions Hazy Double IPA and Neverending Haze IPA.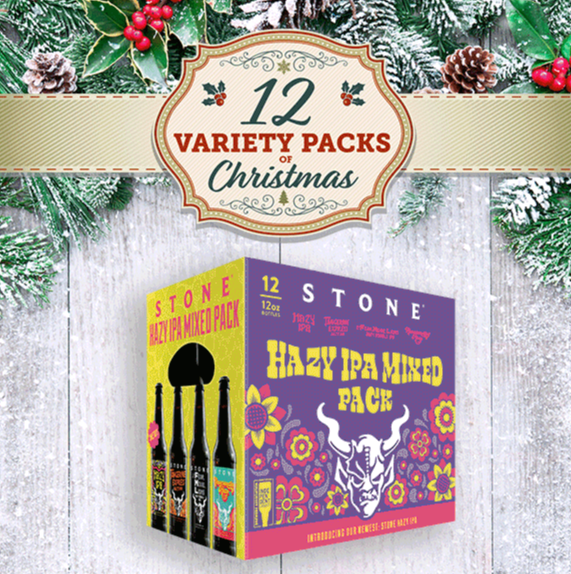 On the eighth day of Christmas, my dogwalker gave to me: Summit Best Of Mixed Pack
It's the best of Summit with this mixed pack: Extra Pale Ale, True Brit IPA, Keller Pils, and Great Northern Porter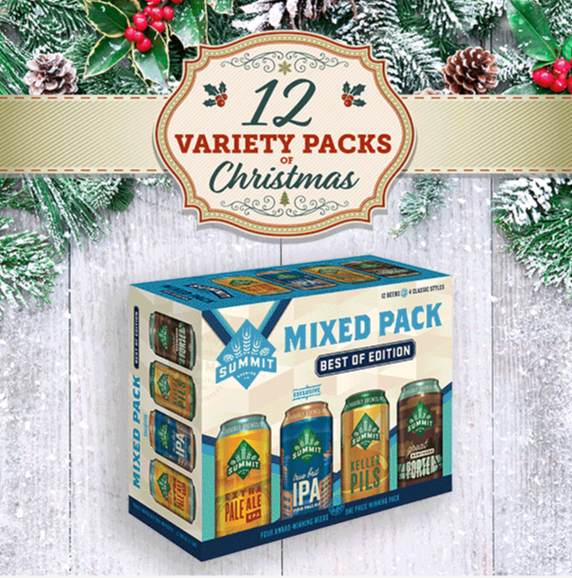 On the ninth day of Christmas, my sister-in-law gave to me: Mankato Brewery Variety Pack
Mankato Brewery has put together three of their limited beers with one year-round brew: Sector Berry Raspberry Blonde, Coconut Cove Pina Colada Cream Ale, Tropic Luv IPA and Mad Butcher IPA.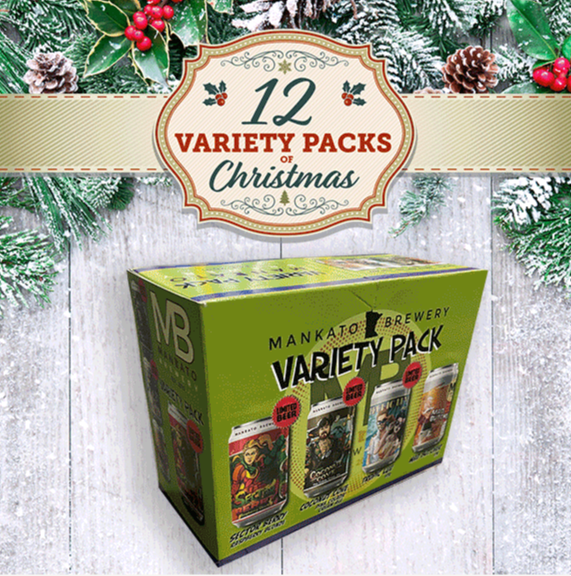 On the tenth day of Christmas, my cousin gave to me: Bushel of Blakes Hard Cider
Switch things up with some hard cider from Blakes: Flannel Mouth Classic Apple, Apple Lantern Roasted Pumpkin, Caramel Apple and Apple Pie.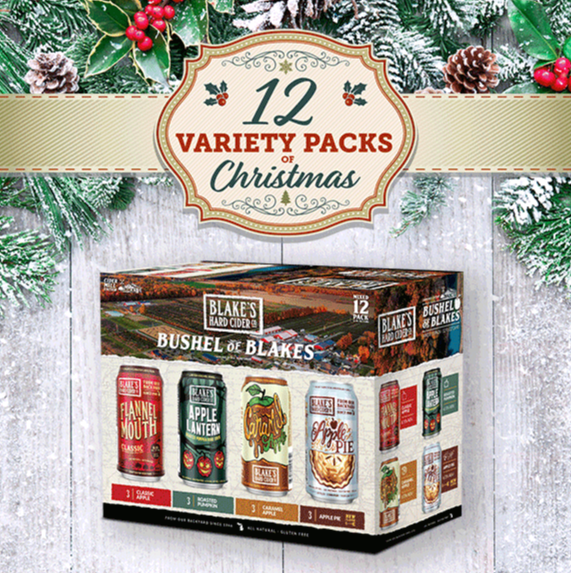 On the eleventh day of Christmas, grandma gave to me: Loon Juice Variety Pack
Choose a cider pack that starts with a Honeycrisp apple: Honeycrisp, Grow a Pear, Extra Juicy, and Mango Grapefruit.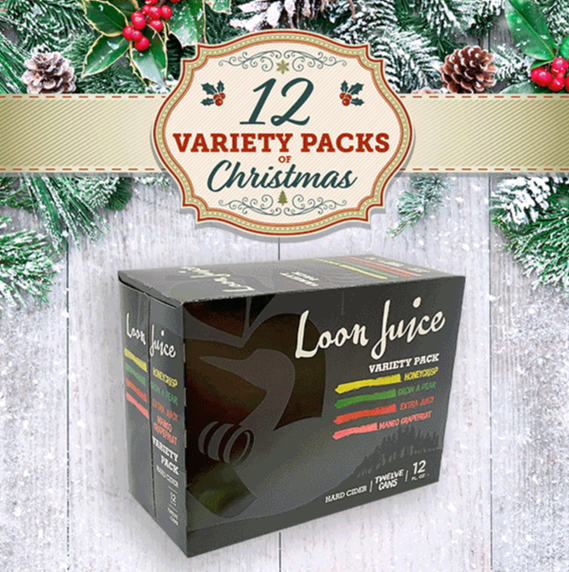 On the twelfth day of Christmas, I gave to myself: Kona Spiked Island Seltzer Variety Pack
Finish the season with a seltzer, or four, with Kona Spike Island Seltzers: Tropical Punch, Starfruit Lime, Strawberry Guava and Passionfruit Orange Guava.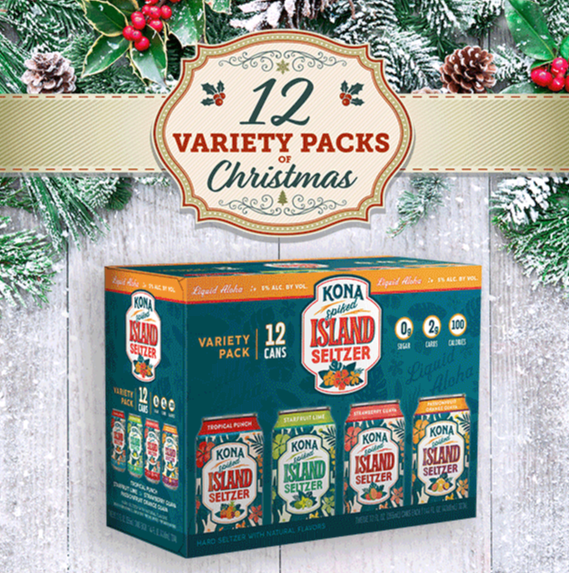 Look for all of these variety packs at your local liquor store!