Bourbon County Brand Stout – Limited Release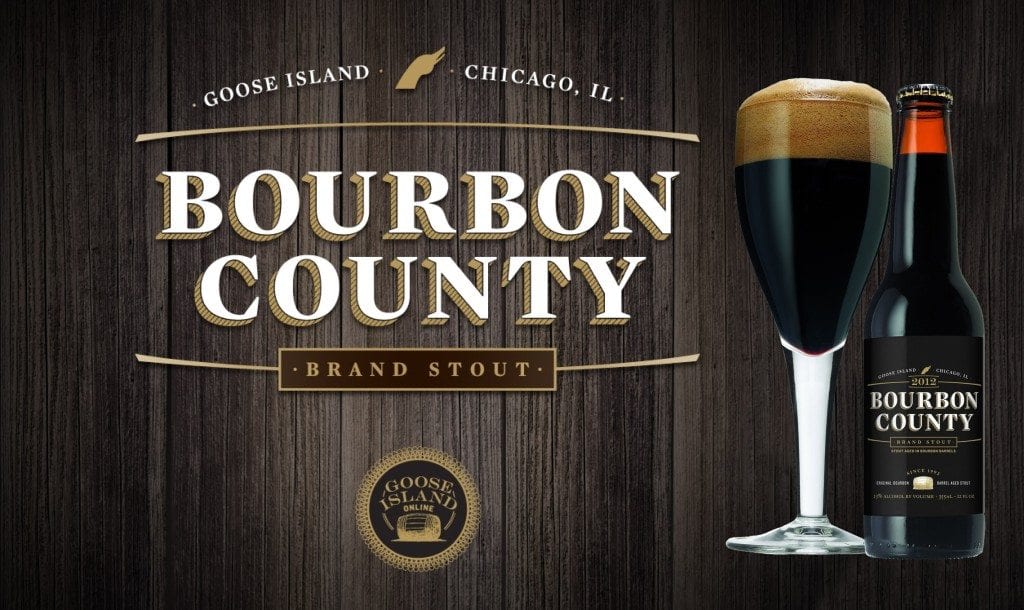 If you were planning on staying home for Black Friday, you may want to rethink that decision. Goose Island will be releasing their limited edition Bourbon County Brand Stout on November 28. These award-winning barrel-aged bottled beers, extremely few in number, will be available in Minnesota as well. For more information on Goose Island's Bourbon County Brand Stout, we've included the following press release below.
CHICAGO, (Oct. 20, 2014) – On Friday, November 28, Goose Island, Chicago's famed craft beer company, will release their renown Bourbon County Brand Stout (BCBS) line up of barrel-aged beers through special beer-centric Black Friday events in nine cities including Boston, Chicago, Dallas, Jacksonville, Fla., Los Angeles, New York, Philadelphia, Phoenix and San Francisco. Black Friday has become a beer drinker's holiday and a true reminder that good things come to those that wait (literally). It's almost that time, the moment beer fans have been waiting an entire year for, the chance to get their hands on this year's flock of Goose Island's award-winning barrel-aged beers.
"The magic of our Bourbon County Brand Stout is the time and unpredictable weather conditions our beer experiences in the belly of each hand-picked bourbon barrel," said Brett Porter, Brewmaster at Goose Island Beer Company. "Our brewers, much like our fans, are passionate about Bourbon County and we're counting down the days until Black Friday when we can all enjoy the new variants of the Bourbon County family."
As the pioneer in the art of aging beer in bourbon barrels, the Goose Island barrel program has set the industry standard, swiftly becoming one of the world's largest barrel-aged beer producers. First crafted in 1992, the brewery continues to push the limits of their lauded Bourbon County Brand through diverse variants, including Coffee, Barleywine, Vanilla Rye and a special release just for Chicago. The Friday after Thanksgiving, beer fanatics can now share in the tradition by enjoying the 2014 batch of Bourbon County. This year's variants include the following:
Bourbon County Brand Stout: The Original, a liquid as dark and dense as a black hole. The nose is an intense mix of charred oak, chocolate, vanilla, caramel and smoke. One sip has more flavor than an average case of beer. Available nationally in four and 24-packs in 12-ounce bottles.
Bourbon County Brand Coffee Stout: Everyday Goose Island smells the wonderful coffee roasting next to the brewery at Chicago's Intelligentsia Coffee and Tea. This world class roaster puts the same passion and skill into their coffee as Goose Island does with its beer. This excellent stout is made with a different coffee from the friends next door each year. With the change in coffee comes a change in the flavor profile, making each release truly unique from the previous years. The 2014 incarnation features Rwandan coffee. Available in four and 24-packs 12-ounce bottles nationally.
Bourbon County Brand Barleywine: Aged in the third-use barrels that were once home to Kentucky bourbon and then the renowned Bourbon County Stout, this traditional English-style barleywine possess the subtlety of flavor that only comes from a barrel that's gone through many seasons of ritual care. The intricacies of the previous barrel denizens – oak, charcoal, hints of tobacco and vanilla, and that signature bourbon heat – are all present in this beer. Hearty and complex, Bourbon County Brand Barleywine is a titan and a timeline; a bold, flavorful journey through the craft of barrel aging. Available in four and 24-packs of 12-ounce bottles.
Vanilla Rye Bourbon County Brand Stout: First brewed for the legendary festival of Wood and Barrel Aged Beer in Chicago, drinkers enjoyed this Bourbon County variant so much Goose Island bottled it the next year (2010). People flocked to stores to get their hands on a bottle and have this one of a kind barrel aged stout. Over the years that followed fans express their love for this version so Goose Island is extremely proud to bring it back in 2014. This year's version features twist of aging the stout in Rye Whiskey barrels instead of bourbon hand-picked from four different distilleries. Each rye barrel features a two pound mix of Mexican and Madagascar vanilla beans. This limited Vanilla Rye will be available nationwide in 22-ounce bottles.
Proprietor's Bourbon County Brand Stout: The second annual release of Proprietor's is aged in Rye Whiskey barrels and features panela sugar, made into syrup with coconut water, Cassia bark and cocoa nibs. This variant is meant to show Goose Island's immense gratitude to their neighbors in Chicago – the loyal and adventurous fans whose support helped bring Bourbon County Brand Stout to towering new heights. Each year this release will differ from the previous year; a special variant created for Chicago and unique to the year it was released. Available only in Chicago, in 22-ounce bottles.
This is the fifth year Goose Island is releasing Bourbon County Brands on Black Friday. In 2013, at the release event in Chicago, more than 500 people lined up to experience the Bourbon County phenomena firsthand. In 2014, with special Black Friday events in additional cities featuring unique collaborations with local artisans from coffee roasters to donut makers, the company expects an even greater turnout.