Introducing Kentucky Ales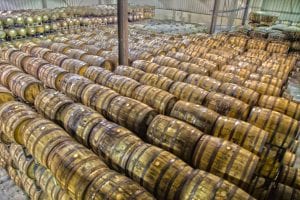 Home to one of the largest barrel aging programs in the country, Kentucky Ales is making its way up North.
We are excited to announce that College City Beverage is now distributing several of Kentucky Ales' bourbon barrel aged beers. These brews are too good to not tell you about, so be sure to get your hands on some today.
Not sure where to buy yours? If you're looking to purchase – contact your favorite liquor store or taproom manager, and ask them to call a sales rep today!
Who Is Kentucky Ales?
Born and bred in the heart of bourbon country, Kentucky Ales is a brewery that will put just about any beer in a bourbon barrel.


And, they come out tasting great! Bourbon barrel aging isn't just for stouts anymore.
Phil Walczak, your favorite Minnesota representative for Kentucky Ales, tells us, "We try to brew a beer that best advocates for the flavors of bourbon, so you get a lot of the vanilla and the caramel. People like our beer for the sweetness and the depth."
Will I Like It?
Walczak says, "We sit right in the middle of the craft beer boom and the more American staples like Budweiser. We have an appeal to a broad range of people, and we offer a depth of bourbon flavor in addition to a focus on caramel and vanilla sweetness. Our focus is on pulling out the subtle flavors of bourbon rather than relying on the bourbon itself, so it's a less scary craft beer."
Next time you're at your favorite bar or restaurant, ask to sample Kentucky Ales on tap. Or, keep an eye out for them at local beer festivals! You can also keep your eyes peeled for new seasonal flavors that will really knock your socks off.
Get To Know The Beer
Kentucky Ale is aged for up to six weeks in freshly decanted bourbon barrels from some of Kentucky's finest distilleries. Subtle yet familiar flavors of vanilla and oak are imported to this special ale as it rests in the charred barrels.
The beer goes into the barrels at 6% ABV and comes out at 8% ABV due to the several gallons of bourbon still engrained in the fresh barrels.
Kentucky Vanilla Barrel Cream Ale is a new take on a classic american style of beer. They took a cold-conditioned cream ale brewed with a hint of flaked corn and bourbon vanilla beans and aged it in freshly decanted Kentucky bourbon barrels for a minimum of two months. This brew isn't available just yet, but you can start making requests for April.
Kentucky Bourbon Barrel Stout is brewed and aged with Alltech Cafe Citadelle Haitian coffee and aged in world-famous Kentucky bourbon barrels. The result is a complex stout with dark-roasted malts, hints of caramel and vanilla, and a lightly roasted coffee finish. Coffee beans were originally sourced from Haiti as a way to support the recovery of the country's economy after the devastating earthquakes. Kentucky Ales continues to purchase beans from farmers there today.