Brewery Feature: Lift Bridge Brewing Company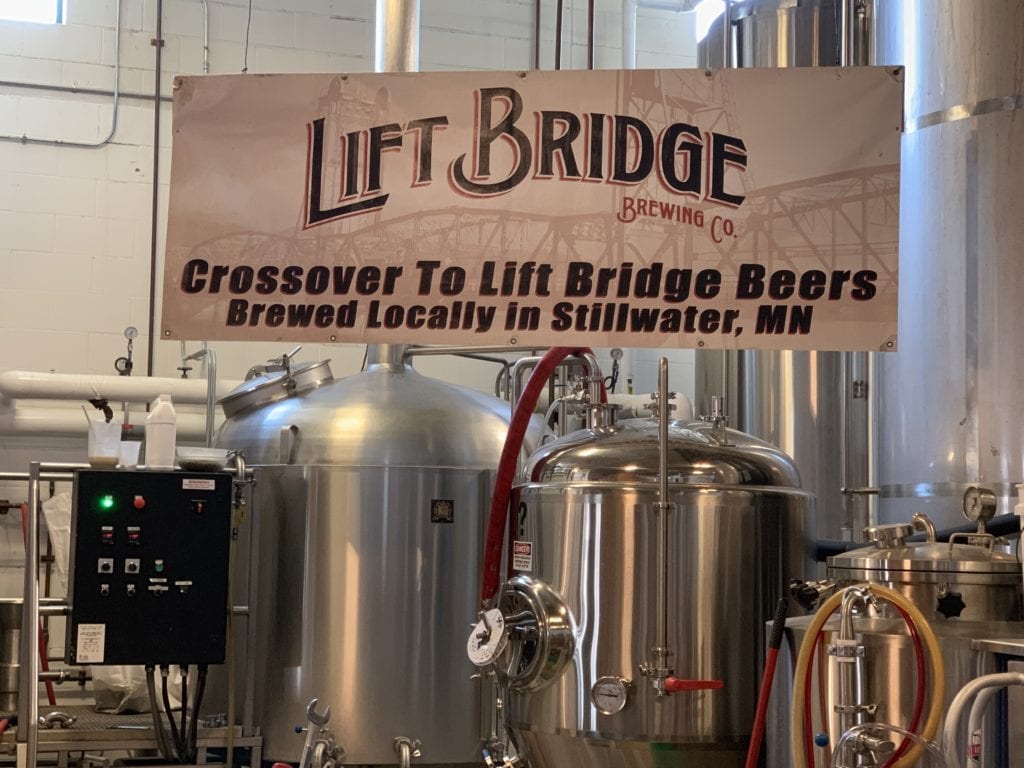 We recently visited Lift Bridge Brewing in Stillwater, Minnesota to learn more about their brewery and partnership with CCB. Walking into the taproom you are instantly greeted by smiling faces. Sitting down with Dave, VP of Sales, and Chris, Market Manager, we took the opportunity to ask them all about Lift Bridge Brewery and the exciting things coming up on the horizon:
Tell us about Lift Bridge Brewing?
Lift Bridge Brewery originally started with four owners. They were all from the same community and held monthly poker games where they got to know their neighbors and their interests. And because we cannot change the cards we are dealt, we can only change how we play the hand, it was soon discovered that they all shared the common interest of homebrewing. Moving along in the story, they received a lot of positive feed back from the community that they make great beer. It was suggested that they open a brewery, and it is important to mention at this time there was only 9 breweries in Minnesota. Thus, Lift Bridge was born being the 12th brewery in Minnesota. Now there are over 170 operating breweries in the state of Minnesota alone.
They played around with a few different recipes, and continued to get input from their friends, family, and community. One of the owners noticed that his wife wasn't drinking their beer. When they asked why, her response was simple, they didn't have anything she liked. This got there wheels turning, and sparked their vision to brew beer for everyone, not just a few. With this idea in mind, they brewed their first batch of a Belgian style Saison – later named Farm Girl after the wife that inspired the vision who grew up on a farm. This was Lift Bridge Brewery's first beer and continues to be their number one seller.
Who are you and what is your favorite part of your job?
Dave, VP of Sales: "I love the variety. There are a lot of different things happening on a daily basis. It is awesome to have the opportunity to work with great people on the wholesale and retailer side all the way to the consumer. Here at Lift Bridge I get to work with a great group of people under great ownership."
Chris, Market Manager: "I get to go around and talk about beer all day. That makes people happy! It makes me happy being able to talk about what I love and what I am passionate about. It is always a positive interaction when you talk about our beer."
What does a day look like for you?
Dave, VP of Sales: "I call Chris. But in all seriousness, I am a little bit more behind the scenes. What is great about Lift Bridge is what we do each day is different. There isn't a 'typical' day here which makes it fun."
Chris, Market Manager: "I second what Dave said, there is no such thing as a 'typical' day. Each day brings something new, fun, and exciting. From new markets to talk to, to different events, to beer festivals and promotional events. I love exploring and fostering relationships."
What is new and exciting at Lift Bridge Brewing?
Boy howdy, so many exciting things are happening! This year we have several new brands coming out like our Juice-Z a New England Style IPA and our Irish Coffee Stout which is a blend of whiskey aged Imperial Stout with locally roasted coffee from Five Watt Coffee in Minneapolis.
We are also launching our new locally crafted hard seltzer with three delicious flavors: Northwoods Juice Box which is a cranberry apple, St. Croix Berries a natural blend of blackberry, blueberry and strawberry flavors, and Voyager Citrus with grapefruit, lemon, lime, and orange. Our seltzers are 5% ABV with 3 grams of sugar.
Our new Black Cherry soda will also be coming out in June!
How does Lift Bridge Brewery differentiate itself in a growing market?
Lift Bridge Brewery has an advantage with awesome brewers, owners, and sales staff. New ideas are always being developed to stay on the leading edge of the market. We craft high quality beer which helps set us apart. The mission: approachable and consistent beer, all drinkable, nothing too crazy. Sticking to the core of crafting beer to elevate life's moments.
Their social media presence is also huge having over half a billion impressions last year with local to regional to national media. The Today Show featured our Mini Donut beer at the MN State Fair all the way down to the Stillwater Gazette. Their very active social media component helps them stay relevant in the consumer eye and foster partnerships with others like CCB and 93X (KXXR).
How is each beer branded/marketed as an individual and as part of a whole?
Everything is built under the Lift Bridge portfolio to ensure it is first and foremost true to the Lift Bridge brand. Underneath that we have our Lift Bridge Brewery, Lift Bridge Soda Co., and Lift Bridge Seltzer Co. Each brand ties in graphically with Stillwater and the iconic Lift Bridge – which is a key component. There is a relevancy in the graphics that comes back to the essence of Lift Bridge and the St. Croix Valley.
Get to know the beer:
The recommendation, start with Farm Girl Saison. It is a lighter and easy to drink beer. It really defines who Lift Bridge Brewery is and where they started being easy going and approachable, light, but flavorful.
The Lift Bridge mission is to create the perfect pairing. Elevating life's moments is Lift Bridges essence and Farm Girl exemplifies that. It I a great enhancement to what you are already drinking.
Tell us about your partnership with CCB:
They have been awesome partners with great qualities that set them apart. They are focused, disciplined, and consciences of what needs to be done and when. They are very forward thinking which is fantastic and evident in how they highlight their partnerships and relationships.
Their level of communication and commitment is outstanding. From the top down they are an organized and well oiled machine. A good wholesaler is execution driven, but has the big picture in mind on how to frame the brand within the market. CCB exemplifies this and they are a great partner for us.
What can we expect from Lift Bridge in the future?
Lift Bridge is in the works of building a new all encompassing brewery, so looking forward to that with methodical thinking. Keeping in mind what is best for the brewery and consumer to create a smooth transition. It is important for Lift Bridge to stay true to Stillwater and help the community thrive. Stay tuned for the new location to be announced!
The mission going forward is multi-faceted. Our seltzer will fit in under the emerging beyond beer segment while we continue to monitor those trends and beer trends. Keeping a close eye on the market wants for both beer, seltzer, and the N/A segment for our sodas. Our seltzers will be one of the few offered on tap with slim cans being released in May.
How can we get a tour or try your beer?
The Lift Bridge Brewery taproom is open 7 days a week, visit their website for more information. On weekends they also offer tours where you receive your very own pint glass and can sample all the favorites. In the taproom they always have product on sale for tasting or sampler flights. They also have growlers available of most brands with limited releases available in bottles only here at the brewery.