Product Feature: Lake of the Woods Brewing Company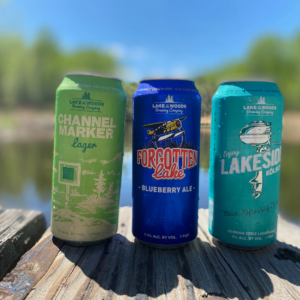 If there's one thing that many of us Minnesotans can agree on, it's lake life. Time is just better spent by a body of water and surrounded by nature. Lake of the Woods Brewing Company couldn't agree more.
They take that feeling and brew it in every beer they offer — from their Sultana Gold Blonde Ale to their Nautical Disaster IPA. There is Northern pride in every sip.
To learn more about the inner workings of Lake of the Woods, we spoke with staff member Brittney Peterson, who is based out of their Warroad, Minnesota location.
What is your role at Lake of the Woods?
My name is Brittney Peterson and I am the Head of Sales in the United States, I wear many (a ton actually) different hats at the brewery, but that is my main position.
What does a typical day in your life on the job consist of?
While there is no "typical day" when it comes to my position here, my main focuses are working directly with our Anheuser Busch distributors to fulfill can/keg orders. I direct a full sales team and even travel throughout the Midwest to build and maintain relationships with all of our buyers; whether they are distributors, bars/liquor stores or our wonderful end consumers who are #makingitlaketime.
What's your favorite part of your job?
Working with people is definitely my favorite part of the job. Whether it is the wholesalers, the liquor store/bar owners/staff, or the fine folks that purchase our products. Since the pandemic, obviously that interaction has changed quite a bit, but technology has allowed us to maintain all relationships and continue to spread the word about LOWBREWCO. People love Lake of the Woods… I was lucky enough to grow up here so it is always nice to hear other people's perspectives on the area that we hold so dear to our hearts. I should add that THE BEER is another pretty great part of my job… I haven't met one I didn't like. 🙂
How did Lake of the Woods get its start?
Lake of the Woods Brewing Company opened in 1898 in Kenora, Ontario, Canada. There is a lot of history that comes with our brand, as its primary goal when opening was to service loggers, fur traders, and other industry workers throughout the Ontario region. Now 122 years later we have 3 locations in Minnesota, Ontario and now Manitoba – we are Northern Born and Northern Proud! The owners here in Minnesota moved to the area in 2017 and saw an opportunity/need for a Craft Brewery in the region. We set up a meeting with the folks in Ontario and the rest is history. We began to work on securing a building and all equipment needed to start a MN LOWBREWCO brewery. On June 1st, 2019 Lake of the Woods Brewing Company opened its doors in Warroad, Minnesota, shortly after we began to self-distribute to our local markets. We quickly gained the attention of our partners in the AB network and began to sign with wholesalers from different areas across the Midwest region.
What, in your opinion, is the most unique aspect of Lake of the Woods?
I think now more than ever, the way of life that we live up in Northern Minnesota in Lake of the Woods is definitely the most unique aspect of our brand. We don't just make delicious, light, crushable craft beers… we exude a lifestyle. We are a lifestyle brand, and when people wish that they were fishing on Lake of the Woods, they can now grab a cold one from their local bar/liquor store to reminisce on the memories they have made on LOTW and get excited for their next trip up to #makeitlaketime.
Which types of beer is Lake of the Woods especially known for?
We specialize in light, easy drinking craft beer, which allows us to cater to all different kinds of beer lovers. Our customers appreciate that one beer isn't going to make them feel like they just ate a thanksgiving meal, they can drink more than one while they are out enjoying nature, hanging out at the cabin, campfire chats, etc.
What would you like customers to know about Lake of the Woods?
Lake of the Woods Brewing Company prides itself on building and maintaining relationships with all of our customers, partners and friends. Whether is it our wholesalers or the people that support us by buying our products from stores throughout the Midwest, we want to make sure they consider us friends and enjoy #makingitlake time with us.  Lake of the Woods isn't just a destination.. its a feeling… it's your best memory on the boat, at the cabin and with your families. Let us guide your way to your next Lake of the Woods adventure.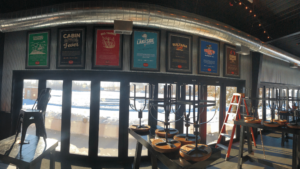 A look inside and outside the Warroad Lake of the Woods location.