College City Introduces: Hop & Barrel Brewing Company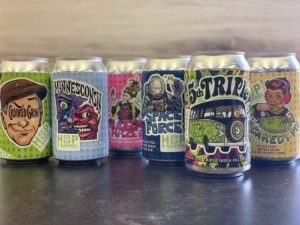 We're excited to introduce one of our newest brands — Hop & Barrel Brewing Company! Based out of Hudson, Wisconsin, this crew takes on classic beers with a modern approach. From their iconic Minnesconsin Helles-style lager to their new 5th TRIPle triple India pale ale, they offer beers for every flavor pallet.
We spoke with Hop & Barrel co-founders Brian Priefer and Justin Terbeest about their approach to brewing, the best parts of their jobs, and not taking themselves too seriously.
Who are you, and what is your favorite part of your job?
Brian Priefer: Brian (and His Beard) My favorite part is being able to see the eagle-eye view of the business as a whole and how all the moving parts work and making them work for us!
Justin Terbeest:  I'm the co-founder and CEO of Hop & Barrel.  I do a bit of everything around the brewery, but my favorite role is in sales.  I spend a fair amount of time traveling to our different distribution areas and visiting with our distributors and retailers.  It never gets old seeing your beer being enjoyed by different people around the region.
Tell us about Hop & Barrel Brewing Company.
BP: We are a distribution brewery that happens to have an amazing location with a taproom that we like to refer to as a "community center that sells beer." We take pride in our inclusivity.
JT: We opened almost three years ago in downtown Hudson.  We like to refer to our taproom as a community center with beer.  Everyone is welcome and we host a ton of events from a wide array of groups and private parties.  Obviously we have games and our own events as well.  We work extremely closely with Hudson's restaurant community (which you MUST check out if you haven't dined around town) to provide food options in the taproom.
For most of us, our background is in brewing in and around the St. Croix Valley region.  Some of us have been professional brewers almost our entire careers. Others are homebrewers with other "professional" backgrounds.  Our commonality is that we tend to appreciate and brew well-made beer inspired by classic approaches.  It doesn't mean we eschew modern trends, but for us, quality and consistency come before chasing trends.   Also, if you follow us on social media, you'll see that we tend to not take ourselves too seriously.  That doesn't mean we don't care; we take our beer extremely seriously, just not ourselves.  If you can't laugh at yourself, then what's the point?  We're in the beer industry and if this can't be fun, then why even do this work?  That all being said, we let the beer speak for itself… so to speak.
What does a day look like for you?
BP: Every day is different! I might be dealing with invoicing or a payment process, driving the forklift around helping load or unload trucks, doing inventory, futzing around with the brewery software, waiting on phone calls, ordering raw materials, interacting with vendor reps and repair techs, writing can copy with Justin, working on label and packaging concepts with our graphic designer, Julie, answering messages or emails from Brand Yourself, meeting with the brewers about the brew operations or Karen about the taproom, helping the brewers move beer around, delivering beer to distributors, driving beer to and from our cold storage facility, occasionally repairing something, learning how to repair something or buying parts, fixing the one toilet that keeps breaking…
JT: I get up around 7am and help around the house for an hour or so, but I'm usually at the brewery between 8-9.  I'll spend an hour or two on emails, reading, and calls.  Then it gets pretty random.  On days when I'm on the road I usually head out early and start visiting accounts and reps.  Some days I'll help with packaging and organizing orders.  Others end up filled with meetings related to the taproom, different Chamber groups, or event planning.  Most days end somewhere around 10-11 with me doing emails and calls for a couple hours as well.  If it's not clear the variety in this job is pretty awesome.  Obviously it's a fair amount of evenings and weekends, but the nice thing is that as we've grown and built an amazing team! It's been a lot easier to be home with my family more often than not.
What is new and exciting at Hop & Barrel Brewing Company?
BP: So much to talk about! We have several new offerings in 12oz cans this year- A triple IPA, a breakfast ale and a new blood orange kettle sour!
JT: Joining with College City of course!  For a lot of this, it's like coming home.  My wife's family is from Stillwater and we spent about ten years in college living around the area.  It's kind of mind-blowing to be able to find Hop & Barrel at the bars and liquor stores we used to frequent.  On a beer side, I'm personally really, really excited for our new triple IPA: 5th TRIPle.  We love classic IPAs with just enough of a modern twist to keep them fresh.  This monster is so easy to drink, but loaded with pineapple flavors and aromatics.
How does Hop & Barrel Brewing differentiate itself in a growing market?
BP: Riffing on classic styles instead of trying to jam the same fad beer down people's throats over and over. Constantly trying to improve consistency, utilizing our microbiology lab and QC/QA techniques. Learning how and why each individual beer needs to be represented in the market.
JT: Two ways.  First, you have to understand that making good beer should just be the price for admission, in our minds.  What we pride ourselves on is making consistently good beer, instead of changing up your brand names for each new brew that isn't what we hoped for.  We don't operate that way. Second, from a practical perspective, we show up.  We support our brand in person by working very closely with our distributors, bars, and liquor stores.  Every partner has a different need and clientele, and we have to be fluid and figure out how our beer, and which beer, works for them.  Not how they can sell the beer we throw at them.
How is each brew branded/marketed as an individual and as part of a whole?
BP: We use a combination of the amazing team at Brand Yourself and add a bit of our own organic flavor by posting personally on our brand social sites as well as our own personal sites. Our Facebook and Instagram game is strong, we also utilize an emailed newsletter where we give a little peek at the inner workings of the brewery. Each beer has its own personal flavor, but carries pieces of the original classic branding that reflect our sometimes warped personalities at the brewery.
JT: We have a fairly simple approach to the beer releases that balances consistency with variety in a way we're very happy with.  There are our core 4 year-round beers (Minnesconsin, Crooked Grin, Space Force, and Hudson Haze), a rotating seasonal line (Lemon Breaker – spring/summer, 5th TRIPle – late summer Oktoberfest – fall, Big Mik's – winter), our Kettle Sour Series (Scaredy Pie, Blood Orange, and you heard it here first, our new Sour IPA coming your way early 2021), and then Brew Like A Girl (experimental brews completely managed by Katie and the rest of the women of the brewery).
Seeing the cans on shelves is one of the most important aspects of marketing. So, as part of our whole marketing strategy, we keep a consistent style with our cans. It's a fairly distinct art style that's had three different artists work on it – currently Julie Goetzke of Goetzke design in Hudson.  It relies on a common pattern utilizing a varied background color and varied icon, with the same placement of our logo, the icon placement itself and a repeating hop pattern.  We think it provides a very consistent general appearance while creating a distinct personality to each individual line.  We also tend to rely on bright colors and a cartoon-like comic book style approach to the icon design itself.
We also work closely with our marketing company, Brand Yourself, across our social media platforms, marketing materials and messaging to make sure our brand stays consistent.  This carries over into our taproom as well, to make sure how we talk about and present our beer is the same to our customers in person as it is when it's to a patron of a bar or liquor store where they find our beer.