College City Introduces Nude Beverages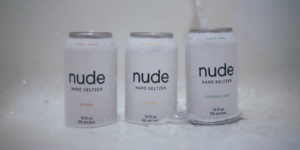 NUDE Beverages are new to the hard alcohol scene, but they're definitely not shy!
Founded in B.C., Canada, each of their spiked drinks are only 100 calories. Zero carb, zero sugar, and no added sweeteners. Basically, their ingredients live up to their name.
College City Beverage is proud to add a selection of NUDE Beverages into our distribution lineup. This brand offers a refreshing take on seltzers, with exciting flavors like peach and classic lime.
As temperatures get warmer in Minnesota, these hard seltzers will be the perfect drink to pack for a day on the lake.
As your College City Beverage rep about our NUDE Beverages options today!