Product Feature: Drinkworks Home Bar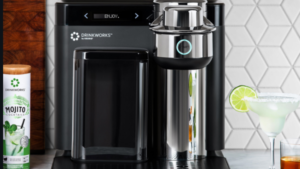 A few of your friends have just texted you, asking what you're up to tonight. You invite them over to your home, only to remember that your selection of drinks is severely lacking. You consider canceling, but they are already on their way! With the Drinkworks Home Bar by Keurig system, you will never have to face this kind of panic again. How? Well, we have two words for you: convenient cocktails.
What is Drinkworks? According to their website, "The Drinkworks™ Home Bar prepares cocktails, brews and more. With each cocktail, Drinkworks dispenses the spirits, water, carbonation and other ingredients simultaneously, mixing them as they cascade into your glass. Just like any professional bartender, your Home Bar knows how each drink is meant to be made."
This complete system makes hosting friends and family more fun. By purchasing a variety of drink "pods," you can have the perfect option for everyone and make their drinks with the press of a button (no at-home bar required)!
College City Beverage is excited to start rolling out pod distribution around southern Minnesota with Drinkworks. Learn more about where to find all the Drinkworks accessories on their website. If the pods aren't available in your area yet, don't worry! We're working on adding more locations soon. Stay tuned