Product Feature: SweetWater Brewing Company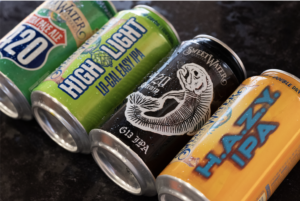 The newest addition to the College City Beverage lineup is something pretty sweet.
We are proud to welcome SweetWater Brewery into our family of brands. This Atlanta-based brewery crafts fresh favorites for good times.
SweetWater began its journey in 1997 through a partnership between two college friends and a passion for the good life. Guided by a fun-loving attitude and thirst for quality flavor, the SweetWater team has developed a brand that veers from the mainstream but makes a huge impact at the same time.
They remain committed to their roots without shying away from new opportunities. Here's what they have to say about themselves on their website:
"At SweetWater we like to say we're not here for a long time, we're here for a good time. It's not just something that we say though, it's how we live. If you're up for a good time, come check us out at our brewery in Atlanta, every spring at our raging 420 festival, or wherever the fishing is good in your neck of the woods. Remember, don't float the mainstream as we all find our path in life, and drink 'em if you got 'em."
Next time you're looking for a new brew, go for one that guarantees a good time with every sip. Look for varieties of SweetWater Brewery on liquor store shelves soon, including 420 Extra Pale Ale, H.A.Z.Y IPA, or the Tackle Box Variety Pack.