Alo Drink: Aloe Vera Straight From the Leaf
Aloe Vera straight from the leaf, never from powder!
Aloe Vera has many benefits such as hydration, help for clear skin and nutritious boost. It also is gluten-free, non-GMO, Fat and Aloin-free and no artificial flavors, colors or preservatives. Alo from Alo Drink is a great way to refresh and stay hydrated. With a simple list of ingredients, you can be sure you are getting all the goodness you need in just one drink. 
There are different styles of this drink with all different benefits. These include Alo Original, Alo Light, Alo Organic, Alo Coco and Alo Essentials. Alo Original is the most popular style and provides a rich flavor of aloe with a hint of fruits and other delicate ingredients. 
Another great feature of Alo Drink is the ALOtones! With "360 refreshments. ALOtones® are musical ingredients in every bottle. Stimulate your mind with the music that matches each flavor, while you make your body sing with the positive taste of ALO Drink." If you have not already checked out Alo Drinks then head to your local store today. If you are not sure where to find their drink then try the Store Locator! 
Original Flavors: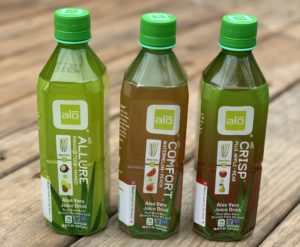 Original + Honey 

Watermelon + Peach 

Fuji Apple + Pear

Mangosteen + Mango 

Pomelo + Lemon + Pink Grapefruit

Aloe Vera + Wheatgrass 

Pomegranate + Cranberry 

Mixed Berry 

and Many More!