Five Reasons to Visit Odell Brewing Co.
Planning a road trip through Colorado this fall or winter? Don't forget to stop by Odell Brewing Co. in Fort Collins, CO for a free brewery tour! Odell Brewing Co. was founded 1989, when they began brewing their delicious beers in a newly remodeled grain elevator. From then on, Odell Brewing Co. has grown into a successful industry leader in specialty craft beer production with a distribution area reaching across 11 states. If you're a big fan of trying out new experimental beers and learning about unique brewing techniques, you definitely need to stop by Odell Brewing Co. and here's five more reasons why:
The Tour – Learn the ins and outs of Odell Brewing Co.'s brewing process from start to finish. The hour long tour takes you through the entire brew-house, save the barrel aging room. Learn about all the different kinds of hops and malts that go into each brew, along with some fun interesting facts. For example, did you know Odell Brewing Co. works with a local restaurant to brew cinnamon roll bun beer? Uhm, yum. What to know more? You'll have to take the tour. 🙂
Beer – Did we mention Odeell Brewing Co. has mastered a variety of craft brews? From their flagship beer, 90 Shillings Ale, to their more far-out beers brewed with a unique combination hops and malts, Odell Brewing Co. offers a large assortment of flights and pints to try once you've finished with their amazing brewery tour. Odell Brewing Co.'s taproom also features experimental brews only available in-house and straight from their pilot system.

Pilot System from Odell Brewing on Vimeo.
Patio – Once you've finished your tour, you'll definitely want to relax on their new patio, easily accessible from their taproom. When we visited, we lounged outside for a few hours sipping on a flight of beers (Loose Leaf Amber Ale, Slow 'Poke' Hoppy Session, Nitro 5 Barrel Pale Ale, Brewers' Cut Pale Ale, Perle White IPA, Nitro Cutthroat Porter) and an experimental pint. Several Instagram photos were taken in the process.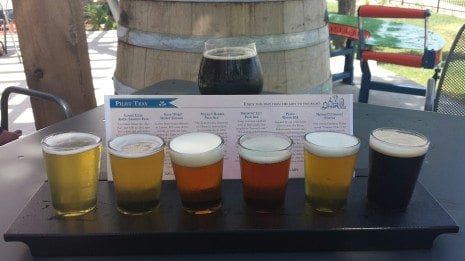 Food Trucks – Oh, and did we mention we had lunch as well? Odell Brewing Co. allows local food trucks to park right on their patio. The food truck changes depending on the day of the week. For more information on the food truck schedule, click here.
Special Events – Who doesn't love special events? When we visited for the tour and taproom, we managed to catch the beginning of a musical performance. Music, food, good beer. What more could you need? Interested in seeing what events Odell Brewing Co. has planned for the rest of the year? Click here.
Brewery Tours are Monday-Sunday at 1PM, 2PM, 3PM, and 4PM. Odell doesn't take reservations for their tours, but they do recommend coming at least a half an hour early. We would recommend you plan extra time to relax on their patio post brewery tour, weather permitting.