Account Feature: Kitchen and Rail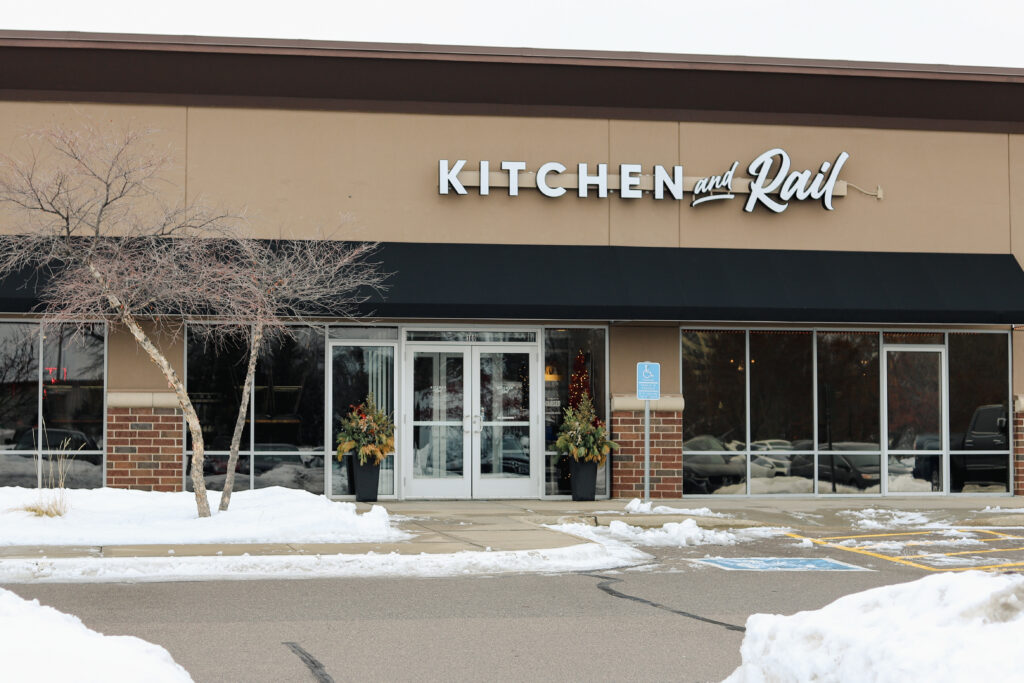 If you're looking for a new, unique place to eat and enjoy a drink, stop by Promenade Place in Eagan! Kitchen and Rail is a completely unexpected gem with an open kitchen and talented "Railtenders." College City Beverage is thrilled to deliver beverages to this busy and fun restaurant! We had the opportunity to speak with Casey Lines, Kitchen and Rail's Owner Operator, to learn all about its creation, behind the scenes operation, and guest favorites!
HOW DID THE IDEA OF KITCHEN AND RAIL GET STARTED?
This was definitely the idea of Victor Salamone, our founder and owner. Kitchen and Rail was something envisioned back in 2016. His sister, who sadly is no longer with us, had set up a tour of micro restaurants through Milwaukee and got to see a lot of these smaller, open kitchens pumping out really great food. So, originally the name of the restaurant was supposed to be Kitchen and Rail Rotation, and every week or month there was supposed to be a new menu. That's where you dream about all the fun things!
Over time, and talking with other great friends, the idea started to take form. Victor had been with Famous Dave's from the very beginning, and there's a lot of hands from Famous Dave's that have helped out. Charlie Torgerson assisted with the original menu creation, and Lynn Johnson came on board as consultant to help with training. Famous Dave himself has been in now and left a great review!
COVID actually created an incentive to get this open. Fewer people were driving downtown Minneapolis, but they still wanted good food. Eagan has a lot of great things going for it – food, beverages, the whole shebang. But there was a unique niche that needed to be met. Victor's been part of this community for over 20 years, so opening in Eagan was an easy decision.
WHEN DID YOU OPEN? HAS IT BEEN OFF TO A BUSY START?
We opened on August 16th, and the response from the community was amazing. For the longest time, people had to wait a week or more for reservations; our weekends are still like that. Valentine's Day is already sold out!
WHAT HAPPENS ON A TYPICAL DAY?
It's a little bit like most restaurants are… and a little bit different. We are doing everything from scratch, so it's constant prep work. What did we sell the night before? What are we prepping today?
Since our stuff is smoked in-house, sauces are made in-house; even the syrups we use for our cocktail list are made in-house. So, it's a lot of checklists, seeing what we've gone through and realizing that with the way we choose to do things, I can't just make a phone call and order it. If our Drop Pork was not put into the smoker 12 hours ago, you're not having tonight. The typical day for us probably starts around 9:00 AM.
It's really just hitting the ground running every day. We look to see how everything's moving, what's not moving, why is it not moving. As a one-restaurant operation, we can quickly pivot to a new thing. That's what the day entails – making decisions to be successful in the future.
WHAT'S YOUR FAVORITE PART OF THE JOB?
It changes daily, but I would say for us it's just getting to experience this with other people. It never gets old hearing other people's thoughts about the restaurant, for better or worse, because constructive feedback is how we get better. Having that engagement with the community is really the best part.
IN YOUR OPINION, WHAT IS THE MOST UNIQUE ASPECT OF KITCHEN AND RAIL?
We have fun, and people want to bring friends here! They pull up to a strip mall (Promenade Place), and they're like… where are we going? Are you serious? They assume we'll be another dive bar and grill. Which makes it so entertaining to have them open the front doors, and (we always joke around) it's like going through into Narnia.
You walk in, and your first impression is that it smells so good. Even if you view all the online pictures, you still don't really know what you're getting. The food's shareable if you want it to be; absolutely not shareable if you don't want it to be. Kitchen and Rail is about having a different experience, and we get to enjoy watching people venture through.
Obviously, we focus on our Kitchen and Rail. We have a huge, beautiful Cambria bar and an open kitchen – it's kind of a dinner and a show. Our Rail liquors are most people's Call liquors. This place meant to be inclusive in just about every aspect you can think of for a neighborhood kitchen.
WHAT ARE YOUR MOST POPULAR ITEMS ON THE MENU?
The number one seller is the filet sandwiches, followed up by Nana's Meatballs. Our third best-seller, just all menus combined, is our old-fashioned. It's great because we don't necessarily have a theme, such as Italian or Chinese, so we are free to have fun and try lots of different recipes.
HOW OFTEN DOES YOUR MENU CHANGE?
We like to freshen it up about every three or four months. It's a little bit different for us because the main menu came out very strong. We also want to have fun with it and show off what we can do.
WHEN YOU CREATE THESE NEW RECIPES, IS IT A TEAM EFFORT? CAN YOU EXPLAIN THE PROCESS?
I care very much about what's on the menu, but I have full confidence in my chef. I focus on the price point – we want to be a price-conscious place while serving quality.
It's definitely a team event. We want to keep the kitchen engaged and get their ideas and thoughts. Obviously, Victor's input is of the utmost importance. Joe, who is the reason we have awesome social media, has lots of experience, so his input is also incredibly useful.
YOU MENTIONED AN OLD FASHIONED. WHAT ARE YOU TOP COCKTAILS? WINE? BEER?
There are definitely ones that get ordered more than the others, but the Old Fashioned crushes. I would put ours up against anybody else's. The same goes for our Espresso Martini. We don't have anything that is overly sugary (we don't purchase mixes). Once you start boiling things down to create your own syrups, it really allows the taste to come through. We've got Toes in the Sand, which is one of the favorites. We even have a throwback, our Tom Collins, that has been very popular. For wine, we knew from the beginning that our wine program would be based off kegs – Victorio's Wines, which is named after the original restaurant that started it all.
For beer, we get to have a lot of fun with College City Beverage incorporating different brands on tap and in bottles. We have the Excelsior Big Island Blonde Ale because guests requested it from day one – getting feedback from the community is important.
IN TERMS OF BEER, DO YOUR CUSTOMERS PREFER MORE CRAFT OR DOMESTIC?
It's a mix. The Excelsior Blonde seems to be a middle-ground beer between craft brews and domestic lagers. Of course, we also have guests that absolutely want their domestic beer.
CAN YOU TELL ME MORE ABOUT THE FRIENDS WITH BENEFITS CLUB PROGRAM?
It's our loyalty program – for every $1 you spend, you get a point that turns into a dollar amount. Once you reach 50 points, you get a $5 bonus. There are birthday bonuses, $5, free desserts, and things like that. The Club is how we communicate with our guests. If we run a special event, such as our ice bar that's going on outside right now, that's how we let them know! They get notified before the campaign runs on social media.
YOU'VE MENTIONED GIVING BACK TO THE COMMUNITY. HOW HAVE YOU BEEN INVOLVED WITH EAGAN?
Our first decision was to include Pull Tabs, which support Eagan sports. We also have a long-term program in place where a percentage of sales each month or every quarter will go to a designated foundation.
DO YOU OFFER CATERING OR LARGE GROUP EVENTS?
Since we're closed on Mondays, we've done special events where people have purchased the restaurant for the day. We've also supplied food to fundraising events in private homes. Some local businesses have us drop off food for their lunch programs. In the middle of January, we had a buyout in which the restaurant was closed for a company that hosted a big holiday party.
DO YOU RECOMMEND RESERVATIONS?
We always highly recommend reservations, but they are absolutely not required. Our bar and community table have been a very big hit and are available for walk-ins. We also have regulars who prefer sitting at the bar, but we suggest they make a reservation just in case the bar is full. If they show up and there's a spot at the bar, take that take, and we'll cancel the reservation.
TELL ME MORE ABOUT THE ICE BAR! 
It was one of those things we talked about and decided that, since January and February can be slow, we needed to do something fun. We've got signature cocktails that are only available out there, obviously music from the speakers, and a fire pit with a couple of other heating elements to make it as comfortable as possible. It's a great place to hang out until your table's ready.
WHAT ARE YOUR HOURS OF OPERATION?
Monday: Closed
Tuesday – Thursday: 4:00 to 10:00 PM
Friday: 4:00 to 11:00 PM
Saturday: 10:30 AM to 11:00 PM
Sunday: 10:30 AM to 9:00 PM
Happy Hour: 4:00 – 5:30 PM Tuesday through Friday & Saturday and Sunday 2:00 – 4:00 PM.
Photo Credit: Kitchen and Rail