Account Feature: The Better Half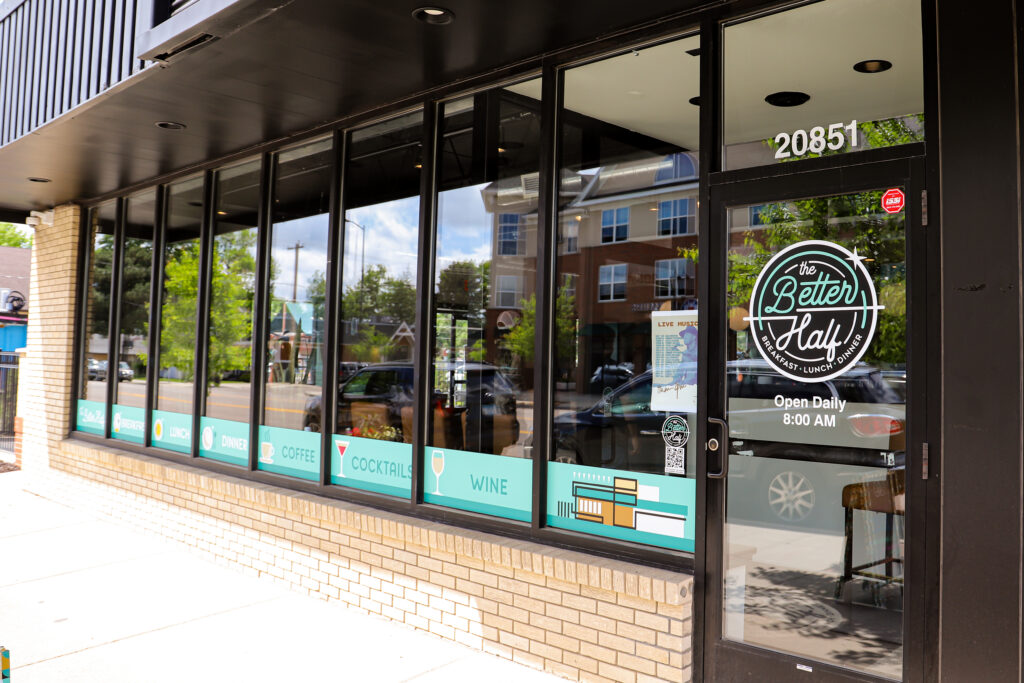 How many places can you name that serve a fantastic breakfast with great coffee, but also have a full bar? The Better Half on Holyoke Avenue in Lakeville offers both traditional and unique food and cocktails. We had an opportunity to speak with Bryan Campbell, one of the owners, about this new restaurant that opened in April. They also own B52 Burgers and Brew in Lakeville and Inver Grove Heights and are excited about the potential for this new venture!
WHY DID YOU CHOOSE TO OPEN EARLY AND SERVE BREAKFAST?
Opening early was definitely an adjustment for us – early mornings are a new thing. We surveyed the Lakeville community and didn't see anything like this concept. We found that many of the places doing breakfast didn't also do drinks. So, we thought it would be a unique thing for downtown – a destination for brunch. We fill up pretty quickly on Saturdays and Sundays, but we're happy to see people all week long – especially those that jump on our Wi-Fi and get some work done!
WHAT ARE THE MOST POPULAR MENU ITEMS?
For breakfast, I would say it's probably between the French Toast and the Chorizo Hash Bowl; they are neck-and-neck in sales. The Bowls are very popular these days. We do a Corned Beef Hash Bowl that sells really well. It just depends on if someone wants sweet or savory. For lunch and dinner, our Maine Style Lobster Roll is the best around. The Hangar Steak is also a big hit! Our Corporate Chef for all the restaurants comes up with the menu, and he's tweaked things and brings in some new specials, so our menu is ever-evolving.
WHAT ARE YOUR MOST POPULAR BEVERAGE PRODUCTS?
We sell a lot of Three Floyds Hazy IPA, but we also have something on the cocktail menu called a Blue Collar Combo, which is a Busch Light tallboy and a shot of whiskey, tequila or blackberry brandy. We also have a few cocktails on tap like our Mule and Old Fashioned. We have a Banana Daquiri on the menu where they brûlée a banana for every order.
WHAT IS THE BEST PART OF YOUR JOB?
I like the creative side of things. My favorite thing is when I can create something, especially like on the cocktail menu, and walk into the busy, bustling restaurant and see the smiles on people's faces while they're enjoying it. Whether it's the drinks or the food, knowing that what we're doing brings joy to people's lives is the most fulfilling thing about this industry. There's a lot of hard things in this world, especially over the last few years. We get to create something that people come to and they can just forget about all the challenging things and enjoy themselves. And for that, for us to be able to do that for a living is a gigantic privilege.
DO YOU ENJOY WORKING WITH COLLEGE CITY BEVERAGE?
They are great! Our company, in general, has a pretty large partnership with College City. We've been working with them in Inver Grove for about a decade now. When we opened in Lakeville three years ago, it expanded our relationship with College City. JP and Ben Bakken have been allies for us – they help with anything we need. A few times those guys have put kegs in the back of their car for us because we mis-ordered or to fix a mistake quickly. There isn't a better distributor that works with our company. I feel that if I need something, all I need to do is reach out; they're going to answer their phone right away. And they're going fix any problems that we may create ourselves or just happened organically.
IF I WANT TO EAT AT THE BETTER HALF, SHOULD I MAKE A RESERVATION?
We don't currently take reservations, but we have a Waitlist available online. Getting on the Waitlist is especially helpful on Saturdays or Sundays since it can get pretty busy. We are working on expanding our patio and having live music out there, so check out our website for all the details!