Account Feature: Torey's Restaurant & Bar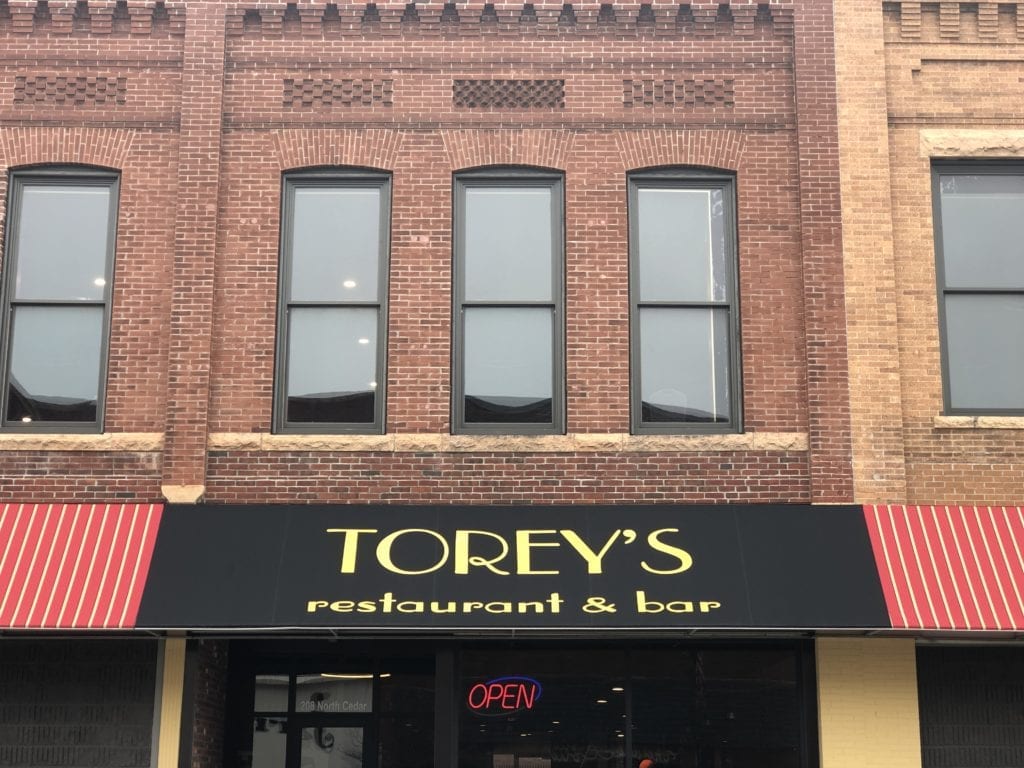 This year marks Torey's 18th anniversary, and they are celebrating this great milestone in a new location! Torey's Restaurant and Bar is located at 208 N. Cedar in Owatonna, Minnesota. They offer a full-service bar with 24 taps downstairs, and 4 upstairs in their new event space. In addition to their many taps they also feature a unique wine list, specialty martinis, a full menu and catering services. We sat down with Torey himself to learn more about this local establishment.
Tell us about Torey's Restaurant & Bar:
We are going on 18 years here in Owatonna, and we moved into our new space on December 1st. Our new space is located downtown in a building that dates back to 1896. We really wanted to keep the unique historic feeling of the building while still adding a modern touch. Our new space features hardwood floors, a classy bar feel, black industrial ceilings, chrome accents, and the chair rail is repurposed tiles from the old ceiling. Downstairs we have a full bar and menu, upstairs is our event space with two bars and can seat about 300. We currently have about 40 or so employees, and about 25-30% of our business is catering. Opening your own restaurant and bar is great, but the real dream was being able to open Torey's with our new banquet event space and catering upstairs instead of only off-site locations.
What is it like working with CCB?
They are so good to work with. Our rep is local, which is a huge bonus. They are willing to get us what we need, when we need it. They go above and beyond, and help us with what we need for events. Whether this be signs, banners, or more product, they are very accommodating.
What is your most popular CCB product?
By far Michelob Golden Draft Light is our most popular product. Before our move, we only had 16 lines and went through Mich Golden kegs 3 to 1 compare to others. Our original location was right off the highway and close to the hotels, we had a lot of out-of-staters who may have not heard of Mich Golden and are eager to try it! We have a good relationship with local businesses who refer us to their visitors as a great place to go in the area.
What is your favorite thing on the menu?
We have a full menu for both lunch and dinner, and I would have to say my favorite on the menu is the ribeye steak – medium rare to rare.
If people want to use your catering services, or stop by and try out Torey's, how should they get in contact with you?
We are located at:
208 N. Cedar
Owatonna, MN 55060
If you are looking to come here and have a party, we are taking bookings now! Call us at:
(507) 455-9260