Meet The Team – Mike Breckenridge
College City Beverage is home to 140 pieces of equipment, ranging from pallet jacks to delivery trucks. Their caretaker? Mike Breckenridge, Fleet Manager.
What you didn't know about him? He brings a history of skill to the shop, including work on race cars.
Mike joined the CCB team 11 years ago as a mechanic and apprentice to our previous fleet manager. "It turned out to be a great fit, and it was a lot of fun," Mike reflects. Just a year ago, when Mike's boss retired, he took on the role of fleet manager.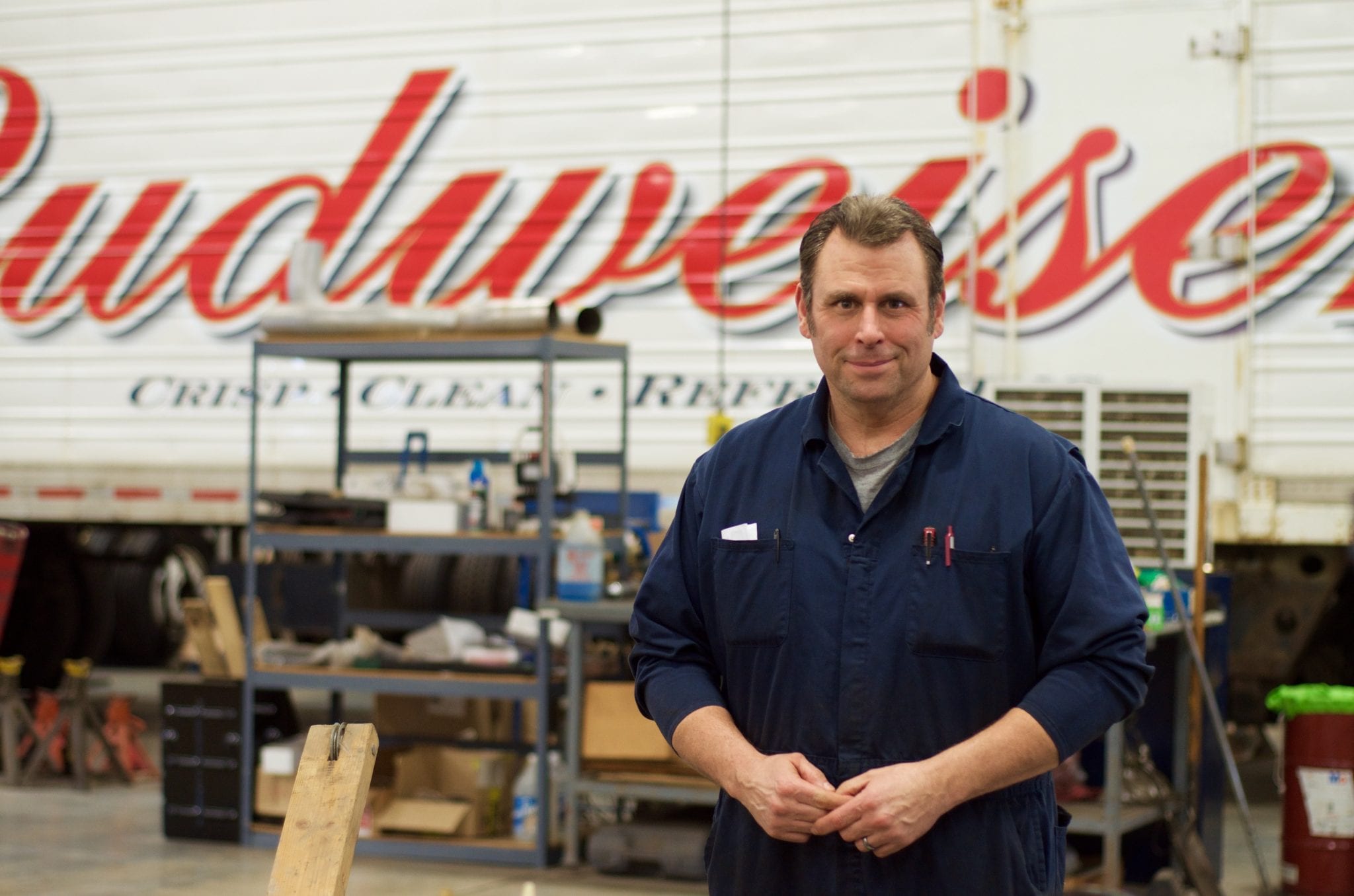 A history of experience prepared Mike for his role at CCB. Before joining our team, he owned his own trucking company, managed a fleet of school buses, and spent 12 years as a professional race mechanic.
With his diverse work history–and a whole store of great stories–Mike made a great addition to the College City Beverage team. He explains his experience, "I really enjoy taking care of a fleet of vehicles rather than a customer walk-in repair business. You get to know your vehicles really well, so the way we take care of them comes from the top. They're done right; there's no cutting corners. It's all about safety and good equipment for the drivers."
And when Mike talks about safety, he really means it. Much of his job is spent undergoing preventive maintenance on equipment, so it does not malfunction or break down on our other employees. Safety is a big priority around here.
In fact, our shop employees are trained and certified as DOT inspectors, so they can inspect our 25 tractor/trailer rigs as well as our 40 sales vehicles. The team uses GPS tracking to monitor mileage and schedule regular inspections on the trucks. At regular intervals, they conduct a full DOT inspection on each truck (think: brakes, tires, lights, and all that fun stuff).
Mike explains how the beer industry is unique within the trucking world. College City Beverage uses all the equipment that other distributing companies might, but doesn't put on nearly as many miles. Our team stays within a pretty confined geographic region compared to other trucks, which might drive from Texas to Minneapolis. In our work, we don't wear out the equipment, we "time" it out. Needless to say, it's a little different than race cars.
We're pretty grateful for the work that Mike and Bryan do with our equipment. And Mike likes working with the fleet as well. He comments, "I can always stay busy, which I like. Even when you're caught up, there's always things to do. There's nothing better than staying busy, and nothing worse than being bored at work."