Our Crowned King of August 2020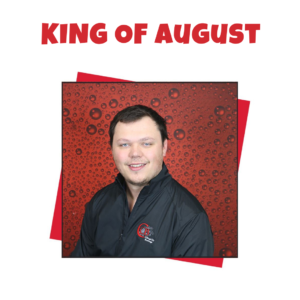 JAKE KUHLMAN
Positive Energy – Jake is upbeat, outgoing and always in a great mood.
Driven to Serve – He is always looking at what's best for the customer and CCB. Jake continually finds the next thing to do, even late into the day… he will do it if it can be done. He has a great competitive edge.
Caring & Compassionate – Jake continually checks in to make sure everyone is doing well and see if he can help. Although he doesn't have a route, he has great respect for all of the routes.
Passion to Grow – Jake is always asking questions as to what he can do next, asking for feedback on ways to improve. He takes the feedback well and grows from it. He has asked to branch outside of sales to help better himself as a sales rep.
Accountability to the Team – If Jake makes a mistake he not only owns it, he learns from it and doesn't repeat it. Jake wears many hats for the sales team and always follows through with everyone.
Why??? – Jake is somewhat new and all the while he continues to impress people with his communication, drive and curiosity. He's been a big help in preparing for the assessment, on top of always being willing to help anyone with anything. His attitude stands out. He has made great strides in his short time at CCB!