Our Crowned Kings of 1st Quarter 2023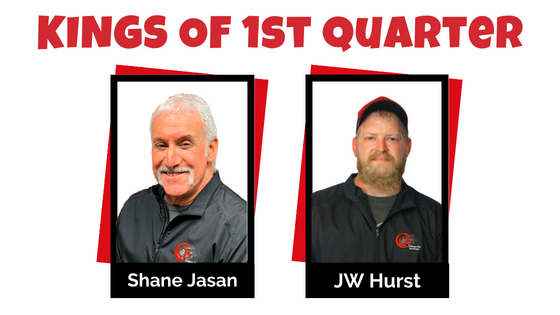 SHANE JASAN
Nominated by: Ben Bakken, Ryan Sabyan, Stevie G., Kevin Novak, Jeff Carpenter
Why? Positive Energy, Caring and Compassionate, Accountability to the Team
Snow, wind, rain, more snow? Shane "The Silver Fox" goes about his work with a smile on his face. You would never know if he had a tough day due to his positive attitude. His relationships with accounts are top notch, and he holds himself and his helpers accountable to leave each stop better than they found it. His communication is fantastic, and he's always trying to dig into situations to help Delivery and Sales. Shane provides top-level service to our accounts daily, and they look forward to seeing him each week. He has a clear passion for this entire industry and is very devoted to sharing and explaining that passion to other team members, especially the newer people. Shane cares very much about all the people he works for and with and will often make useful suggestions to help better the situation at hand. He has been a great addition to our delivery team from day one.
JW HURST 
Nominated by: Jon Burns, Tom Coyer, Brandon King, Kenny Malecha
Why? Driven to Serve, Accountability to the Team
JW is a great team player in his role in the warehouse. He continues to want to learn and takes his job very seriously, and wants to do well. JW is not afraid to ask questions to ensure that he is doing it right. He has stepped up in helping Eric with inventory and Arlo with date audits. JW is always looking for ways to improve things not just for himself, but for everyone, from the Sign Shop, to Inventory Control, Warehouse and Admin. He is willing to help with whatever you ask, and we are lucky to have him.