Our Crowned Kings of 2nd Quarter 2022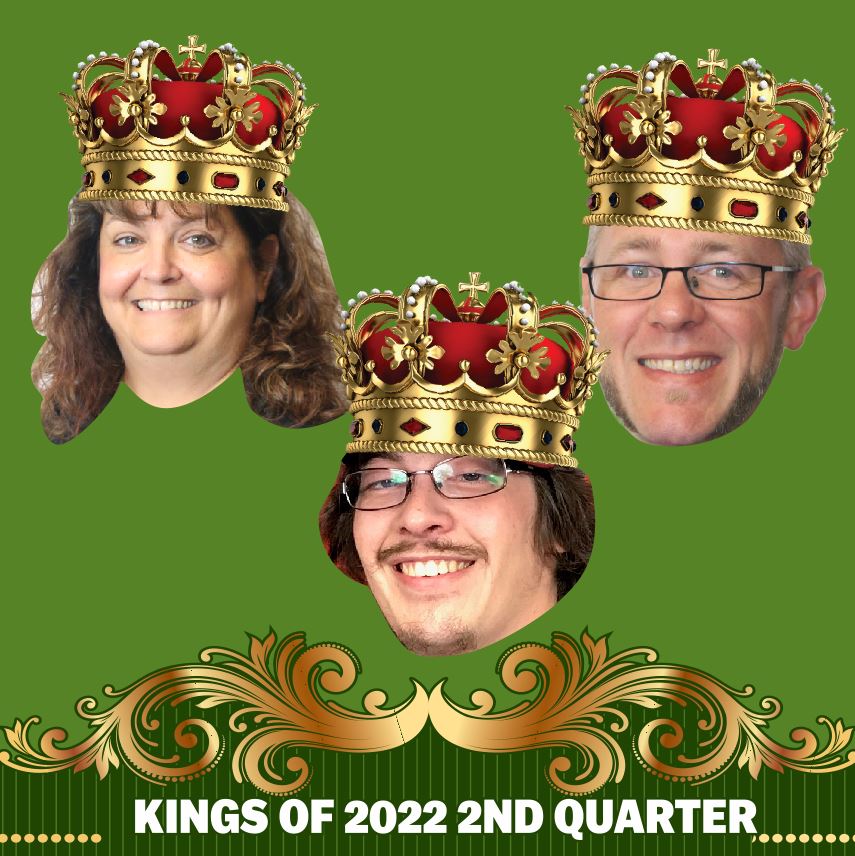 JUDY THOMAS
Positive Energy – Judy has such a positive attitude and is very easy to talk to.  She is quick with a joke and is great to bounce ideas off of.  Her positive attitude is infectious.
Driven to Serve – She is here before 5am each day, ready to help get the drivers off in the morning as well as taking care of AR. Judy is a great help to all departments.
Caring & Compassionate – Judy is patient, cares a lot about her team and her customers and it shows.  Some of us have had the luxury of having Judy's cheesecake!  She loves to do things for people.
Passion to Grow – She has grown so much in the organization, everyday there is something new to learn.  From liquor to wine and even new beers, she has to stay on top of it and does a great job with it.
Accountability to the Team – Judy has done a great job of holding our suppliers and customers accountable.  She does a great job keeping them on track of their AR obligations.
Why??? – She has done a great job setting up new customers, new suppliers for billbacks, tracking the instant credit memos, and managing our AR.  She takes care of things promptly and with a smile on her face.
THOMAS LARSCHEID
Positive Energy – Literally, do you ever see this guy without a smile on his face? He might be a little reserved yet you can't help but see his optimistic personality.
Driven to Serve – Thomas never seems to act like any job is too small or big, he just goes out and gets it done. He does a great job of execution within his accounts, pushing and pushing until he gets what he wants. If something isn't selling through, he will put something else in its place that will.
Caring & Compassionate – He treats every customer with respect and as equals. Talking to him about anything going on in the market or within CCB, he really wants everyone to be happy.
Passion to Grow – Thomas is always wanting to do more and prove himself no matter what role he is in.  He has an intense desire to grow CCB and our portfolio.
Accountability to the Team – He will be the first to admit mistakes and the last to brag about his successes. Thomas is a very selfless person. It's all about the Team.
Why??? – He communicates well with Delivery as well as with his accounts.  Thomas has been a true shining star since coming over to the Sales side, much like he was in the Delivery Merch role in the past.
JOHN PETERSON
Positive Energy – He wants to win every day and you've got to have a good, strong attitude to do that.
Driven to Serve – JP is willing to help everyone,  you just have to ask and he will do everything in his power to help and get it done. He delivered 3 kegs on a Sunday to make sure we didn't loose a line at Tavern Woodbury.
Caring & Compassionate – His accounts are more than that, they are friends and family, and he treats them that way.  He really does care about them. When you talk with him, you can see his genuine ability to listen.
Passion to Grow – JP is not only looking to grow at CCB, he is also a huge help in helping others grow. He is growing in the craft rep role and he is really showing what can be done with wine and liquor, if you are willing to spend the time talking about.
Accountability to the Team – Give JP a task and he gets it done and is great with follow up. JP also was a huge help at the FOH golf tournament and worked the event the entire day.  He sold ahead so he could spend the day making sure it went smoothly.
Why??? – The Sales department has been short staffed quite often and whenever help is needed he's there. He's a pleasure to be around and knocks it out of the park anytime he gets involved in anything. He lives CCB and its shows.