Our Crowned Kings of 4th Quarter 2021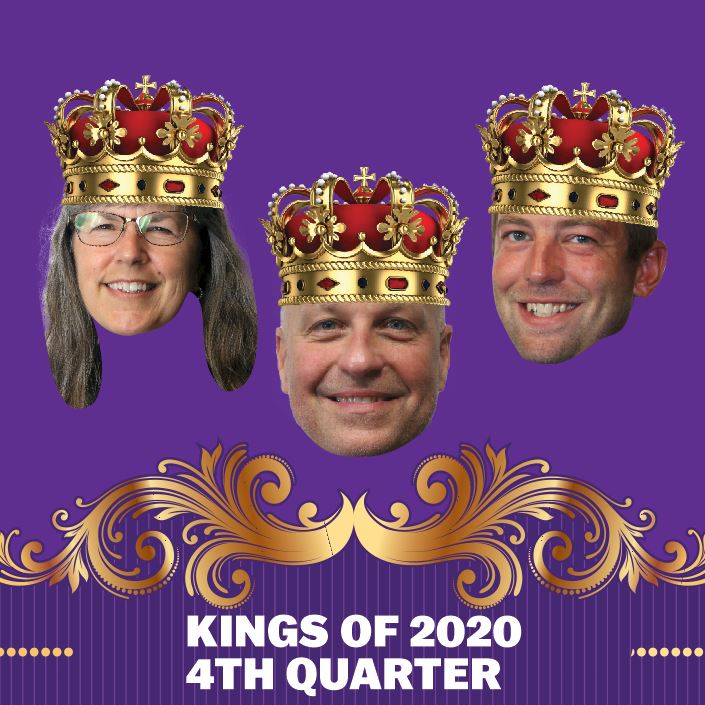 LAURA JASNOCH
Positive Energy – During the PINC Laura has continued the great energy and didn't let the stress bring her down She has one of the best attitudes when she comes into work, always in a happy mood and willing to help with anything given.
Driven to Serve – Laura is willing to help out with anything, She will put her work on hold to help you out so you can get on with your day. This is her really busy time and she still wants to help everyone.
Caring & Compassionate – Laura takes the time and interest to learn and understand the situation. She truly cares about people and wants to know what is going on in your life, not just work life.
Passion to Grow – She rolls with the punches with this ever-changing area she works in. This year has been really crazy with wine and liquor, these additions added a lot of extra work and she still nailed it. You can just count on her no matter what.
Accountability to the Team – Laura always is prompt with her tasks and responses. She is always on top of it.
Why??? – Laura meets all the core values and has handled this year's PINC with great ability and dedication. She has had a lot put on her shoulders with the PINC, Wine and Liquor. Laura gets it done and is still smiling.
JEFF JONCKOWSKI
Positive Energy – Is there anyone more friendly than Jeff? Very little gets Jeff down to the point where he isn't brining that positive energy to the table on a daily basis.
Driven to Serve – Jeff is a very driven individual and everything he does is in the mindset that it is best for the Company.  He is willing to go to all lengths to ensure that the job gets done and it is done correctly.
Caring & Compassionate – He has a big heart, he cares about internal and external customers. Jeff is a "give you the shirt off his back" kind of guy.
Passion to Grow – Jeff has shown a passion to grow in how he was wanting badly to move onto Kenny's Team when Jerrad left for the Warehouse. He saw an opportunity to help grow that side of our business and all indications show that he is making a difference. Jeff has recognized his place within our Company and strives to be the very best he can be.
Accountability to the Team – He knows the importance of his roll and how it impacts others, both in his department and in other departments. He owns up to his mistakes (which are few and far between) and is quick to fix them. He's quite the perfectionist.
Why??? – Jeff has helped in training in Thomas Larscheid as there were some changes in the C & G department, all while fulfilling his own job duties.  He has done a remarkable job aiding in many areas and his help certainly does not go unnoticed. Jeff is an all-around great guy, someone you can count on, happy, full of energy and fun guy to be around.
MATT ZELLMAN
Positive Energy – Although on the quieter side, Matt always shows up for work with a positive attitude.
Driven to Serve – Matt is always looking for ways to help CCB.  He has really stepped up over the last quarter with our new guys – helping show them the way CCB does things. Matt thinks of ways to further the business for CCB and our retailers.
Caring & Compassionate – He really cares for his accounts.  Matt is always looking for ways to help them any way he can.  Whether it's work or personal, you can tell he has a passion for the work and the people he works with.
Passion to Grow – Matt not only looks to grow himself as a rep, he has also helped grow others.  He has become a leader on the sales side and is always looking to help others.  Matt has taken over the biggest route and continues to work hard and find opportunities.
Accountability to the Team – He has really taken charge of his route with Total Wine and does a phenomenal job.  Matt has great follow up and also takes time to help others when it was needed. If something is needed Matt is the guy.
Why??? – Matt really steps up, has great energy and shows great leadership amongst the new reps. He is displaying his drive to be the best possible rep in the market.