Our Crowned Kings of August 2023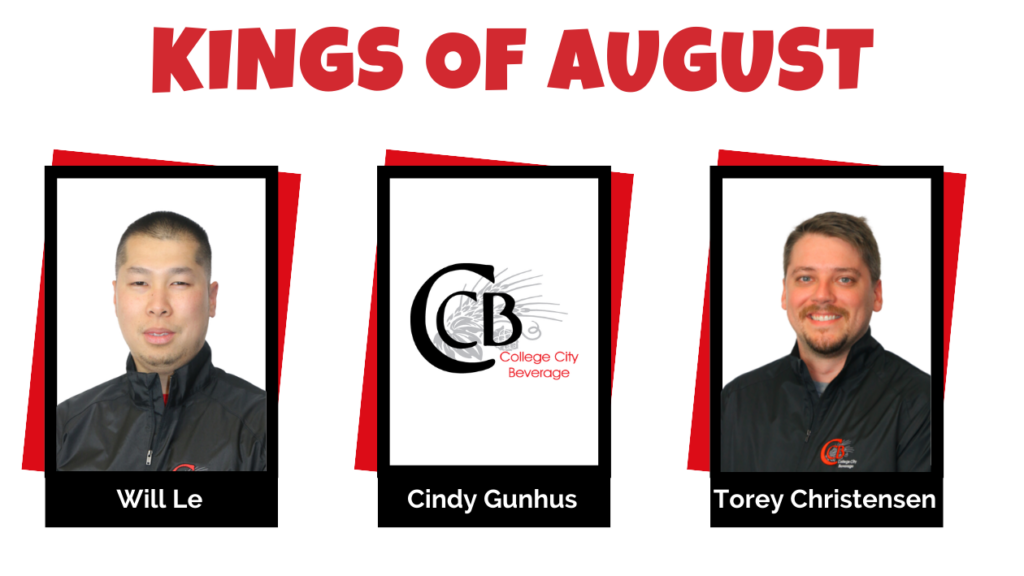 WILL LE  
Nominated by: Steve Gaul and Jeff Carpenter
Why? Passion to Grow/Driven to Serve/Accountability to the Team
Taking the bull by the horns! In a very short amount of time, Will has gone from a helper who was a little shy of driving truck to running some of our biggest routes. Over the past month or so, he has jumped in the captain's seat, learning on the fly. Starting with a surprise bar route to cover learning the ins and outs of the handle, stop by stop to now running Total Wine routes. He is not afraid to ask questions and is quick to fix any of the mistakes he may make while learning his new role. Needless to say, Will has stepped up to the plate in a big way right when we needed him to.
CINDY GUNHUS 
Nominated by: Jim Heintz
Why? Accountability to the Team
Cindy is one of the unsung heroes here at CCB. There are so many things she is involved with that most would not realize. She is very valuable in many areas with us. From managing our product purchases, updating our Outlook contacts, ordering office supplies, ordering and managing PPG and uniforms, answering phones, updating our TVs with content, helping many of us out at a moment's notice, the list goes on. Cindy is also a great asset to Dave with many of the things that go on in the assistant world, to daily accounting tasks. She is our "Swiss Army Knife." We are lucky to have her on the team.
TOREY CHRISTENSEN 
Nominated by: Ryan Sabyan
Why? Passion to Grow
Over the past 5-6 months, Torey has taken the next step as being a rep. Not only does Torey lead the team in AB Scorecard, Craft Scorecard, and liquor sales, he's a leader amongst the sales team. Torey has come up with some really cool ideas for his market, which has the rest of the sales team asking, "How is he doing it?" His relationships in the market are second to none! We were out on our AB ride and stopped at Fareway Liquor in Faribault. The store looked like a CCB warehouse. Amazing… no wonder their store is up 50% with us. Not only are his relationships great in the market, he works very well with the internal team. He's approached Andy about spirits and has destroyed it over the last month. He's always in Mulvi's office asking about Craft Scorecard to make sure he is performing at a high level. He is always fixing any overrides with Judy in a timely manner. Torey is killing it and is very deserving of KOM!