Our Crowned Kings of January 2022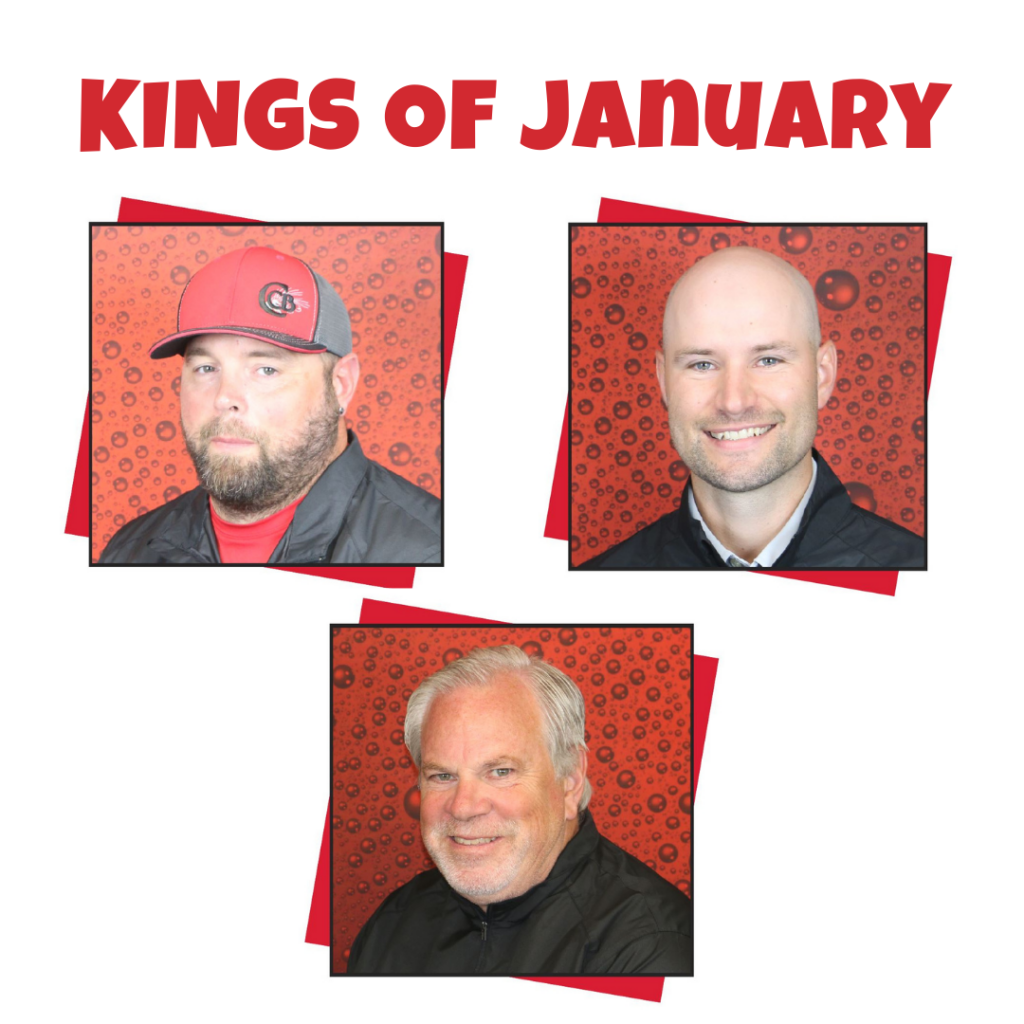 ERIC HOSTETTLER
Positive Energy – Hoss has been a very welcomed member of our delivery team since he came aboard a few years ago. He is a very positive influence on the Team and  is very well liked by his account base. He has years of experience in the beer industry and guys look up to him.
Driven to Serve – He is a true "Go To Guy", always ready and willing to go above and beyond. From servicing accounts to building displays, he is a get it done and get it done right kind of guy. He takes great pride in the job and cares about how his work effects the company.
Caring & Compassionate – Once you build up the courage to approach this giant man you instantly realize he's a big softy. Eric truly cares about his coworkers, from being sick or feeling bad about someone else losing help, he is willing to give up help so someone else can have it. He treats his accounts as friends and cares about the quality of work he provides for them.
Passion to Grow – Whether it's going above the call of duty in growing his account base with the many ideas he has from the knowledge he's accrued over 20 years in the business, or whether it's the many ways we've seen his commitment to the Company, Hoss is all about growing himself as well as the Company.
Accountability to the Team – Hoss rarely makes wrong decisions, if he does, he's not afraid to admit he's wrong and is committed to coming up with the correct solutions to rectify the situation at hand.
Why??? – From a "Go To Guy" to a "Get It Done" and a "Get It Done Right" Guy, Hoss is all of that. Stevie G had a chance to run Eric's route a few weeks back when we were short handed, and had a chance to chat with each one of Hoss's accounts. Everyone had nothing but great things to say, calling him everything from "Best Driver" or "Favorite Driver", he is appreciated greatly by his accounts. From his all around service, his display building, to just his friendliness overall, he is a great guy. We are proud to have him on our team.
DEREK DOCKEN
Positive Energy – Derek brings positive energy with him wherever he is, whether it's in the here at CCB or out in the market with his accounts.
Driven to Serve – Derek looks for opportunities, makes a plan, and executes. He uses his NRD to its fullest and is out building displays, sampling and meeting with decision makers lining up his next big win.
Caring & Compassionate – He not only cares about his accounts but he also cares about his fellow employees.  Derek is always up for a good chat and engages with those around him.
Passion to Grow – Derek is always looking for opportunities to grow.  He's reached out to Liberty to learn and help and the drivers to help and to learn their process along with asking about the on premise and how they sell.
Accountability to the Team – Derek gets it done.  Display execution, activat8, minimizing returns, Derek not only makes a plan for him self and executes, he challenges his teammates to do the same to help elevate the entire team.
Why??? – Derek killed it with his Bud Lt Seltzer Soda/Sour launch execution. He made plans with his accounts the month before, worked with accounts to ensure follow through when product arrived, and was out each week building displays.
DAN FREIERMUTH
Positive Energy – Fry always has an upbeat attitude and looks for the best in situations. He can turn a bad situation into an opportunity just by staying positive.
Driven to Serve – He truly just wants his accounts to win and is always looking for different ways to help them.  If  it's  a beer flavor they are missing on tap or new products that he knows will work there, accounts know that Fry will put them on the right path and they trust him.
Caring & Compassionate – Fry's fellow CCB teammates and accounts are truly family to him.
Passion to Grow – He is working on wine and liquor every week. Learning then ins and outs with his account so he can use his relationship to help gain a new venue for CCB in places that thought we just do beer.
Accountability to the Team – Fry doesn't like to let anyone down.  For his accounts and CCB, if there is something that needs to be done just ask.
Why??? – You can trust Fry in all aspects.