Our Crowned Kings of January 2023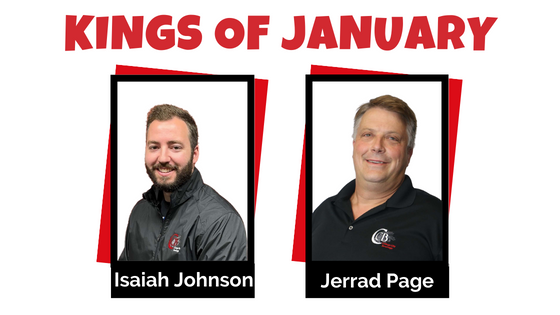 ISAIAH JOHNSON
Nominated by Jeff Carpenter and Kevin Novak
Why? Accountability to the Team
Isaiah has shown that he is the type of person who will do whatever it takes to make sure the job is done the correct way. His attention to detail and determination to make sure everything is done perfectly has been noticed most by those who come into a store after him and everyone who works with him. Isaiah will never sacrifice the quality of his work for time. This is all done with a smile on his face.
JERRAD PAGE
Nominated by Ben Bakken, Jason Scherer & Tori Cinnamon
Why? Accountability to the Team
In January, he grabbed onto our #MountainOfBusch theme and has been helpful in selling in and helping to build displays in all corners of our market. He has worked well with Sales, Delivery and the Sign Shop in order to execute his plans. He's got a can-do attitude and is always willing to help. Jerrad, as always, is a true Accountability team player.