Our Crowned Kings of March 2023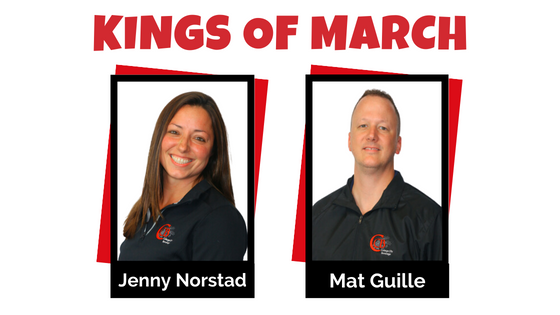 JENNY NORSTAD 
Nominated by: Dave Shonka, Justin Hayes, Tom Coyer
Why? Driven to Serve/Accountability to the Team
No matter the request, Jenny delivers. Requests to gather data to update marketing and vehicle repair expenses, a helping hand to understand the use of expense reporting software, and countless last-minute requests, she is on it. No matter the project, Jenny is always willing to assist with a smile on her face and a genuine heart. Jenny is there to answer questions or help find the answers. She is very organized and always knows where to find the answer. Her energy and outstanding attitude make it so enjoyable to work with her each day.
MAT GUILLE 
Nominated by: Ben Bakken, Jason Scherer, Ryan Sabyan, Brandon King
Why? Passion to Grow
March was down for the On Premise, but Mat has been aggressive in the market, and his route was up overall. His route was up 165% with Spirits vs. March 2022! He has made it a habit of asking, "What will it take" when going after competition lines and gained four lines in March alone. He kept his foot on the gas with Spirits at the end of the month, trying to hit our CCB Goal, even after he hit his personal goal. He continues to be a cheerleader for our team and pushes his peers to succeed. We always talk about having the right person in the right seat. Mat has found his calling in the On Premise team here at CCB.