Product Feature: Cutwater Canned Cocktails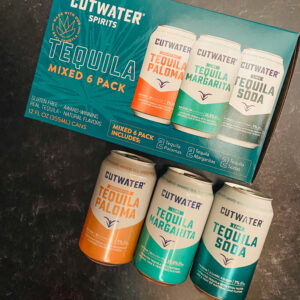 When that cocktail craving hits after a long workday, you may not be thrilled by the idea of making it yourself. We get it — you just want to relax without the added work and without compromising on flavor.
Reach for Cutwater Spirits ready-to-drink options during your next cocktail hour. Their selection of canned cocktails are pre-made classics — no measurements or shaker necessary. Pop open a Vodka Mule, Bloody Mary, Gin & Tonic, Tequila Margarita, or one of their other delicious flavors.
The San Diego-based distillers at Cutwater Spirits are libation experts. Their dedication to innovative classics comes through every spirit that they bottle and every canned cocktail they produce. Here is a little bit more about Cutwater Spirits, straight from their website: "We meticulously distill our award-winning portfolio of spirits including whiskeys, vodka, gin, rums, tequilas and liqueurs and incorporate them into our canned lineup. Armed with some heavy experience and boundless determination, we invite all who share our passion to join our journey."
The College City Beverage team is proud to distribute this award-winning brand, and we can't wait for you to pick it up during your next liquor store run. Cheers to a new cocktail journey!