Brewery Feature: Summit Brewing Company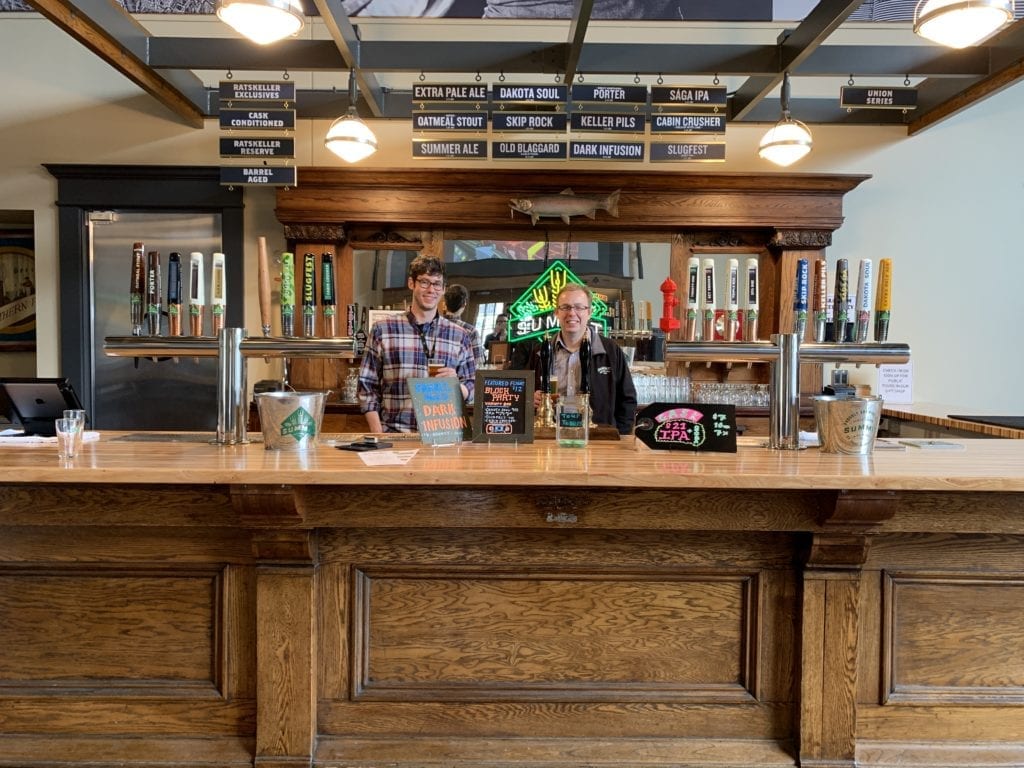 We had the opportunity to sit down with Damian McConn, or "Damo", Chief Brewing Officer at Summit Brewing Company. We enjoyed hearing about his experience in the brewing industry with his Irish accent, and as he spoke about Summit Brewing his passion for the company and beers itself was clear. Rich in history and values, Summit Brewing Company sets itself apart from the others.
Tell us about Summit Brewing Company?
Summit Brewing Company was founded in 1986, and was originally located on University Ave. in St. Paul. It was the first brewery to open in Minnesota since prohibition in 1933. It was a much smaller location compared to the new facility, which now boasts two campuses and a very impressive and elaborate brewing set-up. Still under the same founder and CEO, Mark, the idea was to recreate European beer styles that he enjoyed while on his travels and living abroad. So he set up a small brewery in an old machines part warehouse that was refitted for production brewing. After completely filling capacity, in 1996 they moved to their new location where they are located now. They originally started with one building, later expanding to a neighboring building. They labeled each building "A" for Administration, and "B" for Brewing. Together both campuses are an impressive 115,000 square feet. The recently renovated Rastkellar, which is German for beer hall, is open to the public later in the week and on weekends. There the public can come and try samples and purchase pints of their favorites, they can also take a scheduled tour of the brewery.
Who are you and what is your favorite part of your job?
Damo, Chief Brewing Officer: "I love working with customers. Beer lovers, the folks that support our business, the ones who are buying our beers or enjoying them in the pub. I love talking about the beer and our brewing values. We are a community based brewery, we wouldn't exist without our customers. We are Minnesota's original craft beer, our Extra Pale Ale was our first beer, and it is still our biggest and best selling brand."
What does a day look like for you?
Damo, Chief Brewing Officer: "I work with suppliers, distributors, retailers, and consumers. So no day is the same. I oversee the brewing and quality department, work with both our brewing and quality teams. I am on call 24/7, if there is an emergency I do what I can to help out. A lot of my time is spent working on new product development. I check raw materials like hops and malts to make sure they are up to specifications. I also handle our production schedules, strategic planning, I am really all over the place! Some days I am dressed up, other days I am wearing my wellies. The great thing about my job is that it covers so many different areas and fulfills so many different needs. I get to experience all of the elements and utilize my bio-chemist background during things like developing flavor profiles and balancing ingredients so you end up with a well balanced beer."
What is new and exciting at Summit Brewing Company?
They remodeled their Ratskeller late last year. Their founder and CEO, Mark, said it is now "less of a church basement" and more of a "modern looking beer hall". People can now come and enjoy the space, which is a great to be able to share because the community has played an important part in their success over the past 3 decades. The spaces allows them to showcase more beers, and act as a pilot brewhouse for new or test flavors.
They rely heavily on relationships and partnerships with people like College City Beverage, because it is a production based brewery, so the support from those relationships is important.
They have two new beers released this year that were both well received – Slugfest and Cabin Crusher. Both were launched on opening day of Minnesota Twins baseball. The Twins organization along with the new Minnesota Unite at Allianz Field and St. Paul Saints are also very important partnerships for Summit Brewing Company that they are very excited about seeing where the future takes them.
How does Summit Brewing Company differentiate itself in a growing market?
Relationships and partnerships are what helps Summit Brewing Company set itself apart. Along with our small core group of suppliers that we are loyal to, and our beer centric supporters. When originally founded, the ideas was for a community based brewery that seeks to really showcase their beer and culture similar to the great breweries in Germany.
Summit Brewing Company places a huge emphasis on respecting the consumer and heightening their drinking experience. The consumer will never pay for their mistake or learning curve. They are dedicated to quality assurance, and quality in general. We assure our community and our customers in our quality so they are confident every time they drink a Summit they know what they can expect from us. This dedication to quality is one of our passions and an approach that has allowed us to grow and be successful for our customers over the past 3 decades.
How is each beer branded/marketed as an individual and as part of a whole?
Each beer is multi-faceted and highlights their different flavor profiles, background story, and ingredients. Each beer falls under the Summit Brewing Company umbrella, and while staying true to the quality value, each beer has its own storyline that relates to the flavor profile. From there how our consumer reacts to those flavor profiles and storyline encompasses the values that keep it true to the Summit Brewing Company name.
The individual beer stories support the values and philosophies of Summit Brewing Company, which is centered on quality, community focused, employee owned, and family run. They rely heavily on the support of the Twin Cities area and Minnesota in general.
Get to know the beer:
Damo, Chief Brewing Officer: "If you haven't tried craft beer before, or if you haven't tried Summit, I suggest starting with a lighter flavor profile like a Pilsner like or Dakota Soul or Keller Pils. They are crisp and clean, beers of truth. They have a lot of complexity and there is a lot of technique involved. I always say you can hide a double decker bus in a double IPA, but not in a pilsner. We look after the quality of the beer and our partnerships, so it ultimately at the end of the day, it goes back to going down and supporting your local pub that has Summit and giving it a try."
Tell us about your partnership with CCB:
Summit Brewing Company and College City Beverage share similar values when it comes to their quality driven and customer first approach. CCB's belief in continuing education, and always learning along with Summit, sets them apart. They continually visit our training room to learn about things like on-flavor training and what should be in the beer, and off-flavor training and what shouldn't be in the beer. They are very open and receptive to learning more on the education pieces which is so important. As a distributor, the more you learn about the beer, the better distributing partner you can be. It resonates with their approach to their business, which is based on service, support, and quality.
As a legacy brewer, you live or die by the support of your distributor. They are responsible for looking after your beer once it leaves the brewery, and you need to be able to trust that they are taking care of that. This includes educating the retailers and consumers, and keeping the beer cold. They are a terrific partner for Summit – we share the same passion for the beer, quality, and learning.
What can we expect from Summit Brewing Company in the future?
More on our story and our legacy, continuing to stress the marketing and messaging of Summit Brewing Company and the beer. You will start to see more of our story, getting out and talking about our values and beliefs I community and partnerships, and the culture at the brewery in general.
Of course, they will also have new beers here and there. They have already started working on fun beers for fall and the early parts of winter, which they are excited about! The focus will always be on the beer and the respect they have for quality, consistency, and the consumer.
How can we get a tour or try your beer?
The best place to start, visit the website! It features the Ratskellers hours and has all of the tour dates available. Come and try some flights! If you are looking for an in-depth tour, just ask for the Irish guy.