Interview with Jennifer Johnson of Badger Hill Brewery | Part Two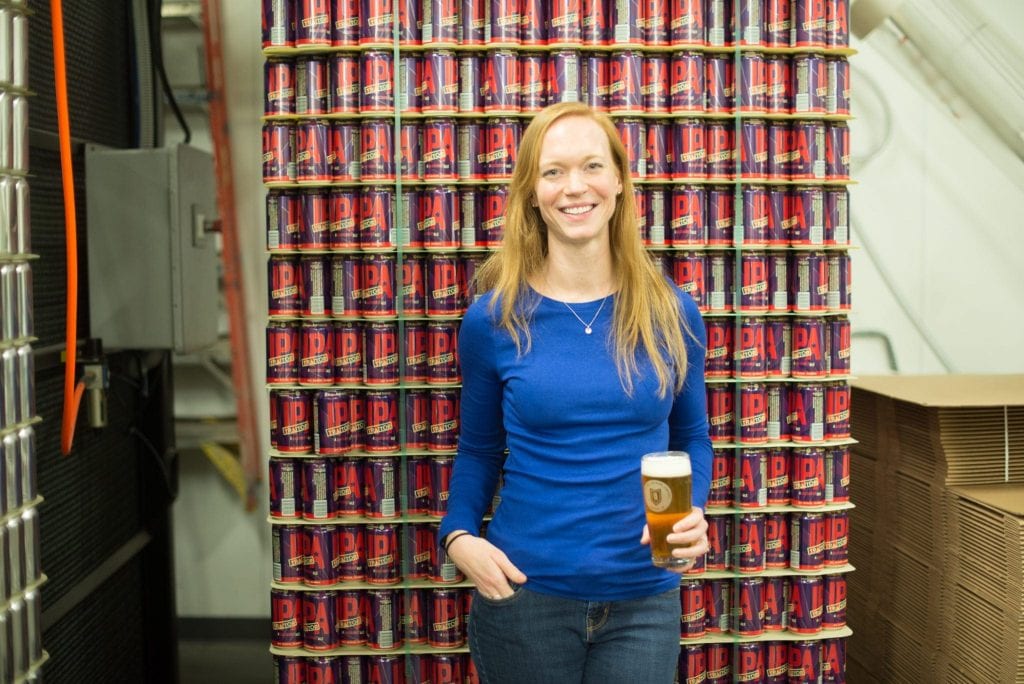 Welcome back for part two of our Badger Hill Brewing blog! If you missed part one, click here. We'd like to share part of our chat with Jennifer Johnson, COO of Badger Hill Brewing. Jen started with the company over 2 years ago as their marketing/social media manager. She accepted the position of COO in September of 2017.
After the conversation about the expansion and beers to watch for from Badger Hill (again, if you don't know what we are referring to, read part one) we asked Jen some of the same questions we asked Justin.
Describe your history in the industry. What got you into beer, and how did you end up with this job?
Jen started her craft beer career in a taproom. Where? Well one of MN's oldest craft breweries – Summit Brewing Company. At first, she gave tours in exchange for beer. That's how much she loves the industry.
She moved to Mankato for her job at MSU and began working for Schell's part time as a support sales rep and beer ambassador. You may wonder what brought her back to the cities – it was her son. He decided to arrive 10 weeks early. She quit her job in Mankato and moved to the Twin Cities area. Jen boasts a Master's in Educational Leadership and she LOVES the training, culture, community, and students – she gets to do that every day at Badger Hill. Her love for the industry and the people are what lead her here.
Well, that and Britt. Jen met Britt at the Winter Beer Dabbler and as a strong woman in the industry and as an owner, Jen developed a real respect for Britt. "I harassed her for a long time," Jen said.


What is the favorite part of your job?
"Definitely the community. There is a lot of blood sweat and tears but the craft beer culture is incredible.
Especially for women! I've never felt more respected in this industry than I have in any other industry."
What does a day look like for you?
"I toss the ball to someone when I know where it should go." Jen is the Chief Monkey Wrangler making sure everyone is on the same page. She wears a lot of hats – from EOS/Traction facilitator to invoicing and HR. No day looks the same as the last.
What do you look for in your distribution partners?
Jen shared the same PARTNER outlook as Justin but confirmed our thoughts on if we live up to the statement by saying, "College City is a frickin' blessing!" They are a fantastic partner. We have been lucky to have GREAT distribution partners."
We feel the same, Jen.
How can a brewery differentiate itself in the growing market?
"We treat it as a business. Beer brings with it an amazing culture but along with the culture we make sure to bring good business with it. Relationship driven. Good business sense." One of our favorite tips from this interview with Jen was her statement about bringing in good people. She said "We train people so they can leave, but treat them so they won't. Our talented staff absolutely could leave but we work to keep them here and happy."


How is each beer branded/marketed as an individual and as part of a whole?
"As a whole – brand consistency
is so important. You can look at the beer and know it's Badger Hill."
What are you looking forward to in the world of beer?
Jen said she is looking forward to seeing everyone look at the business of beer differently. "You have to be agile," Jen says. And then after the IPA movement, what will be next? Will there be more craft partnerships? There is just so much to look forward to!
How can we get a tour?
Sunday 11:30a-10p
Monday Closed
Tuesday – Thursday 3-10p
Friday/Saturday 12-11p
Check out our website
Like us on Facebook for the latest updates and upcoming events
"Our Taproom always has 12 rotating beer lines! Make sure to watch for (and come in for) our taproom exclusive beers!"


Make sure you check out their taproom when you have a chance! We love it there! A special thank you to both Justin and Jen. We had a blast chatting with you and look forward to seeing all that Badger Hill Brewery has up its sleeve in 2018. Cheers!