Brewery Feature: Loon Juice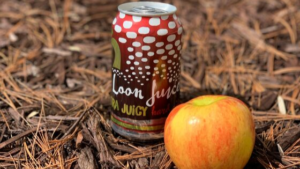 Don't worry, Loon Juice contains zero traces of loon! We got the chance to talk with Justin Williamson, Sales Manager for Loon Juice. He talked a bit about what Loon Juice is, their relationship with College City Beverage and where to find their products. If you are looking for a night out, check out their on-premise restaurant open seven days a week!  
Tell us about Loon Juice?
Loon Juice has been on tap at Four Daughters since the winery opened in 2011. It has always been a fan favorite, and after constant encouragement from guests, we decided to introduce Loon Juice to a broader audience. The Winery being so close to three major global businesses brings many international consumers to our taproom, and the English, French, and Irish always raved about the cider. Having been a longtime fan of European ciders, this further motivated Justin to pursue his cider project. In 2014, Loon Juice was made available on tap and in a 5-liter mini keg. One year later we were in cans and by 2016 we were Minnesota's #1 hard cider. Today we are in 5 states (Minnesota, Wisconsin, North Dakota, South Dakota, and Iowa).
Who are you and what is your favorite part of your job?
My name is Justin Williamson and I am the Sales Manager for Loon Juice. My favorite part of my job….that's a hard one. This is the best job I have ever had. I love my coworkers, my distributors, and the customers I get to work with every day. 
What does a day look like for you?
My morning starts with computer work then I get into the market mid-afternoon to see all of my accounts. I also travel a lot so I spend a lot of time driving.
What is new and exciting at Loon Juice?
We are working on a white peach sangria for next spring/summer. We have a few other things happening (one really big thing) but we can't say anything quite yet, but keep your eye open for some news coming soon!
How does Loon Juice differentiate itself in a growing market?
We have stayed true to our roots since day one. We use only Honeycrisp apples in all our ciders. We never add any artificial flavors or colors. 
How is each cider branded/marketed as an individual and as part of a whole?
We have everything from dry to sweet to fruit-forward. We want to be able to reach all cider drinkers while staying true to our promise on no added colors, concentrates, and no added sugar (other than Caramel Apple and Strawberry Shandy). 
Tell us about your partnership with CCB:
Our partnership with CCB is going on a year and a half. Since the start of our partnership CCB our business has double in their area. When we were looking for a distributor we wanted to find the leader in the market. It was clear to us that CCB was the go-to distributor.
What can we expect from Loon Juice in the future?
We have some big stuff coming this next year but we can't say anything yet. We will also be continuing our partnership with Minnesota United for the next few years.
How can we get a tour or try your product?
We are in most liquor stores in and outside of the metro area. We are also on draft at many bars. You can visit us at our winery in Spring Valley, MN. We also have a restaurant on-site that is open 7 days a week.