Cooking With Beer – Recipes To Share

It's obvious that we love drinking beer, but what about cooking with it? Be the star of your next pot luck-style meal by bringing a beer-infused dish. Here are just a few recipes (and beer recommendations) to get you started.
Stout Recipes
Cookies
According to The Beeroness, "Beer and cookies are vastly superior to milk and cookies. No exceptions." This recipe takes just two tablespoons of your favorite stout, but the flavor should last all day. Try Empyrean's Peanut Butter Porter if you think you're ready for a bit more flavor.
Flourless Chocolate Stout Cookies Recipe
Soup
Warm up for a feast with a light onion soup. Simply mixing your favorite stout into the stock will bring this soup to a whole new level.
Stout Onion Soup Recipe
Asparagus
This recipe serves well as an appetizer to share. And, if you really have to eat your vegetables, you might as well pile bacon and beer on top of them.
Honey Stout Glazed Bacon Wrapped Asparagus Recipe
Stouts to try in your recipe:
Badger Hill Foundation Stout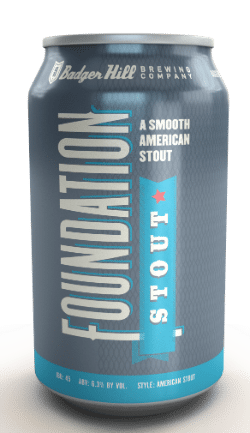 Taking cues from old English and Irish Stouts, two brothers from the Land of 10,000 Lakes landed on their own perfect brew. The reveal? A sweet, malty roast that hints of coffee, caramel and chocolate—and finishes off clean with touches of American hops. In other words: not too schmaltzy, not too bitter. Like you'd expect from a couple of nice, well-balanced Minnesota guys.
Alcohol by Volume: 6.3%
IBUs: 45
Empyrean Long Route Peanut Butter Porter

With delightful aroma of peanut butter cup, this beer maintains a porter backbone with twisting layers of chocolate, peanut butter and toast. A delightful balance of beer and peanut butter candy flavors. Pairs well with grilled meats, curry, Thai, baked apples and chocolate desserts.
Alcohol by Volume: 6%
IBUs: 20
Excelsior Spresso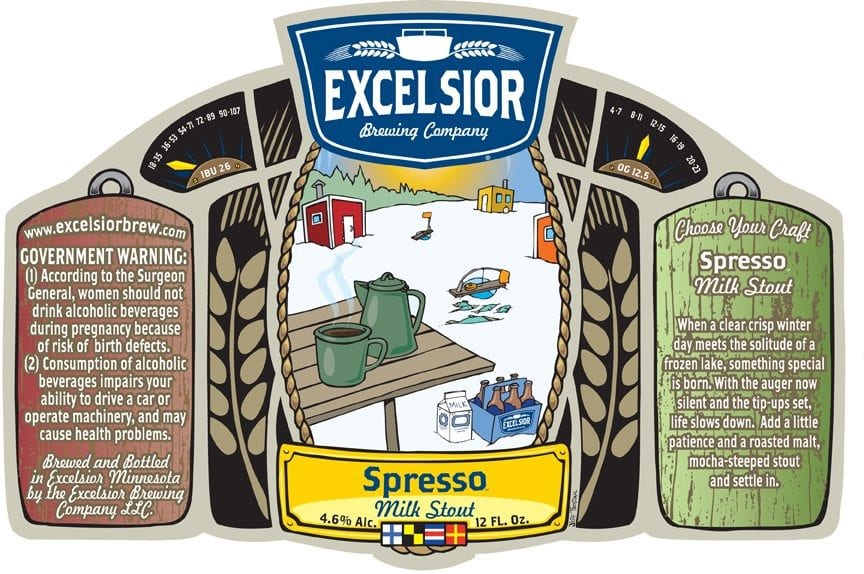 Made with coffee from UP Coffee Roasters, this brew has the nose of a chocolate covered espresso bean. Let it pour over your tongue as notes of espresso and dark chocolate tantalize your taste buds. Coffee lovers, chocolate lovers, beer lovers- everyone will love this brew.
Alcohol by Volume: 4.6%
IBUs: 20
F-Town Mocha Stout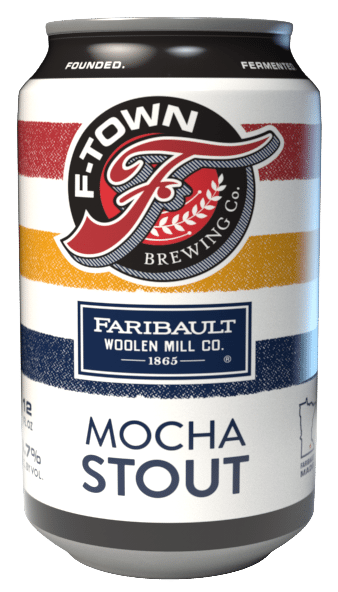 This full-flavored brew blends hints of chocolate with rich coffee notes to create a delicious mocha flavor. The city of Faribault was born from a long line of builders, millers, farmers, artisans, brewers, and craftspeople who made what was needed by hand. F-Town Brewing Co. and
Faribault Woolen Mill Co.
continue those proud handmade traditions and have teamed up to bring their Faribault Made quality and craftsmanship to you in a truly unique small-batch Mocha Stout.
Lift Bridge The Warden Milk Stout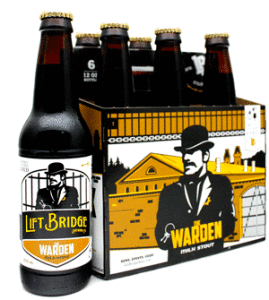 Lift Bridge's Warden Milk Stout clocks in at 5.75% ABV and pours a deep black with a thin, whitish-tan head that quickly dissipates. Aromas of coffee with hints of smoke greet the nose, and the beer's flavors include a complimentary combination of sweet and savory in the forms of chocolate and roasted malt. At 23 IBU, there's a trace of earthy hop bitterness on the backend. The mouthfeel is silky smooth and the unfermentable sugar from the lactose leaves the sweetness on the palate that you'd expect from a milk stout.
Alcohol by Volume: 5.75%
IBUs: 23
Mankato Mint Stout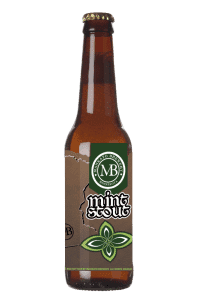 Beer Description: Dark and minty, Mankato Brewery's Mint Stout is something a bit different. Starting with the flavors of dark chocolate and coffee, we then complimented it with an amazing mint flavor and aroma. Some think it's the perfect thing for after dinner, while others think it's great all day.
Alcohol by Volume: 5.6%
IBUs: 34
Oskar Blues Ten Fidy Imperial Stout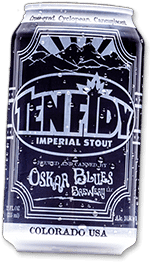 Beer Description: Ten FIDY Imperial Stout – This titanic, immensely viscous stout is loaded with inimitable flavors of chocolate-covered caramel and coffee and hide a hefty 65 IBUs underneath the smooth blanket of malt. Ten FIDY (10.5% ABV) is made with enormous amounts of two-row malt, chocolate malt, roasted barley, flaked oats and hops. Ten FIDY is the ultimate celebration of dark malts and boundary-stretching beer.
Alcohol by Volume: 10.5%
IBUs: 65
Stone Coffee Milk Stout
Beer Description: We've discovered through delicious experimentation the delectably roasty character that comes from adding coffee beans to just about any beer style. For this traditional yet worldly stout, the mild bitterness of the roasted coffee is balanced out brilliantly by milk sugar, adding a touch of sweetness and creaminess. Cheers to the artful coalescence of two highly artisanal mediums.
Alcohol by Volume: 5%
IBUs: 40