Our Crowned Kings of September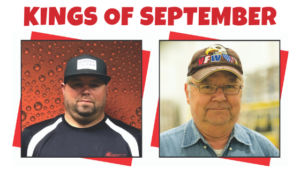 Our Crowned Kings of September
Eric Hostettler
Driven to Serve Ask him to run through a brick wall, he'll do it…  "He will do anything and everything that is asked of him".  (Don't run through a brick wall buddy…) Eric is a firm believer in everything CCB stands for. 
Positive Energy Hoss is always in a good mood and joking around with his peers.  With his 20 years of experience working for A-B distributors, he's come to appreciate the similarities and differences each offer. He loves how we do things here. 
Caring & Compassionate He sincerely cares and appreciates CCB and his fellow coworkers. Eric is always willing to lend an ear to anyone needing to bend it. Hoss cares about the accounts and will do what is needed to make sure the account is pleased. 
Passion to Grow Eric is always wanting to learn and expand his knowledge as a relief driver. He is still relatively new to running routes at CCB but has a lot of time dedicated to his beer delivery career. He has a desire to run routes and looks to grow his role at CCB. 
Accountability to the Team He holds himself accountable for his actions. When/if he does something wrong, he makes no excuses and tries to learn from his mistakes. Eric knows this will make him a better, more well-rounded relief driver. Hoss's reps have had nothing but positive feedback of him filling in for Brandon Amy. 
Why? In talking to Total Wine in Burnsville, Eric has filled in very admirably, and they have hardly skipped a beat in the way in which things are expected there. He has seemed to enjoy the responsibility this puts on him and he handles it like the old pro that he is. Hoss is a very welcomed addition to our Team! He is a company guy who serves us in a first-class manner.
Ronnie 

Wermerskirchen
Driven to Serve Ronnie makes sure to have the floors cleaned throughout all of our MN seasons, making sure they are safe for all of our people.
Positive Energy Although he is not out there doing cartwheels on any given day, you can always get a nice little smirk, hello and conversation from Ronnie. He loves to share his stories from his days selling beer. 
Caring & Compassionate Again, from his neon repair to cleaning the floors, Ronnie cares about his job here at CCB and how it services others and wants to make sure he takes care of what he needs to in a very timely manner.
Passion to Grow Ronnie has been here for over 50 years and has witnessed so many changes throughout his years here in the CCB family. He was willing to adapt to the changes in the industry through his years. 
Accountability to the Team Ronnie takes pride in repairing neon's in a timely fashion so they can get back to the retailer as soon as possible. 
Why? He's just an all-around good guy!!!