Product Feature: Tattoo Girl Wine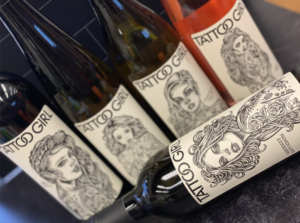 The College City Beverage team is proud to announce that we've added a new wine to our distribution, but it's not just any wine. It's wine with personality. TATTOO GIRL WINE makes products that leave an impression. From their distinctive labels to their bold flavor profiles, TATTOO GIRL WINE will quickly become one of your favorite brands. We spoke with Kim Williams, the Vice President of Marketing for William Weaver Wines and TATTOO GIRL WINE to learn more.
What is your role at Tattoo Girl Wine?
I am one of the partners and also the VP of Marketing for TATTOO GIRL WINE. I am an entrepreneur at heart, and 5 years ago had the wonderful opportunity to say "yes" to owners, Bill and Jean Weaver, when asked if I wanted to help them develop a new brand of Washington wines. Because I have always had a passion for growing new ideas and seeking out new business opportunities, working with the Weavers and developing TATTOO GIRL WINE was the beginning of a very exciting time of my life. Like Richard Branson said, "Life is a lot more fun if you say 'yes' than if you say 'no.'" The opportunity to expand and grow our wine company excites me every day. The relationships we have been able to make with people all across the country, whether they are distributors, sales teams or the wine enthusiasts that drink our wine, energizes me to dream big, tap into my creative instincts, and seek ways to always do better.
What does a typical day in your life on the job consist of?
Any time you have an ownership interest in a company, you must be prepared to wear many hats and understand all aspects of the company's operation. My business partner, Bill Weaver, and I work closely together on everything from our relationship with our vineyard partners to introducing our wine collection to new distributors. My days are never "typical!" I love the variety of work which may consist of Zoom sales call trainings with teams all across the country, directing and overseeing the creation of all brand collateral both online and offline, selecting our TATTOO GIRL of the Month, monthly newsletters, establishing new distributor relationships, selecting next varietals, and supporting our sales team. 
What's your favorite part of your job?
I am a firm believer that a "job" is something that you go to every day and when your day is over, you can leave and not think about it until the next day. So instead of sharing the favorite part of my "job", I would love to answer this question and highlight what I love most about my experience and involvement with TATTOO GIRL WINE. Without question, the BEST part of building TATTOO GIRL WINE has been the people I work with and the people I have met across the country. I feel blessed to have relationships with industry leaders who have graciously shared their knowledge and expertise with me and are genuinely interested in helping TATTOO GIRL WINE be a success.
How did Tattoo Girl Wine get its start?
TATTOO GIRL WINE was born from an idea to create a brand and collection of Washington wines that would deeply resonate with wine drinkers. We knew our vineyard partners had some of the best juice coming from the Columbia Valley, specifically the Ancient Lakes and Wahluke Slope region. Although we were confident consumers would enjoy drinking our wine, we wanted to really celebrate and honor the wine drinker… who they are, where they come from, what they dream about, and who they aspire to be. We wanted the outside of the bottle to be as memorable and exciting as the wine found inside the bottle. For centuries wine and tattoos have been a part of our culture, so we felt the artistic expression of tattoo artist Adam Isaac Jackson created the perfect pairing for what you see today in the TATTOO GIRL WINE collection.
What, in your opinion, is the most unique aspect of Tattoo Girl Wine? 
I love hearing people express their excitement about TATTOO GIRL WINE, especially when they say, "that's MY wine!" or "that's MY favorite wine!" We have achieved success when our brand fans feel our wine is THEIR wine. TATTOO GIRL WINE is unique because it stands out from the crowd! We celebrate the wine drinker. We like to say, "YOUR story is our story." If you go to Instagram, you will see @tattoogirlwine in the stories of our loyal brand fans.
Which types of wine is Tattoo Girl Wine especially known for?
Our wines are sourced from the Columbia Valley, Washington's largest growing region with over 11 million acres. We currently offer 5 varietals:  Riesling, Rose', Chardonnay, Red Blend, and Cabernet Sauvignon.
Variety typicity and pure fruit aromas and flavors are the hallmarks of wine from the Columbia Valley.
Chardonnays are mildly aromatic with aromas and flavors ranging from fresh green apple to stone fruit and tropical fruit depending on the warmth of the site. In terms of

Riesling, cooler sites tend to produce aromas and flavors of lime, lemon, and green apple. In warmer regions this turns to stone fruit — particularly, peach. Aromas and flavors for Syrah range from dark fruit, such as blackberries, to blueberries and cranberries.

Cabernet Sauvignon, black cherry, cassis, and light, high-toned herbal notes are often the hallmarks.

Merlots are redolent with red fruit aromas and flavors, such as sweet cherries, red currants, and raspberries, along with chocolate and, occasionally, mint.
What would you like customers to know about Tattoo Girl Wine?
TATTOO GIRL WINE overdelivers for the price! We promise to exceed your expectations when you open the bottle. We strive to put award winning juice in every bottle and will never compromise your trust in our brand!