WarPigs Beer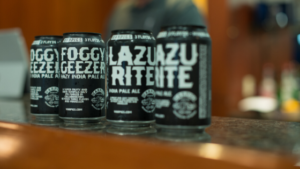 WarPigs combines the madness of two of the world's top breweries in assertive beers to melt your face – 3 Floyds & Mikkeller. Foggy Geezer Hazy IPA, Lazurite IPA + Salmon Pants Premium Lager are available on draft and in badass all-black cans.
Look cool and feel fresh with the bold and black cans. This beer is one you won't want to miss!
The beer we are featuring this blog is the Foggy Geezer! This is a hazy, fruity and heavily dry-hopped IPA with an ABV of 6.8% and an IBU of 70. A HAZY, FRUITY + HEAVILY DRY-HOPPED IPA with ABV 6.8% IBU 70.
We are a proud distributor or WarPigs and know that you'll love it when you try it! So what are you waiting for? Try it!
Dundas, MN, Locations:
Firehouse Liquor
MGM Liquors
Northfield, MN, Locations:
Northfield Liquor
Alibi at Froggy Bottoms