College City Beverage Now Offers Wine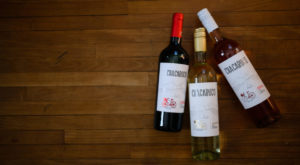 Hold onto your glasses, folks. We've got wine.
Yes, you read that correctly. If you haven't heard already, now is your chance to be in the know. Our team here at College City Beverage is expanding our beverage breadth and getting into grapes.
Brent Dack, our Wine Consultant, is helping spearhead this initiative by sharing his expertise with our employees and our accounts. He joined our team in August of 2019 after a career in corporate America and is helping educate both our employees and our 1400+ accounts on our newest beverage additions.
Don't worry, we still have all of our great beer, hard cider and non-alcoholic options available. As for our wine selections, we are excited to announce the distribution of:
Babe

Chacabuco

D'Arrigo

Four Daughters

Torreon

Cosi Keg Wines

Los Haroldos
We plan on adding more wine to our repertoire in the near future including a domestic option, so stay in the loop by following us on social media.
We are proud of the distribution services that we offer, and we hope to offer even more looking ahead. College City Beverage wants to be your exclusive beverage distributor. If you are interested in learning more about our wines and how you can incorporate them, contact your College City Beverage representative, give us a call at (507) 645-4106 or email brentdack@collegecitybeverage.com to speak with our Wine Consultant directly.
Our team looks forward to assisting you with any and all of your wine and beverage needs! Our niche states that "We Deliver", and we stand by that promise. We appreciate your support as we navigate this new expansion, and look forward to serving you!