Product Feature: Next Chapter Winery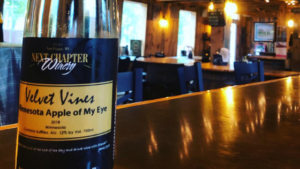 Good wine and good friends — that's definitely something we could all use right now. These values are exactly what drives Next Chapter Winery, based out of New Prague, Minnesota. While we may not be able to have a proper "cheers" in person right now, we can still support the places that fill our glasses. College City Beverage is proud to distribute Next Chapter Winery wines.
Established in 2007 by Timothy and Therese Tulloch, this winery is a family business through and through. Their daughter Jackie Brockway, who acts as the general manager, opened the tasting room. Along with this came the addition of an event space, and the winery started hosting weddings around 2016.
Known for their impressive scenery, delicious food, and wide selection of white and red wines –Next Chapter Winery already has deep roots in the community. But their story is continuing to be written! We spoke with Jackie about the winery's past, present, and future.
What is your role at Next Chapter Winery?
I am the general manager at Next Chapter Winery. My roles are event planner, marketing director, wedding coordinator, and bartender.
What does a typical day in your life on the job consist of?
I get to sample wine, respond to emails and calls, conduct wedding tours, create social media posts, advertise for events and products, bartend in the tasting room, and chat with visitors!
What's your favorite part of your job?
My favorite part of the job is chatting with and getting to know visitors, wedding couples, and the staff.
How did Next Chapter Winery get its start?
Timothy, who is the co-owner, winemaker, and my dad, decided to plant the vineyard in 2007. Since I had the summer off before college, I helped him with the construction and planting. After becoming a winery in 2011, Timothy would give private tours and tastings, but had no set hours or wholesale account. As a teacher, I had the summers off and would help him with the tours. I loved it. I decided to leave my teaching career to start up a year-round tasting room in 2014, which then morphed into a restaurant and tasting room in 2016. Weddings started around that time as well!
What, in your opinion, is the most unique aspect of Next Chapter Winery?
In terms of the wine, we barrel-age almost all our wine to enhance the character, body, and flavor. As a place, our staff are incredibly friendly and caring, so I'd say the personal touch and care is a unique part of what makes Next Chapter Winery what it is.
What kind of wine is Next Chapter Winery especially known for?
It's quite the dichotomy, but we're known for our dry red wine (the Marquette) as well as our sweet and fruity Blackberry Delight.
What would you like customers to know about Next Chapter Winery?
We would like customers to know how much we appreciate their support of local wine. As a family-owned and operated business, it means the world to us when visitors and customers purchase wine we created here in Minnesota. Thank you so much!