Product Feature: Summit Oktoberfest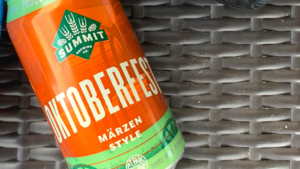 Don't get us wrong — we know that summer isn't *technically* over yet… but it never hurts to plan for the season ahead, right? Well,  Oktoberfest Marzen style beer from Summit Brewing will make you want to do just that.
This seasonal favorite is sure to get you in the mood for fall from your very first sip. According the Summit Brewing website , Oktoberfest is brewed with a blend of European hops and Moravian 37 malts.
The result? A crisp, toffee-like lager flavor. How much more autumnal can you get? Talk to your College City Beverage rep about Oktoberfest today.
Prost!